Dr. Lisa K. Neuman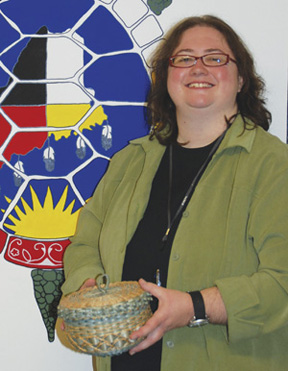 Associate Professor of Anthropology and Native American Studies
Ph.D., Cultural Anthropology, Duke University, 2002
Graduate Certificate in Women's Studies, Duke University, 2002
M.A., Cultural Anthropology, Duke University, 2000
B.A., Anthropology, Pomona College, 1989
Professional Interests:
Having grown up in Kansas City, Missouri, I developed a keen interest in Native American studies from my grandfather, an urban Indian whose family migrated from Oklahoma to Los Angeles during the early part of the twentieth century. My family's history has shaped the way that I view the relationship between culture and ethnic and racial identities. Through my focus on how people produce new cultural meanings and identities, my research connects the emerging field of Native American studies to newer anthropological theories that conceptualize culture and identity in dynamic ways.
My research interests include the history of Native American Diaspora in the United States, the history of American Indian education, the relationship between urban Indians and tribal communities, and the politics of Indianness in twenty-first century America.
Specialties: Native American Studies. American Indian education. The politics of Indian identities. Tribal sovereignty and economic enterprise. Gender studies. Cultural production. Cultural history. North America. Oklahoma. Maine.
Current Research: Public perceptions of Wabanaki economic enterprises.
Representative Publications:
2014 Neptune, J. and L. Neuman. "Basketry of the Wabanaki Indians." Encyclopedia of the History of Science, Technology, and Medicine in Non-Western Cultures. Helaine Selin, ed. Springer Reference.com.
2013 Neuman, L. Indian Play: Indigenous Identities at Bacone College. Lincoln: The University of Nebraska Press.
2013 Neuman, L. Invited review of Charles E. Cleland's Faith In Paper: The Ethnohistory and Litigation of Upper Great Lakes Indian Treaties. American Ethnologist 40(3) (August ): 591-592.
2012 Neuman, L. Invited review of Stephen Kent Amerman's Urban Indians in Phoenix Schools 1940-2000. New Mexico Historical Review 87(1) (Winter).
2011 Neuman, L. "Refashioning Indigenous Identities and Making the American Self: Native American Voices from Haskell and Yale." Invited review of Joel Pfister's The Yale Indian and Myriam Vuckovic's Voices from Haskell. Reviews in American History, 39(2): 314-321.
2010 Neuman, L. "The Resilience of a Nation." Invited review of Michael W. Lovegrove's A Nation in Transition: Douglas Henry Johnston and the Chickasaws, 1898-1939. Great Plains Quarterly, 30(4): 314.
2010 Neuman, L. "Basketry as Economic Enterprise and Cultural Revitalization: The Case of the Wabanaki Tribes of Maine." Wicazo Sa Review 25(2): 89-106.
2008 Neuman, L. "Indian Play: Students, Wordplay, and Ideologies of Indianness at a School for Native Americans." American Indian Quarterly 32(2): 178-203.
2007 Neuman, L. "Selling Indian Education: Fundraising and American Indian Identities at Bacone College." American Indian Culture and Research Journal, 31(4): 51-78.
2006 Neuman, L. "Painting Culture: Art and Ethnography at a School for Native Americans." Ethnology, 45(3): 173-192.
2006 Maddaus, J., L. Neuman, and M. Smith. "What is Quality Education for American Indian Students? The Case of the Wabanaki Tribes of Maine." International Journal of Diversity in Organisations, Communities and Nations (4). Available online at: ijd.cgpublisher.com.
2004 Neuman, L. "From Clean Water to Casinos: Why Sovereignty is Important to Native Americans." Invited commentary in Maine Policy Review, 13(2) (Fall/Winter): 30-32.
Contact:
Telephone: 207.581.4489
Fax: 207.581.1823
Email: lisa.neuman@maine.edu
Department of Anthropology
University of Maine
5773 S. Stevens Hall
Orono, Maine 04469-5773
Native American Studies
University of Maine
327c Aubert Hall
Orono, Maine 04469