About Us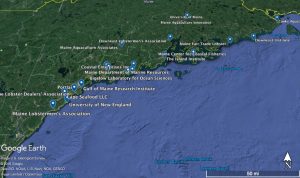 The Alliance includes more than 20 marine research programs at universities and nonprofit research institutions; commercial fishing interests; aquaculture interests; community-based organizations committed to the growth of the local economy; and large and small private sector businesses in Maine.
The purpose of the Alliance is to ensure that Maine seafood, fishing and aquaculture industries and the natural and innovation ecosystems on which they depend are healthy and benefit Maine people.
Founding members include the University of Maine System and a diverse set of public and private partners from southern to Downeast Maine, including Cape Seafood, Maine Lobstermen's Association, Gulf of Maine Research Institute, Maine Aquaculture Association, Coastal Enterprises, Inc., Bigelow Laboratory for Ocean Sciences, Maine Aquaculture Innovation Center, Island Institute, Downeast Lobstermen's Association, Maine Center for Coastal Fisheries, Maine Lobster Dealers' Association, Maine Fair Trade Lobster, Downeast Institute, Maine Coast Fishermen's Association, Cooke Aquaculture USA, Maine Technology Institute, and the Maine Department of Marine Resources.
The Alliance will always be a work in progress, as new members join and new needs and prospects arise. It will be flexible enough to work with emerging opportunities and challenges, while constantly assessing the best avenues for a productive and profitable marine economy.
If you are interested in joining the Alliance, please contact Keri Kaczor, Alliance Coordinator, or Dr. Heather Leslie, Alliance Chair, Director of UMaine's Darling Marine Center. Kaczor can be reached at keri.kaczor@maine.edu or 207.832.0343; and Leslie can be reached at heather.leslie@maine.edu or 207.350.2713.
If you would like to be added to the Alliance mailing list or have specific questions about our developing programs, please use the form below. Thank you.
Contact us