News
Events
November 14th for the Alliance Fall Forum, Darling Marine Center, Walpole, ME.

Join us for an event that supports innovation and entrepreneurship in Maine's marine economy by providing an opportunity for new collaborations, learning and adoption of best practices across the sector. We will start with the Alliance's semi-annual business meeting at 10:00 am, followed by lunch, feature grantee presentations from Luke's Lobster/Cape Seafood, Georgetown Aquaculture, and UMaine's Aquatic Animal Health Laboratory, and will close with a discussion with Bruce Wagner (FAME) on the state's economic development strategy, how it relates to the marine economy, and ways the Alliance can get involved. For more information, contact keri.kaczor@maine.edu


September 13th Field Trip to Port Clyde/Tenants Harbor was a blast!
We had another great field trip on Friday Sept. 13th to Port Clyde and Tenants Harbor where participants learned about the challenges and opportunities facing local groundfishermen, and innovative projects and partnerships driving economic activity to the shore. Thank you to our gracious and generous sponsors of this event: Tenants Harbor Fisherman's Co-op/Maine Aquaculture Co-op/ Luke's Lobster. Also, to Justin Libby and Ben Martens for hosting us at the Port Clyde Fisherman's Co-op.  Stay tuned for more industry field days in 2020!
 June 24th Alliance field trip to Cooke Aquaculture, a great success!
On June 24th,  the Alliance for Maine's Marine Economy brought together over 20 representatives from marine businesses, non-profit organizations, congressional staff, students, resource managers and others dedicated to the growth of a vibrant marine economy in Maine for a tour of Cooke Aquaculture's operations in East Machiasport.  The group visited Cooke Aquaculture's Gardner Lake fresh-water hatchery,  sea farm including a tour of the Alliance for Maine's Marine Economy- supported central feeding system that maximizes storage, feeding efficiency and employee safety, as well as the company's neighboring processing plant.  Participants learned about the various steps in Cooke's process from spawning eggs to processing mature, marketable salmon, as well as other innovative, research and development efforts being employed.
March 28th Alliance field trip to Mook Sea Farm was amazing, thank you to Bill and Meredith for a great day!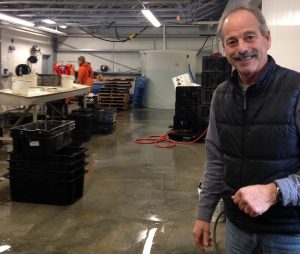 This past spring Alliance members gathered for a tour of Mook Sea Farm's state of the art oyster hatchery and oyster holding facility. The Alliance for Maine Marine Economy investment supported construction and set-up of a new Oyster Inventory Room (OIR) to maintain 500,000 market sized oysters, a packing and shipping area capable of handling 100,000 oysters per week, and a greatly expanded microalgae production space. The OIR completely isolates the market-sized oysters from the Damariscotta River and associated rainfall closures. Participants also learned about other R &D efforts that improve conditions, and increase capacity and yields on the farm.
22 June, Open House for the Aquatic Animal Health Lab,  Orono Maine. 
The Alliance's investment enabled the construction of this high-level biosafety laboratory to study fish pathogens and help minimize health risks to Maine's wild and farmed fish stocks
https://umaine.edu/news/blog/2018/06/15/open-house-new-umaine-extension-diagnostic-research-lab-june-22/?utm_source=News+alert+—+8%2F2%2F17&utm_campaign=8688348f34-EMAIL_CAMPAIGN_2018_06_14_01_31&utm_medium=email&utm_term=0_f5ee912092-8688348f34-220206097
27-28 July, Practical Seaweed Farmer's Conference and Maine Seaweed Fair, Rockland Maine. 
The Alliance's capital grants program supported Springtide Seaweed, LLC for the creation of a new seaweed exchange that will assist new and existing growers and expand Maine's seaweed production.
The Practical Seaweed Farmer Conference will take place Friday, July 27, 2018 at the Strand Theater in Rockland, ME.The conference is open to existing, new, or interested seaweed farmers, or anyone curious about learning more. For more information,  visit http://www.maineseaweedexchange.com/seaweed-farmer-conference.
The Maine Seaweed Fair will take place on Saturday, July 28th, 2018, at Snow Marine Park in Rockland, ME. This one-day free event on the coast of Maine will celebrate all things seaweed. For more information, visit http://www.maineseaweedexchange.com/seaweed-fair
11 August, Downeast Institute's Ribbon Cutting Celebration, Beals, Maine.
The new construction of laboratory and business incubation space at the marine science field station of the University of Maine at Machias will be an innovation hub for fishermen, scientists and students. In addition to the Clam Flying Contest, and local music and food, DEI will also be providing tours of the new facility. For more information, visit:  http://www.downeastinstitute.org
Other Alliance Projects in the News:
Waters off the coast of Maine vulnerable to changing climate
Ken Oringer and Jamie Bissonnette Create a Luke's Lobster Roll This Fall
Hiring in a Pinch
A Day in the Life of a Former Wall Sreet Investment Banker
Shaw Institute Environmental Speaker Series talk: Sara Redmond, Springtide SeaweedPeople of the Coast: Sarah Redmond, Gouldsboro
There's a lot of money in mussels, and this Bucksport business wants to cash in
A labor of love: How Martha Stewart and True North created their new seafood product line
Two seafood companies team up to fund UMaine lobster research
Maine Waterfront Quandary: Restoration or Redevelopment?
As Luke's Lobster grows, its owner keeps an eye on sustainability
Luke's Lobster kits arrive in Whole Foods freezer aisles
US distributor East Coast launches new brand, value-added range
Sale to Canadian company will give Portland-based Ready Seafood a much 'bigger tool box'
Maine town gets two seafood processing plants in advance of RAS Salmon Farm
Mainers look to farms to boost scallops, a wild staple
Maine scallop farmers try to crack that market
Shucks Maine Lobster proposing seafood hub near Portland Fish Pier
Alliance for Maine's Marine Economy invests over $14 million in infrastructure projects to increase jobs
The Alliance for Maine's Marine Economy, a consortium of Maine-based marine businesses, research institutions and educational organizations, is investing in infrastructure and technologies with $7 million in voter-approved bond funds, matched by more than $7 million from Alliance members.
Led by the University of Maine, the Alliance is dedicated to ensuring that Maine seafood, fishing and aquaculture industries, and the natural ecosystems on which they depend, are healthy and benefit Maine people. These strategic investments support and diversify traditional fisheries, aquaculture and other marine-dependent industries.
"We are proud of our leadership role in this new alliance," says University of Maine President Susan J. Hunter. "UMaine is building on its statewide collaborations with all of the marine sectors. We look forward to further leveraging our research and development, multiplying our partnerships through the Alliance for Maine's Marine Economy, and continuing to train our students to enter this workforce."
On behalf of the state of Maine, the Maine Technology Institute (MTI) manages the finances of the Marine Economy and Jobs Bond. In partnership with the Alliance, MTI has invested in seven capital projects and awarded eight competitive capital grants.
Capital investments in public institutions and private businesses will benefit the entire marine sector by facilitating business development, accelerating product innovation, assessing and preventing risks to resource health, forecasting changes in product supply and improving the value of Maine's seafood resources. These investments include new processing capabilities at seafood businesses in York, Cumberland, Lincoln, Knox, Hancock and Washington counties, and new R&D and commercialization facilities in Lincoln, Penobscot and Washington counties.
Maine's marine businesses will benefit from resources, technical assistance, information, educational opportunities, business training and capital that will allow them to grow and thrive in the face of ever-changing ocean ecosystem and globalized economy.
"The Alliance's capital investment enabled my business to develop and purchase lobster processing equipment to create innovative lobster products. This helped us establish relationships with new customers and expand markets, and allowed us to process more Maine lobster here in the state, with more Maine labor," says Luke Holden, owner of Luke's Lobster.
The Alliance is a developing initiative focused on emerging opportunities and challenges related to a productive and profitable marine economy. In the long term, the Alliance is committed to stimulating Maine's marine economy at all levels. Alliance partners have identified projects and contracts aimed at attracting at least another $50 million in additional private sector and federal grant dollars over the next 10 years.
"Above and beyond these capital investments, the Alliance's diverse partners share resources and lessons learned, as well as work together to solve problems and identify new opportunities for the Alliance to contribute to a vibrant future for Maine's marine economy" says Keri Kaczor, the newly hired Alliance coordinator with Maine Sea Grant at the University of Maine.
More information on the Alliance is available online or by contacting Alliance Coordinator Keri Kaczor, office: 207.832.0343; cell: 207.215.3511;  keri.kaczor@maine.edu; 377 Manktown Road, Waldoboro, Maine 04572; or Alliance chair Heather Leslie, cell: 207.350.2713; heather.leslie@maine.edu; Darling Marine Center, 193 Clarks Cove Road, Walpole, Maine 04573.
March 3, 2018
Please join us at the free seminar, Maine's Seafood Economy: Investments in the Future, featuring some of the Alliance's initiatives at the Maine Fishermen's Forum in Rockport on Saturday March 3 at 10:30 a.m.
MTI and the Alliance for Maine's Marine Economy Award $1,747,302 Supporting Growth and Innovation in Maine's Traditional Fisheries, Aquaculture and Seafood-Related Companies and Institutions
December 14, 2017
Brunswick, ME – The Maine Technology Institute (MTI) approved eight awards from the Marine Economy Capital Grants Program (MECG) enabled by the Alliance for Maine's Marine Economy through the Marine Economy and Jobs bond that MTI manages on behalf of the State of Maine. See the full press release and related coverage in the Portland Press Herald.
Alliance members played an important role in bringing this program into fruition, by envisioning this program as part of our initial collective work through the proposal submitted to the state in Dec. 2015; by participating as members of the MTI Program Committee; and by serving on the committee that drafted the RFP earlier this year.
MTI Announces the First Round of Alliance for Maine's Marine Economy Capital Grants Program
April 19, 2017
Brunswick, ME – The Maine Technology Institute (MTI), in partnership with the Alliance for Maine's Marine Economy, has released today a new request for proposals (RFP) for a first round of awards from the Marine Economy Capital Grants Program (MECG). Businesses, private, public and non-profit entities are invited to apply. The Program is financed by the Marine Economy and Jobs bond that MTI manages on behalf of the State of Maine. Read the full press release, and learn more about the application process.