Sharon Barker Student Activism Award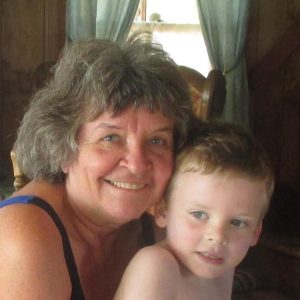 Sharon Barker is a passionate and dedicated advocate for women and girls in Maine and served as the founding Director of the Women's Resource Center from 1991 until she retired in 2015. 
The Student Activism Award is intended to honor a current University of Maine student or student organization that exemplifies Sharon's passion and commitment to social change. 
Students, staff, and faculty are encouraged to nominate individuals, groups, or student organizations. Self-nominations are very welcome.
Nominations should include the name and contact information of the nominee and a 1-2 page description of the efforts and achievements of the person or group. 
A Nomination Form for the 2022 Sharon Barker Student Activism Award will be posted here when the nominations open in the late Fall 2021.
2021 Recipient of the Sharon Barker Student Activism Award
WGS announces winner of the 2020–21 Sharon Barker student activism award
The 2020–21 Sharon Barker Student Activism Award will be presented to University of Maine undergraduate Sylvia Elin Jackson of Old Town at the Women's, Gender and Sexuality Studies (WGS) virtual graduation celebration on May 5.
Jackson, an undergraduate in Food Science and Human Nutrition with a focus in dietetics, will graduate in May. They are currently employed at UMaine's Wilson Center where they work to advance diversity and equity and to address issues of homelessness, food insecurity and social justice. A passionate advocate for the LGBTQIA+ community, Jackson also serves as the President of the UMaine Student Action Collective, an affiliate of the Maine People's Alliance.
Sonja Birthisel, the director of UMaine's Wilson Center nominated Jackson for the Barker Award.
"Sylvia sees plainly the cracks in our social safety nets, and steps up every day to help build a world in which everyone is valued and has their needs met," wrote Birthisel, who detailed Jackson's efforts to better her community by distributing Thanksgiving meals and ensuring that a potentially violent 2020 political protest remained peaceful. According to Birthisel, Jackson routinely dedicates disproportionate amounts of time and energy to community organizing and mutual aid efforts.
The Sharon Barker Student Activism Award, which was introduced by WGS in 2019, honors UMaine student activists seeking to implement positive change in their communities by fostering social justice. Barker, a longtime UMaine employee, is known for her passionate advocacy for Maine women and girls. She founded the University of Maine's Women's Resource Center in 1991, and served as the center's director until she retired from UMaine in 2014.
2020 Recipient of the Sharon Barker Student Activism Award
Recipient of the 2020 Sharon Barker Student Activism Award is:
Claudia Cummings!
Claudia is in her last semester of the BSW Program and has already been accepted into the MSW Advanced Standing Program for the fall.
Claudia is a graduate of the Penobscot Nation School and Orono High School. She has been a passionate advocate for social and environmental justice since she was quite young. As a middle school student on Indian Island she learned about threats to the environment and with the Boys and Girls Club joined protests  over fracking.  As a high school student she led efforts to educate students about harassment, the meaning of consent, and the high incidence of sexual assault among teenagers. She started a support group at her school. At the University of Maine she has been a speaker at the Take Back the Night event and also has participated in the "Slut Walk" on campus.
Claudia has been employed by the Penobscot Nation in both their child welfare and child care programs. She has worked with abused and neglected children. Claudia has volunteered with numerous service programs on campus and in the community. She worked with Daren Ranco and Carol Dana to create signage for the Umaine campus recognizing Indigenous land.
Last summer she was part of the New Education Women's Leadership program sponsored by the Margaret Chase Smith Center. She has volunteered with community organizations including the Red Cross, Maine Health Equity Alliance and Planned Parenthood.
This academic year Claudia chose to do her senior field placement with Maine Senator Geoffrey Gratwick, who is chairing the state legislature's Health and Human Services Committee. She has been working on issues related to expanding availability of health care services in Maine. She is particularly interested in the development of services that benefit Maine's vulnerable populations. Claudia has also taken leadership in helping to organize an environmental justice conference that the School of Social Work will be hosting for the second year this April. She has a passion for work related to environmental justice.
Claudia was nominated by Robin Russel, JD, PhD, on behalf of the UMaine School of Social Work