About
The J. Franklin Witter Teaching & Research Center in Old Town is the home for the college's teaching and research programs in animal sciences and sustainable agriculture. The Center has two units: the Witter Farm, adjacent to the University of Maine campus and Rogers Farm, located several miles from the Orono campus.
With both farms located near the Orono campus these facilities are an integral part of the college's teaching programs. In addition to dairy and equine courses at the Witter Farm, a student group, the UMaine Applied Dairy Cooperative of Organized Working Students—known as the UMAD COWS—is fully involved in operation of the dairy. The equine program uses standard-bred horses for classes and cooperative work experience.
At Rogers Farm, students run a community-supported agriculture project, the Black Bear Food Guild, which supplies organically grown vegetables to public shareholders throughout the summer.
Research at the Witter Farm supports Maine's dairy and equine industries. Current projects include studies on fertility problems in horses and cows, and horse related diseases.
Scientists at Rogers Farm are developing new approaches for organic agriculture with current research including studies on organic grain production, bread wheat varieties, bee pollination, potato rotations using winter canola and mustard, spotted wing drosphilia monitoring, organic fertilization's and weed control methods, and the Master Gardner program.
University of Maine Cooperative Extension uses Rogers Farm for applied research, such as ornamental plant evaluations and rose hardiness.
History of the Witter Center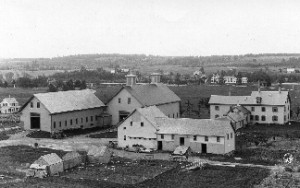 For much of the University of Maine's history, the Orono campus was home to cows and chickens as well as students. In the spring of 1947, Rogers Farm was purchased as additional land to grow forage for the University's dairy herd. Approximately 11 acres of the 100 acre farm were set aside for crop research, this eventually grew to 20 acres. Due to pressures of a growing campus and a fire that nearly leveled one of the University's old dairy barns in 1972, however, an animal science research facility, the Witter Farm, was constructed on the edge of the University's land in Old Town and the dairy cows were moved off-campus. Witter Farm housed the dairy herd along with some poultry and sheep. Witter and Rogers Farms were able to complete much-needed renovations in 1996 and again in 2006. The Harold Chute Center was constructed in the summer of 2013.