Corporate Partner of the Year Award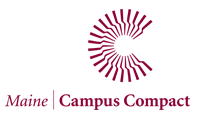 Maine Campus Compact's (MCC) Corporate Partner of the Year Award recognizes an outstanding corporate partner for their contributions and commitment to strengthening campuses and communities in Maine. Through robust partnerships with Maine Campus Compact member institutions, the corporate partner nominee should exhibit expertise and resources in support of community-engaged learning that helps to educate and empower students in real-world problem solving. The corporate partner may: innovatively train and host your students as interns, better prepare students to be responsible and contributing members in the workforce, provide resources to help implement your community service projects, and/or provide support for community-based research. The corporate partner helps amplify the sustainability and effectiveness of community-based programs that deepen students' knowledge of and passion for their local communities. Through this reciprocal partnership, the corporation helps students become well-informed, engaged and productive members of society, who are fully prepared to provide leadership and service that advances the public good in their communities.
GOALS
● Celebrate a corporation's public-spirited contribution(s) for strengthening Maine campuses and communities.
● Recognize innovative and sustainable partnerships between campuses, communities, and corporations that enrich student learning/engagement and enhance community life.
QUALIFICATIONS
● Corporate nominee must currently partner with an MCC member institution (UMaine is a member).
NOMINATION GUIDELINES
● A campus may nominate one corporate partner. The President's office will receive all nominations and determine which one will be submitted to MCC.
● Nomination must include the name of the community partner, a contact person, and current address, phone and email, as well as:
● A completed nomination essay must be submitted (no more than 2 pages) and include the following:
– A description of the campus/corporate partnership;
– How the corporate partner has enriched student learning;
– How the corporate partner has amplified the impact to the campus and community;
– How the corporate partner has exceeded expectations; and
– A description of the corporate partner's innovative approach to building or enhancing campus-based efforts to address community issues.
● The nomination must include a letter of recommendation detailing the corporate partner's work.
TIMELINE
● April 12, 2022 – Award Winners Announced
● April 28, 2022 – MCC 20th Annual Awards Ceremony (Video Release)
SUBMISSION – Please submit nominations materials by February 11, 2022 to:
Lisa Morin
Bodwell Center for Service & Volunteerism
Lisa.morin@maine.edu
(207) 581-4194