Summer AmeriCorps Opportunity!
.
AmeriCorps Environmental Education Energizer
Maine Campus Compact (MCC) is a statewide coalition of colleges and universities whose purpose is to further the public purposes and civic mission of higher education. Through MCC's Maine Energy AmeriCorps Program (MEAP) Initiative, Minimum-Time AmeriCorps Members will join a team of 26 AmeriCorps members to build partnerships with community organizations to affect behavioral and technical change leading to energy efficiency, particularly for economically disadvantaged Mainers. These members will help raise awareness about energy efficiency methods, recruit participants for Energy Education events, promote MEAP and Green Energy Assessments in communities, and connect participants with energy conservation resources.
—> Positions available in Bangor, Lewiston, Portland, York, and other Maine communities.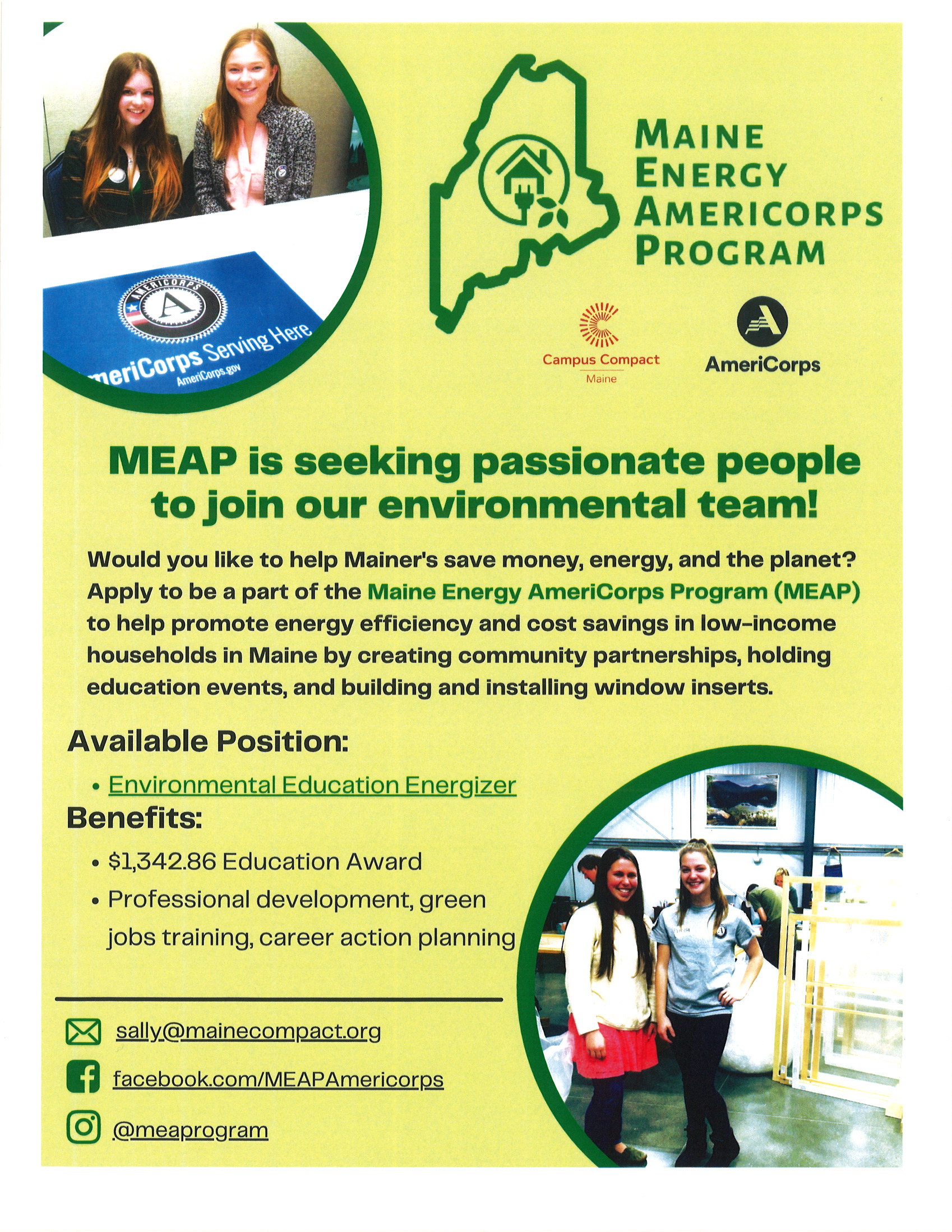 AmeriCorps Environmental Education Energizer Position Description
Through community partnerships focused on reducing energy and light weatherization services, MEAP AmeriCorps Environmental Education Energizers will help increase energy efficiency and cost savings for economically disadvantaged populations, community organizations and non-profit higher educational institutions during the Summer of 2021.
 Position responsibilities
Provide information and resources about increasing energy efficiency in homes and in the community
Help design and direct a public awareness campaign around energy efficiency
Help plan and implement MEAP environmental and energy efficiency events
Recruit volunteers and participants for MEAP events
Help conduct basic home energy assessments
Assist with a series of environmental education projects in the community
Participate in general skill and career development
Required qualifications
Applicants must be at least 17 years old and a US citizen
Strong oral and written communication skills
Well-developed organizational abilities
Knowledge/experience with community engagement and volunteerism
Motivated, self-directed, and action oriented
Preferred qualifications
Prior experience/knowledge of community partners in the area
Experience with environmental stewardship or energy efficiency initiatives
Strong interpersonal skills, self-motivation, and comfortable speaking in public
Volunteer management and event planning experience
Service Term & Benefits
Hours: 35-40 hours per week for 8 weeks, 300 Hours total
Education Award: $1,342.86
 Other benefits include: Professional development including skill building and Green Jobs trainings, personalized career counseling, support in developing a personal Career Action Plan, and an enhanced green/environmental professional network.
To Apply:
o            Send a resume and letter of interest to Sally@mainecompact.org.
Start date for this position is any time after April 15, 2021
*All selected candidates must complete a federal and state background check.
*All qualified applicants will receive consideration for employment without regard to race, color, religion, sex, national origin, sexual orientation, age, disability, protected veteran status, or any other characteristic protected by law.
*AmeriCorps, a federal agency, brings people together to tackle the country's most pressing challenges through national service and volunteering. AmeriCorps members and AmeriCorps Seniors volunteers serve with organizations dedicated to the improvement of communities. AmeriCorps helps make service to others a cornerstone of our national culture. Learn more at AmeriCorps.gov.
A downloadable version of this announcement – Summer MEAP AmeriCorps MT Position Description 2021