Hunting
Trek through the magnificent Maine woods and fields to bag some game! Hunt moose (permit only), white-tailed deer, black bear, wild turkey, and more! Get out your camo, and put on some orange! For the full hunting experience, consider staying at a Maine sporting camp or lodge!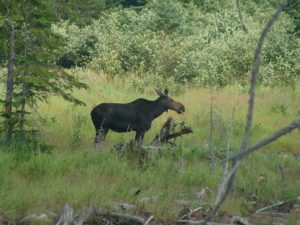 Important Things to Note:
Take advantage of Maine's Guide Services, discussed below!
Jack Mountain Bushcraft School 1058 Garfield Rd, Masardis, ME 04732 | (207) 518-8804

Amazing wilderness education school offering high-quality wilderness guide and instructor training courses in the North Maine Woods!
Aroostook County
Home to Wildlife Management District's 1, 2, 3, 6, and parts of 11 and 5, Aroostook County is a Hunter's Paradise!
 DownEast Maine
Wildlife Management Districts 27, 28, and parts of 1, 19, and 26 can be found in Downeast Maine.
Western Maine
Composed of parts of Wildlife Management Districts: 7, 8, 12, 13, 15, 16, 21, and 22. 
Bigelow Preserve Public Reserved Land Farmington, ME 04938 | (207) 778-8231

About 40 miles out of Farmington is this reservation that has the most beautiful views around by canoe.

Carrabassett Valley Outdoor Association (CVOA) 4068 Carrabassett Dr, Carrabassett Valley, ME 04947 | 

(207) 265-2397

 "Mission: To foster and promote the conservation of our natural resources and the creation of recreational opportunities in our region." This fun group provides great activities including ski trips, kayaking, hiking, bowling, and more! They also have a wonderful, state of the art shooting range near Sugarloaf.

Chesterville Wildlife Management Area Chesterville, ME 04938

This beautiful tract of preserved land, accessible from the center of Chesterville, is a great location for some wilderness paddling, fishing, and waterfowl hunting.

Grant's Kennebago Camps 133 Grant's Camps Ln, North Franklin, ME 04970 | (207) 864-3608

Grant's Kennebago Camps provides a traditional sporting camp experience! They offer 3 home-cooked meals a day, comfortable accommodations, and specialty fly fishing, hunting, golfing, and "moosing" packages.

Greater Lovell Land Trust Trails Lovell, ME, 04051 | (207) 925-1056

The Greater Lovell Land Trust maintains public hiking trail networks across the town, offering a wide variety of trail lengths, difficulty levels, and scenery, from lakeside to mountaintop!

Green Farm Guide Service Coplin Plantation, ME 04970


Guided bear, moose, deer, and bird hunts.

Magalloway River Farm 285 Wilsons Mills Rd, Wilsons Mills, ME 03579 | (207) 670-8583

This family-friendly lodge, located alongside the Magalloway River, offers guided fishing, ice fishing, snowmobiling, hunting, and river trips.

Mt. Blue State Park Weld, ME 04285 | (207) 585-2347

Open year-round, Mt. Blue State Park is a beautiful attraction including all sorts of outdoor activities like hiking, trail riding, biking, swimming and picnicking.

Rocky Ridge Guide Service 8 Ridge Rd, Lovell, ME 04051 | (207) 925-6262

Offering guided turkey, woodcock, grouse, and deer hunts.

Setter's Point Inc 613 Sawin Hill Rd, Albany Township, ME 04217 | (207) 357-4687

Located in a beautiful, remote setting, this business, run by a Maine Guide and his Llewellin Setter dogs, provides bird hunting, clay shooting, and fly fishing, as well as guided hunts and fishing trips offsite.

Stony Brook Outfitters 55 Morrison Hill Rd, Wilton, ME 04294 | (207) 778-4077

This hunting outfitter specializes in big game hunts based from their lodge in Wilton. They offer guiding, comfortable lodging, and home-cooked meals.

Waterford Fish & Game Club 819 Norway Rd, Waterford, ME 04088 | (207) 583-8296

Cozy club offering skeet and range shooting at reasonable rates.