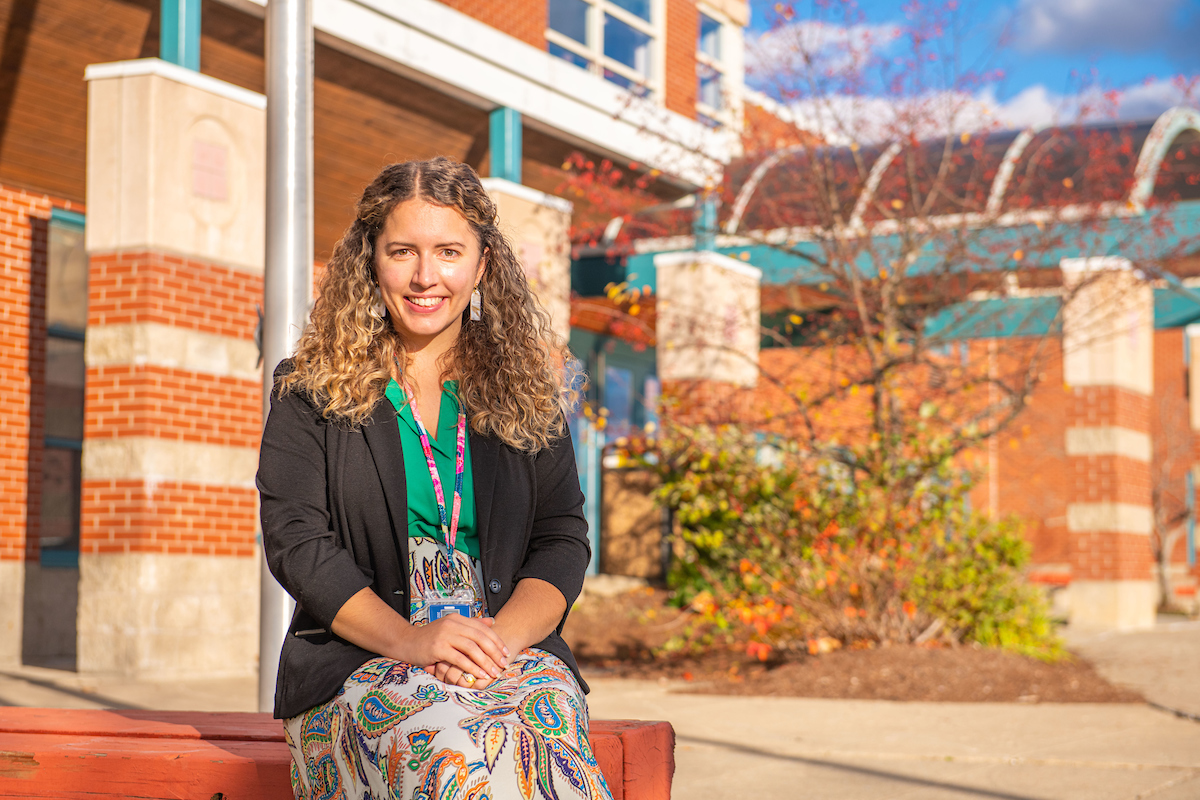 UMaine Student Symposium 2023 Keynote Speaker: Maine's 2022 Teacher of the Year, Kelsey Stoyanova
This year's annual UMaine Student Symposium (UMSS), a celebration of student research and creative work, will be held at the Collins Center for the Arts on Friday, April 14th, 2023. Graduate and undergraduate students from across all disciplines, from both UMaine and UMaine Machias are invited to submit their abstracts. The UMSS23 organizing committee is thrilled to announce this year's keynote speaker, Kelsey Stoyanova, Maine's 2022 Teacher of the Year.
Stoyanova's UMSS23 keynote address will have two main themes: "Voice, choice and advocacy – What can YOU do to make a change utilizing the skills and passion you already have?" and "How can stakeholders utilize their expertise in their fields to help grow and shape the future leaders of Maine?" 
Kelsey Stoyanova is an 8th grade Language Arts teacher at Reeds Brook Middle School, part of Regional School Unit 22, in Hampden, Maine. Stoyanova is a proud UMaine Black Bear, with a Bachelor of Science in Secondary Education with an English concentration, a Master's Degree in Education with a literacy focus, and an Educational Specialist Degree in Educational Leadership in progress.
Stoyanova is passionate about reading and helps students find an authentic love for it by integrating a strong foundation of independent reading within her classroom. That passion really shined when she was selected as a grant recipient by the Book Love Foundation in 2020.  The Book Love Foundation raises money to support classroom libraries of teachers committed to the individual reading lives of every student.  
As an advocate for student choice and voice in curriculum, Stoyanova became a Middle Level Language Arts Curriculum Leader – working to audit, align, and enhance the curriculum. She serves on the Equity in Education Committee, is sought out as a technology enthusiast, is a mentor teacher, and loves to share and design creative projects and assessments with her colleagues in all content areas. As Maine Teacher of the Year, Stoyanova's priority was to amplify student and teacher successes in Maine education and highlight the importance of business and education partnerships. Serving a one year term on the Educate Maine Board of Directors in 2023, she looks forward to continuing to do this great work. 
After school, you can find her going on outdoor Maine adventures with her family, or with her nose in a book, which she will undoubtedly talk about in class the next day.
Stoyanova's talk will begin at 2:30 PM in the CCA Hutchins Concert Hall. The UMaine Student Symposium is free and open to the public. For more information regarding UMSS please navigate to umaine.edu/umss. Judging and sponsorship opportunities are also available! We hope to see you on Friday, April 14.