Telepractice Communication Groups
Communication Groups are an interactive way for our clients to practice their communication skills in a comfortable, nonjudgmental social setting. Group members are all typically working through similar struggles, and they are dynamically encouraging to one another.  To allow group members the opportunity to form connections with other participants, group size is limited to 4-6 participants. Sessions may be theme-based or focus on broader aspects of social communication. 
 Individual Speech-Language Therapy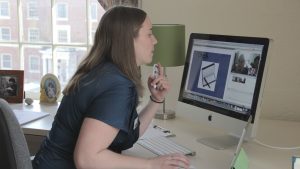 This interactive web-based approach provides speech-language services conveniently in their home, school, or community. Clinicians and clients simultaneously manipulate custom pictures, videos, and activities. Because technology changes rapidly, clinicians are able to incorporate the most up-to-date websites, applications, software, and assistive technology into the sessions.
---
Types of Disorders Treated
Locations Served By Telepractice

The UMaine Speech Therapy Telepractice program has served many locations in Maine and internationally to Fiji. The flexibility of web-based services allows family members to join in on sessions from anywhere around the globe.