---
About the Program
Spend your semester or year at the University of Mannheim, an institution that has been continuously recognized as the highest ranking university not only in Germany but all of Europe. You'll live in an urban environment located directly in the city with ample amenities. From the shops to the cinemas, you'll scarce be bored.
Located at the point where the Rhine and Neckar rivers meet, Mannheim is surrounded by beautiful regions popular for nature walks and cycling. Spend your day or weekend exploring your host country or pop on over to France or Switzerland for a trip!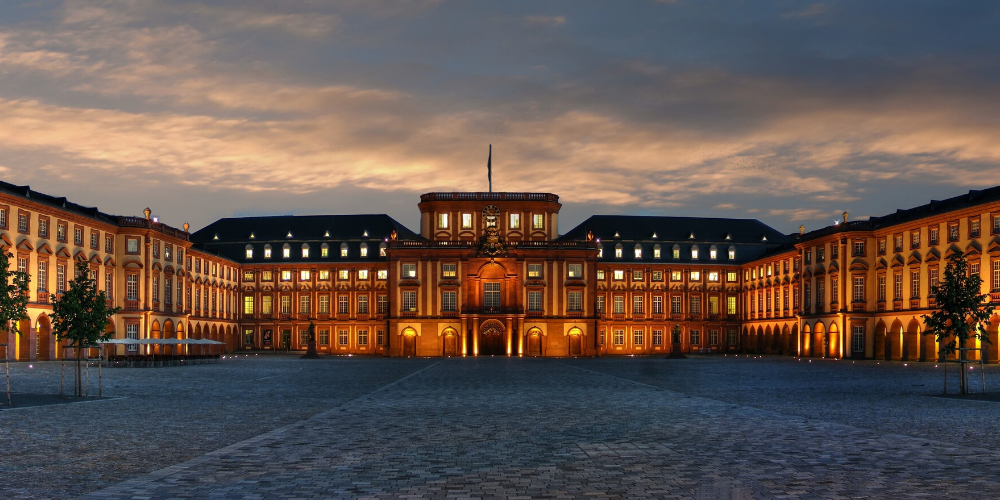 Requirements
Minimum GPA of 2.75
Subjects
Best Suited
Other Subjects
| | |
| --- | --- |
| Business | Communications |
| Economics | English |
| History | Philosophy |
| Political Science | Psychology |
| Sociology |   |
---
---
Academic Calendar
Fall Semester 2023
Lecture period: September 4 – December 8

Exams: December 9 – 22
Spring Semester 2024
Lecture period:  February 12 – May 31

Easter Break:  March 25 – April 5

Exam period:  June 3 – June 15
Fall Semester 2024
Lecture period: September 2 – December 6

Exams: December 9 – 21
Spring Semester 2025
Lecture period:  February 10 – May 30

Easter Break:  April 14 – 25

Exam period:  May 31 – June 14
For more information visit Academic Calendars.
Full-Time Enrollment
UMaine students must be registered for at least 24 ECTS credits each semester. Students are not encouraged to register for more than 30 ECTS credits each semester.
Academics
Exchange students need to take the majority of courses from their academic department (major). However, they can choose 1-2 courses from the university-wide elective courses if places are available: Law, Business Administration, Economics, Social Sciences, Humanities, Business Informatics and Mathematics. Students can choose their courses upon arrival (except German language and terminology courses offered by the International Office).
Students register for 24-30 ECTS credits per semester.
Transfer credits:
2 ECTS credits = 1 UMaine credit
---
Grading Scale
| | | | |
| --- | --- | --- | --- |
| Mannheim grade | Descriptor | ECTS grade | UMaine grade |
| 1.0 – 1.5 | Excellent | A | A |
| 1.6 – 2.0 | Very Good | B | A |
| 2.1 – 2.5 | Good | B | B |
| 2.6 – 3.5 | Satisfactory | C | B |
| 3.6 – 4.0 | Sufficient | D | C |
| 4.1 – 5.0 | Not Sufficient | F | F |
| Bestanden (mit Erfolg) | Passed (successfully) |   | P |
| Besucht (regelmäßig) | Attended (regularly) |   | Audit |
Housing
The University of Mannheim has a number of residence halls called "Studierendenwerk Mannheim" within walking distance to the university buildings.  They house German and other international students. Each room, a single or a double, has basic furniture, a sink, and a TV, internet and phone connection. Shared kitchens are available.  Rooms for exchange students are limited in number so UMaine students must apply as soon as they are accepted. The rooms usually have to be rented for a six-month-period, reductions are sometimes possible upon request. The International Office at the University of Mannheim also provides support in locating rooms in private homes. For more information please check the Housing website. *Studierendenwerk Mannheim may require up to 4 months rent before financial aid disperses – please work with them to know exactly what you might need upfront or seek private housing.
---
Language Support
International Academy
The International Summer/Winter Academy is a four-week intensive language course including seminars about German culture and society. It is held before the beginning of the semester and costs €650 (about $720). Exchange students can register for the International Academy in addition to a semester at the University of Mannheim. The cost of the academy is in addition to the exchange program. Dates, activities, and other information here.
Courses on German Language and Culture
Extracurricular German language and culture courses are available to all exchange students during the semester for a small administrative fee (€15 per course). There are a range of German language levels and courses on German cultural topics taught in English. As a rule, students can take a maximum of 3 courses per semester. More information here.
Student Association
In order to cover the costs of the student services, by law, every student enrolled in a German university – including exchange students – has to pay a semester contribution. As of the spring semester 2013, the contribution is € 66,50 per semester (USD$100).
Dining & Transportation
Dining
Students can dine in the Dining Hall called "Mensa" or prepare their own meals. The Mensa offers affordable lunches a-la-carte. No meal plans are available.
Transportation
Students can buy a semester ticket at the current price of € 145 (~$190) for unlimited public transportation in the greater Mannheim area.
---
---