About the Program
When you choose to study at Aberdeen, you're choosing one of the seven ancient universities in Great Britain and Ireland. The university is over 500 years old and is widely regarded as one of the most beautiful and historic campuses in the UK. With a sports village, an aquatics center, zoology museum, and a marine science research facility called oceanlab, Aberdeen is a great choice for all majors.
You'll live in a location voted as one of Scotland's safest university campuses.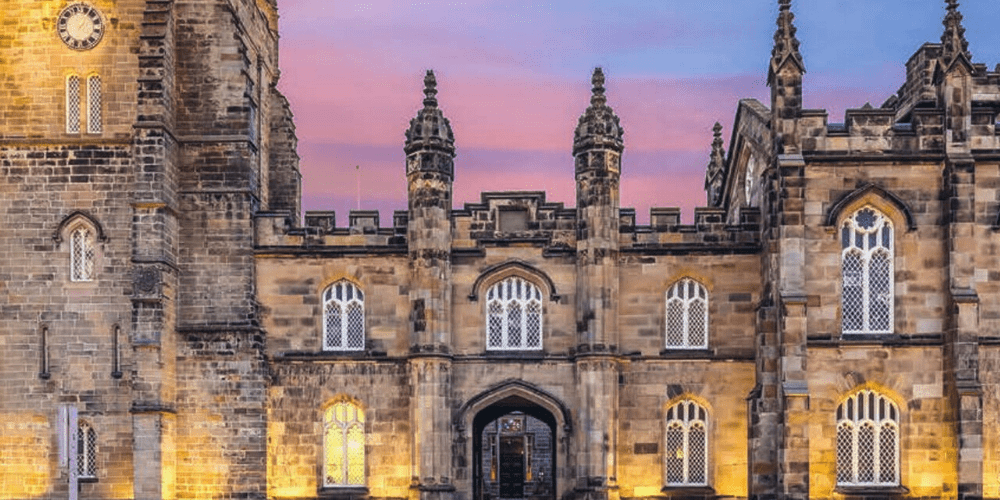 ---
Requirements
Minimum GPA of 3.0
Subjects
Best Suited
Anthropology
Archeology
Biology
Chemistry
Earth Science
Education
English
History
Music
Political Science
Psychology
Other Subjects
| | |
| --- | --- |
| Accounting | Anthropology |
| Archeology | Biology |
| Biomedical Science | Business |
| Celtic and Anglo-Saxon Studies | Chemistry |
| Computing | Conservation Biology |
| Economics | Engineering |
| English | Environmental Science |
| European Studies | Exercise and Health Science |
| Film and Visual Culture | Forestry |
| Gaelic Studies | Geography |
| Geology | History |
| International Relations | Language & Linguistics |
| Law/Legal Studies | Marine Biology |
| Mathematics | Music |
| Neuroscience | Philosophy |
| Physics | Political Science |
| Psychology | Scottish Studies |
| Sociology | Zoology |
---
---
Academic Calendar
Fall (1st semester, Sep-Dec)  2022
Semester Begins: Monday 12 September
Classes Begin: Monday 19 September
Term ends: Friday, 16 December
Spring (2nd semester, Jan-May)  2023
Semester Begins: Monday 16 January
Classes Begin: Monday 23 January

Spring break: Friday 31 March – Monday 24 April

Exam Period Starts: 1 May
Term ends: Friday 12 May
For any further information, consult the Academic Calendar
Full-Time Enrollment
The normal course load is therefore 60 credits per semester, or approximately 15 US credit hours. Students are required to enroll full-time in at least 12 UMaine credits.
Academics
Most University of Aberdeen courses are available to students from their more than 600 degree programs. Medicine is the only discipline that is not open to exchange students.
Undergraduate programs are made up of four levels:
Level 1 – first year (100-level courses at UMaine)
Level 2 – second-year (200-level courses at UMaine)
Level 3 – third-year (300-level courses at UMaine)
Level 4 – fourth-year (400-level courses at UMaine)
Generally, courses at level 1 and level 2 are open to incoming students. Entry to level 3 and level 4 require proof that the student has taken relevant prerequisites at UMaine.
Most classes are examined through a combination of continuous assessment, mid-term assignments and an end of semester examination.
Transfer Credits:
15 Scottish Credits = 3.75 UMaine Credits
---
Grading Scale
All coursework, class assessments and end of semester examinations at the University of Aberdeen are graded using the Common Assessment Scale (CAS) and the Common Grading Scale (CGS).
| | | |
| --- | --- | --- |
| Aberdeen CAS Mark | Aberdeen CGS Mark | University of Maine Grade |
| 18-20 | A1 – A5 | A |
| 17 | B1 | A- |
| 15-16 | B2 – B3 | B+ |
| 13-14 | C1- C2 | B |
| 12 | C3 | B- |
| 11 | D1 | C+ |
| 10 | D2 | C |
| 9 | D3 | C- |
| 6-8 | E1 – E3 | D (no credit) |
| 0-5 | F1 – F3, G1, 02, 03 | F (no credit) |
Housing
Students live alongside regular degree-seeking students and international students. The University offers a wide range of housing options, but mainly consists of apartment (suite) style living, with each student have their own single room. Some residence halls also feature private en-suite bathrooms. Students are guaranteed a place in accommodation, either owned by the university or through a preferred partners if applications are submitted before the deadline.
Detailed information of housing options and costs
Campus Accommodation
The Campus Accommodation Halls of Residence are located in the middle of campus, close to all facilities in the King's campus. All include 24/7 on-site assistance and include utility bills and Wi-Fi in the price. The halls are dived by catered and self-catered, catered comes with a meal plan (breakfast, dinner, and Sunday brunch). Catered halls include appliances for cooking, but you will need to purchase dishes and pots/pans.
Hillhead Student Village
Hillhead is located beside Seaton Park, a 20 minute walk or a 5 minute bus ride to King's campus. All utility bills and Wi-Fi is included in the price. The student village comprises self-catered accommodation, across 9 different properties with the majority of apartments being single sex.
---
Student Association
Student clubs in the UK are known as "societies" and Aberdeen's Student Association has hundreds to choose from! One of the best ways to meet friends and adjust to your new surroundings is to get engaged in the university community.
The Student Advice and Support Office provides confidential and impartial advising on a range of issues, including personal, academic, money matters, disabilities and specific learning difficulties, visas and immigration matters, mental health and wellbeing, and more.
Support on Campus
The International Centre (IC) is an on-campus hub for anyone interested in the 'international experience' aspect of Aberdeen. They offer advice, a quiet place to relax and socialize, and a great starting point for anyone looking to explore potential opportunities abroad and integrate themselves within the international community of the University.
---