Elizabeth Armstrong
Elizabeth Armstrong is an assistant professor of social work. She teaches courses on social work research and human behavior in the social environment. Dr. Armstrong's research focuses on policy and practice with marginalized women, particularly those affected by both intimate partner violence and substance use. Her dissertation used multiple methods to pinpoint factors that allow some organizations in to address both issues together when most do not. More broadly, Dr. Armstrong is interested in how entrenched ideas about the nature of social problems shape resultant polices and services.
In addition, Dr. Armstrong is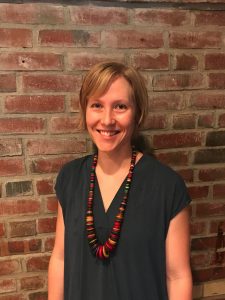 involved in ongoing projects with colleagues at the University of Michigan on experiences with divorce at mid-life and with colleagues at Rutgers University and the University of Michigan on decision-making practices among child protective services workers.
Dr. Armstrong has direct practice experience with intimate partner violence survivors and individuals in the commercial sex trade. She has also been involved in community-based evaluation research for a program intended to reduce harms associated with high-risk sexual behavior and substance use among adolescent women.