Elizabeth Armstrong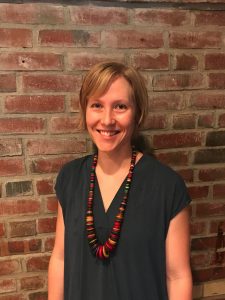 Elizabeth Armstrong joined the School of Social Work faculty in 2017, after completing her PhD in Social Work and Sociology through the University of Michigan's Joint Doctoral Program in Social Work and Social Science. She received her MSW (focusing on Social Policy and Analysis and practice with Communities and Social Systems) and a Graduate Certificate in Women's Studies from the University of Michigan in 2007. Armstrong previously earned a BA in Interdisciplinary Studies, with concentrations in Psychology and Human Services, from Simon's Rock College of Bard.
Dr. Armstrong is an interdisciplinary scholar whose work spans social work, sociology, women's studies, and family studies. Broadly, Armstrong is interested in how different understandings of social issues enable some interventions and constrain others. Topically, her work has focused on intimate partner violence in relation to substance use and child welfare. She has additional interests in intersectionality and community-engaged research. Armstrong's primary expertise is in qualitative methods. However, she uses multiple methods, including content analysis, surveys, and interviews to answer her research questions. Armstrong has ongoing projects with the Maine Coalition to End Domestic Violence on mental health professionals' knowledge, attitudes, beliefs, and practice behaviors related to intimate partner violence and, with colleagues at Margaret Chase Smith Policy Center, impacts of the Maine Naloxone Distribution Initiative on people who use drugs and organizations seeking to foster their wellbeing. Armstrong regularly presents her work at conferences and has published in a variety of peer-reviewed journals.
Dr. Armstrong's scholarship has been supported by numerous fellowships and awards. Since coming the University of Maine, she has been selected as a participant in the EMPOWER Program, Margaret Chase Smith Policy Center's Faculty Fellows Program, and the recipient of a Summer Faculty Research Award. Prior to coming to Maine, Armstrong's research was supported by the University of Michigan's Center for the Education of Women, Rackham Graduate School, the Institute for Research on Women and Gender, and the University of Michigan Substance Abuse Research Center, through a National Institutes of Health Ruth L. Kirschstein National Research Service Award.
At the University of Maine School of Social Work, Dr. Armstrong teaches SWK 491 (Methods of Social Work Research) in the BSW program and SWK 691/692 (Advanced Social Work Research) and SWK 650 (Human Behavior and the Social Environment II) in the MSW program. Her course SWK 597 (Social Work Practice and Intimate Partner Violence) is open to both undergraduate and graduate students. Armstrong is a committed teacher and had made use of opportunities for further her teaching through the University of Southern Maine's Summer Academy for Adult Learning and Teaching, the Council of Social Work Education's Teaching Institute for Early Career Faculty, as well as the Center for Innovation on Teaching and Learning at the University of Maine. Across classes, Armstrong strives to be student-centered and participatory and emphasizes critical thinking about relationships between practice (including research and theorizing) and social change goals.
Since 2019, Dr. Armstrong has led the School of Social Work's Professional Opioid Workforce Response (POWR) Program, a HRSA-funded training program for specialization year MSW students. POWR works to address interrelated issues of the opioid epidemic and lack of trained mental health professionals in Maine by providing MSW students in opioid-use disorder focused field placements with funding, specialized coursework, and additional learning opportunities. Funded from 2019-2022, POWR will training 30 MSW students. The program has additionally increased community capacity to address OUD through Community POWR Colloquia, community trainings on OUD-related topics held twice per academic year.