Current Issue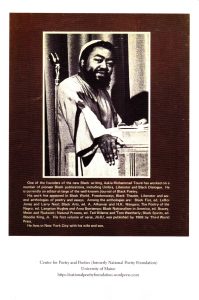 Volume 48 / 2021 [2023]
A Tribute to Askia M. Touré
Benjamin Friedlander, Preface
David Grundy, "Songs for the Future: Askia Touré's Songhai!"
Askia Muhammad Touré, Songhai!
Addison Gayle, Jr., "Reclaiming the Southern Experience: The Black Aesthetic 10 Year Later" (1974)
James Smethurst, "Askia Touré, The Black Arts Movement, and Songhai!"
Kathy Lou Schultz, "Love as Revolutionary Practice in Askia Touré's Songhai!"
David Grundy, "Askia Muhammad Touré/Rolland Snellings: A Selected Chronological Checklist"
Notes on Contributors
The front and back covers of Paideuma 48 feature the front and back of Askia Muhammad Touré's Songhai! (1972), with photographs by Bilal A. M. Farid.
Published spring 2023 and available for purchase (below)
About Paiduema
Paideuma is an annual peer-reviewed scholarly journal with a focus on modern and contemporary poetry and poetics. Issues often include a symposium on a particular theme, a dossier of archival materials, and essays on poetics. 
History
Paideuma was founded in 1971 by University of Maine English Professor Carroll F. Terrell. Its original mission was to focus on Ezra Pound's life and work. The word "Paideuma" is a Poundian coinage, adapted from German scholar and ethnologist Leo Frobenius, meaning "the tangle or complex of the inrooted ideas of any period." read more