PDC Hosts Inaugural Cellulose Nanomaterial Forum
Over 50 UMaine scientists gather to share research findings using cellulose nanomaterials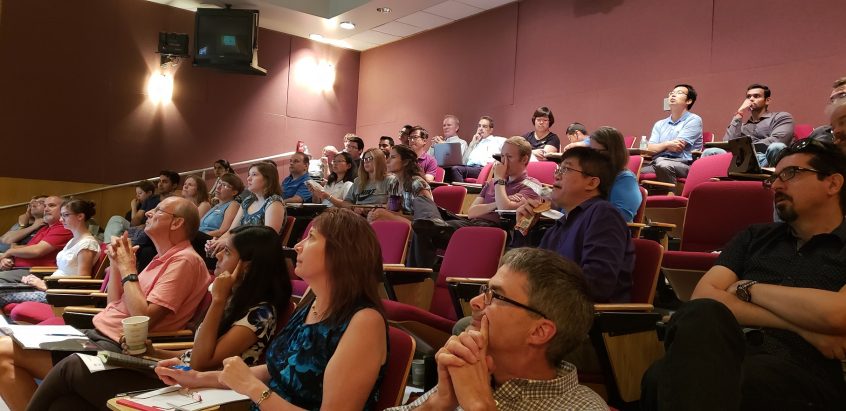 In August 2018, the PDC hosted the first UMaine Cellulose Nanomaterials Forum.  This was the first time that researchers across campus gathered to share experiences producing and using cellulose nanomaterials.  This event served to strengthen the on-campus community, but future events are planned which will be open to the industry. 
The PDC wanted to make sure that researchers understood the wide variety of CNF "flavors" that can be produced.  CNF can be made from a wide variety of fiber sources, utilizing chemical or enzymatic pretreatments, and produced to varying fines levels.  This gives researchers lots of options.
UMaine researchers are exploring a wide range of applications, including a host of composite materials, bone replacements, cement additives, and barrier films.  Forum participants represented several colleges: 
College of Engineering – Chemical Engineering, Biomedical Engineering, Civil Engineering, Environmental Engineering
College of Liberal Arts & Sciences – Chemistry
College of Natural Sciences, Forestry, and Agriculture – Forest Resources, Food & Agriculture
Forest Bioproducts Research Institute
Advanced Structures & Composites Center
Laboratory for Surface Science & Technology
Process Development Center
The PDC will be hosting more forums and other events to increase collaboration across departments.  With so many people using these materials, and these materials still new and not well characterized, it is important that knowledge be shared.  The next internal forum is planned for January 2019, with smaller events like student poster sessions being planned for the fall.  In Spring 2019, a larger event is being discussed to bring in Maine companies and other organizations to showcase UMaine's activities using cellulose nanomaterials.