Nanocellulose Research and Development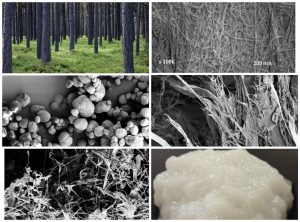 The Process Development Center's nanocellulose pilot plant is the only one of its kind in the nation. Constructed in 2012 through a joint venture agreement with the USDA Forest Service, the plant is capable of producing one ton of nanofiber per day. Ideally suited for nanocellulose manufacturing, research and development, the plant is available to companies, laboratories and educational institutions on a fee-for-service basis. Whether a client is manufacturing nanomaterial for prototype commercial development or analyzing nanofibril samples for further research, the PDC's pilot plant will support their needs.
The PDC also provides samples of CNF (cellulose nanofibrils) and CNC (cellulose nanocrystals) for sale. The nanomaterials distributed by the PDC represent the cutting edge of nanomaterial technology. Useful in a wide variety of applications due to their light-weight and durable nature, biobased nanomaterials have great potential to improve the quality of such diverse products as automobile components, super-strong materials, composites, paper and food additives.
The PDC is currently offering CNF (manufactured here at the PDC) and CNC (manufactured at the Forest Products Laboratory in Wisconsin) for purchase in slurry, spray-dried and freeze-dried forms. Since beginning distribution of nanomaterials in 2012, the PDC has provided nanocellulose samples to 147 companies and 76 public institutions in 30 countries. The Process Development Center serves as one of the primary distributors of cellulose nanomaterials in the world.
To order samples, visit our Order Nanocellulose page. To learn more about our nanofiber pilot plant, visit our Nanocellulose Facility page. To find out more about the ever-expanding world of biobased nanomaterials, check out our Nanocellulose Resources page.