Test Scoring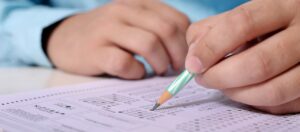 We offer electronic scanning for departments and individual instructors using Scantron optical mark recognition exam forms and course evaluation forms.
Instructions for Faculty
Drop off forms to 101 Alumni with the following items:
Please put all test forms in the same direction, ensure all students have filled in the dots under their names and only pencil (not ink) has been used.
Instructors will receive an email informing them the results are in their OneDrive folder when processing is complete.
Results are usually sent to instructors in 1-2 business days.
All score sheets will be returned to the instructor via campus mail.
Blank score sheets are available in our office.
Please contact Lori Smith at lori.anne.smith@maine.edu with any questions.