NSF awards $6M for Maine-led project to develop secure electric grids in communities disproportionately impacted by climate change
A new collaborative research project led by the University of Maine called STORM: Data-Driven Approaches for Secure Electric Grids in Communities Disproportionately Impacted by Climate Change, has been awarded $6 million from the National Science Foundation.
Over the next five years, the project team will conduct studies and create new tools that will grow research infrastructure and leverage data science to improve electrical grids and develop more resilient communities across the United States. Researchers will also focus on building strong relationships with community members to ensure solutions meet the needs of the people they are intended to serve.
NSF is supporting the project with an EPSCoR Track-2 FEC award. Previous Track-2 awards in Maine supported projects involving forestry and data science, adaptation to climate change, advanced manufacturing and biodiversity, among other topics. Maine is one of several states awarded new EPSCoR funding this August.
"As evident from EPSCoR's impact, investing in research infrastructure is a powerful catalyst for strengthening our nation's security, competitiveness, and fostering groundbreaking scientific advancements," said NSF Director Sethuraman Panchanathan in a news release. "I'm thrilled to announce this year's EPSCoR Track-2 awards, which will strengthen community and regional efforts to understand the impacts of a changing climate and enhance the resilience of disproportionately affected communities. By addressing these critical challenges, and engaging with communities impacted by climate change, we have the potential to advance innovation and promote economic stability and recovery in EPSCoR jurisdictions and beyond."
The project began as researchers and stakeholders became increasingly concerned about the impact climate change was having on electric grids. In 2021, a winter storm hit Texas, compromised its electric grid and caused millions of people to go without power. The entire grid nearly collapsed.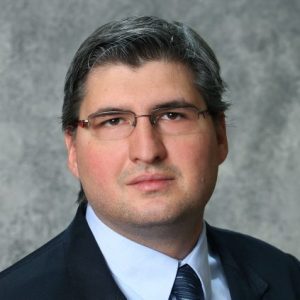 "With climate change, everything we expected to be a one in 100-year event, are happening more often and with higher intensity," says Reinaldo Tonkoski, STORM's principle investigator and UMaine Robert N. Haskell Power Professor of Electrical and Computer Engineering, "how we design the grid to cope with those events is a big research question for us."
While Maine is no stranger to winter weather, grid operators must deal with challenges posed by the state's geography and climate change. The state, particularly its coastal and rural communities, is at the edge of the New England's power grid. Add forests and difficult terrain and some communities become even harder to reach.
Climate change will continue to cause more frequent severe weather events like flooding, extreme temperatures and high winds. These factors result in outages which disproportionately impact the state's most vulnerable communities who have less access to support systems.
In addition to Maine, researchers are working in Alaska, South Dakota and Puerto Rico. These jurisdictions all deal with their own climates and power grids, each with unique features and challenges. Tonkoski sees this as a major strength of the project.
"We are poised to have a variety of experiences to share on how to deal with different types of events," he says. "This will help us develop holistic and complete solutions that can be deployed both nationwide and worldwide."
Tonkoski says in the short term, "our goal is to foster collaboration in Maine to address major issues in reliability and cost effectiveness of the grid for Mainers. We also will build research and workforce capabilities for the state to tackle these challenges."
In the long term, the team will focus on creating and deploying community-centered solutions that are sustainable, reliable and affordable. These results will be disseminated across the country and beyond to cultivate resilient and sustainable systems that serve everyone.
Tonkoski and co-principal investigator Sharon Klein, associate professor of economics, will work with other researchers at the University of Alaska Fairbanks (UAF), University of Puerto Rico Mayaguez (UPRM) and South Dakota State University (SDSU). Additionally, the project team will collaborate with partners from various school districts, Indigenous Nations, municipalities, electrical utilities/cooperatives, nonprofits, startup and established companies and federal laboratories.
"Many of our partners are already working on community energy projects," said STORM Co-PI Dayne Broderson, who also serves as the UAF ARCTIC program administrator. "Partners in Galena, Alaska for example, are already pursuing community energy projects and recently finished creating a 3D map of their system that will help assess their grid. Working with them we can learn what works and collaborate on new projects."
The number of partners and range of expertise is an important part of the project. STORM Co-PI Adriana Luna Hernández, UPRM associate professor of electrical and computer engineering. says, "One of the biggest goals of this project is bridging the connection between affected communities and researchers. We want to listen to and work with them to ensure solutions meet their needs."
In addition to conducting research, the team will help prepare undergraduate and graduate students for the workforce, and mentor early career faculty.
"We are at a crossroads in the electric industry with much of the power engineering workforce retiring at the same time," says STORM Co-PI Tim Hansen, an associate professor with SDSU's Department of Electrical Engineering and Computer Science. "This project is happening at the perfect time to train the next generation workforce in the necessary skills for the future electric grid that go beyond traditional electrical engineering topics, such as machine learning and cyber-security. Grid resiliency is not a one-size-fits-all solution; engaging with local communities to build the skills they will need is crucial to improving the grid and bringing economic prosperity to our jurisdictions."
In addition to Tonkoski, Klein, Hansen, Hernandez and Broderson, associate professor Daisy Huang from UAF is a member of the STORM leadership team.
This story was written by Daniel Timmermann, communications manager for Maine EPSCoR.
Contact: Marcus Wolf, 207.581.3721; marcus.wolf@maine.edu