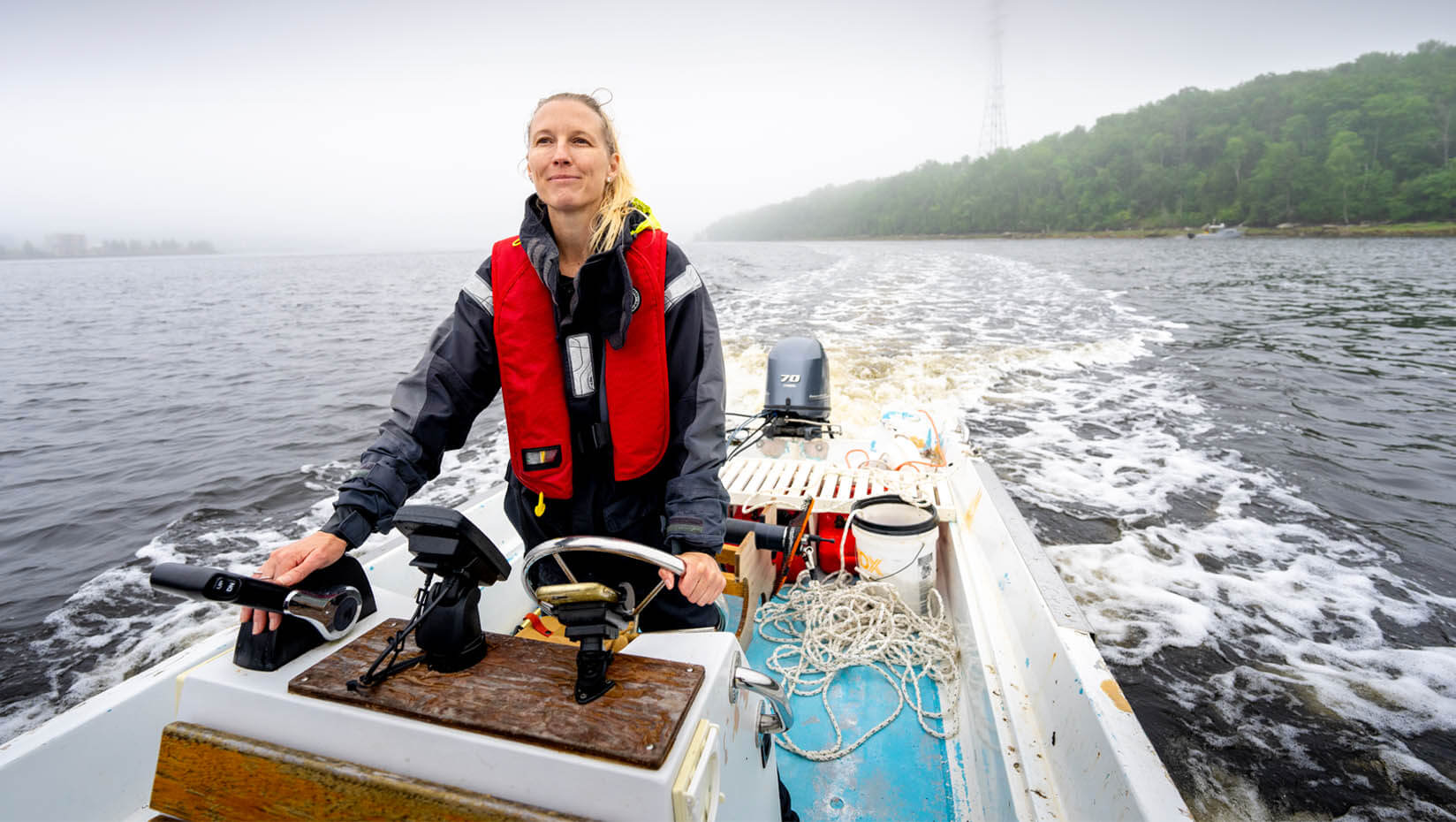 Ross embarks on Fulbright to expand estuary research beyond U.S. borders
Lauren Ross's research on the physics of estuaries has brought her all over the world, from France to Frenchman Bay along Mount Desert Island. With her recently-awarded Fulbright, Ross will lead a team of scientists to Chile to look at these transition points between freshwater rivers and the salty sea in a place where so many livelihoods depend on the health of these complex ecosystems.
The project will not only continue a budding partnership between UMaine and Chilean scientists, but the data that it gleans may even provide unique insights to Maine's estuaries thousands of miles away.
Ross grew up on the sunny beaches of Florida, and sensed from an early age that she wanted to devote her life studying the dynamics of coastal ecosystems. After receiving bachelor's and master's degrees in mathematics, she contacted the Department of Coastal and Oceanographic Engineering at the University of Florida to see if there would be a place for a mathematician in their department for Ph.D. work.
Luckily for her, that is exactly what the department needed to study estuarine physics.
"Fluid mechanics is inherently a mathematical problem," Ross says. "It's putting context and meaning to equations."
Ross quickly fell in love with the work — and saw the potential for its real-world impacts.
"Land-sea connections are super important because the majority of people live on the coast," Ross says. "The coasts of estuaries support coastal communities, shipping ports, aquaculture activities, and a delicate ecosystem, all of which are susceptible to anthropogenic effects such as coastal pollution and of course climate change. It's super complex, and that is what's so intriguing. Every estuary behaves so differently. Even along the same estuary the physics can change from day to day, to year to year. There is something to constantly discover."
During her Ph.D. program, Ross volunteered to deliver an instrument measuring turbulence to Chilean scientists working with her adviser (despite, she admits, the fact that she "really didn't know" much about the tool). She spent two weeks with fellow scientists on a boat in the Chilean fjords and realized how much the area had to offer for her own research.
"I had an awesome Ph.D. adviser that really wanted us to travel and gave us every opportunity to go and do research and get us a little bit out of our comfort zone," Ross says. "That opened my eyes to new experiences and cultures, the fieldwork opportunities helped me learn how to be more accepting and open, and to see and study remote coastal places that the majority of the world will never get to see."
Ross wound up collecting data for her Ph.D. on that trip, and returned twice more to complete her project. She even presented a separate defense of her thesis at University of Concepción in Chile.
After her Ph.D., Ross completed a postdoctoral program at the University of Bordeaux in France. As she was finishing up papers and projects there, Maine caught her eye as a potential next move. While there are many estuaries along Maine's jagged coastline, she noticed that few scientists were doing research in her field. She wrote a proposal for the Water Resources Research Institute to study coastal bacterial pollution in the Jordan River estuary in Frenchman Bay along with Sean Smith from the UMaine Department of Earth and Climate Sciences.
"On the coast of Maine, if there's two inches of rainfall in 24 hours, shellfish harvesting is closed for two weeks because there's pollution from the land that runs into the ocean and it brings bacterial pollution. We wanted to understand if that was a good rule or not and how we could assess that," Ross says.
Ross's project grew, and she was brought on at UMaine as an assistant professor of civil and environmental engineering in 2016. Since then, she has donned many more hats across the many disciplines touched by estuarine physics. She is a faculty fellow at the Senator George J. Mitchell Center for Sustainability Solutions and a cooperating faculty member in the School of Marine Science and at the Advanced Structures and Composites Center. She became an associate professor of hydraulics and water resources engineering in 2022.
The bulk of Ross's research focuses on the circulation patterns that can lead to the transportation of harmful materials in the water, from algal blooms to microplastics. In 2021, Ross was awarded a National Science Foundation CAREER Award, the organization's most prestigious for early career faculty, for her research to improve scientists' understanding of how estuary shape, river discharge and tides influence fresh and saltwater mixing.
"Don't underestimate the importance of salt: you have freshwater meeting with salt water and the mixing of those two waters of different salt content cause long term circulation patterns," Ross says. "I'm digging in a little more now to the theory behind how salt content that's really driven by tides interacting with rivers can influence circulation. This can be important for transport in the estuary as well as salt intrusion upstream"
Outreach and mentorship is an important part of her work, too. She not only has UMaine students working with her on research, but also students at Islesboro High School helping collect data in the Penobscot River estuary.
In fact, it was that commitment to partnerships and mentorship that helped her earn a prestigious Fulbright award in 2022. She is using that funding to return to Chile for research about how circulation in estuaries influences harmful algal blooms. This will allow her to draw links between harmful algal bloom issues faced in Chile and Maine estuaries. Starting at the end of the summer, Ross will spend four months working with colleagues she met during her Ph.D. program, who are now at the University of Los Lagos.
Ross gathered her graduate students and the Chilean researcher she is collaborating with on the Fulbright project, Ivan Perez-Santos — plus other estuary scientists Ross met during her time at the University of Bordeaux in France and the University of Florida, as well as researchers from the Federal University of Rio Grande in Brazil — to spend a week together in Stockton Springs, Maine, at the end of June to collect data that will be analyzed as part of the Fulbright in Chile. During this week, Ross also organized a workshop for everyone to present their work, get feedback and talk about next steps for collaborations.
"Everyone participated in fieldwork on the Penobscot River estuary and in a mini-symposium on estuarine and fjord physics aimed to better understand circulation and salinity variations in Maine estuaries," Ross says. "The goal is to draw links to other estuaries that my colleagues are studying around the world, since we are all facing similar challenges with climate change. During the week we collected and discussed some interesting data, initiated new scientific collaborations, and also had a great time!"
Elias Pinilla is a UMaine Ph.D. student studying coastal engineering from Chile who is working with Ross on the Fulbright research.
"I have been fortunate to collaborate with Lauren Ross for approximately a year now," Pinilla says. "Her mentorship has proven to be immensely valuable and enriching. Beyond her profound understanding of estuarine physics, her empathy and support were crucial during my transition and adaptation to life in the U.S. I am eager to contribute to the establishment of a robust, long-term research collaboration between Chilean researchers and the research group at the University of Maine, led by Lauren [Ross]."
Ross, for her part, is equally excited about the connections that the partnership can bring between Chile and UMaine — not just because it's good for the students, but also because it's good for science. When Maine had a harmful algal bloom event in 2016, the fjord that the project will study had a similar event that made their salmon industry collapse. There could be a connection in the way these two systems behave on opposite sides of the world.
"We seem to have the same problems in Maine, with the same species in the same years," Ross says. We're going to try and draw links between the two locations and also bring some of the new techniques to Chile."
Contact: Sam Schipani, samantha.schipani@maine.edu