New findings revealed on how climate change impacts lobster ecology
New information is emerging on how climate change is impacting American lobster populations and their connections to other species in the marine food web in the earliest stages of their life cycle. New research conducted by two graduate students at the University of Maine's Darling Marine Center (DMC) has revealed more information about how these economically and culturally important marine animals are responding to the changing ocean.
Alex Ascher spent the last five years studying the American lobster as part of his Ph.D. program in marine biology through UMaine's School of Marine Sciences. Ascher conducted his research both at the DMC campus in Walpole and at Bigelow Laboratory for Ocean Sciences in East Boothbay. Only a few miles apart on the Damariscotta River Estuary, the two marine laboratories have complementary facilities and research areas, making collaboration an attractive and powerful approach, particularly for students.
Last month at his Ph.D. defense, Ascher shared his research with a roomful of scientists, students and family gathered on the DMC campus, as well as with individuals who attended the presentation remotely via Zoom.
"While the abundance of adult lobsters has increased dramatically in the last several decades, there has been a surprising decline in the abundance of their juvenile offspring in coastal nurseries," Ascher explained. "In fact, the disconnect between the high levels of egg production and the low numbers of young lobsters 'recruiting' to monitored coastal study areas has been widespread in the Gulf of Maine."
This previously published observation encouraged Rick Wahle of UMaine's Lobster Institute and David Fields of Bigelow Laboratory to investigate the factors influencing the survival of planktonic larvae before they settle to the seabed. They recruited Ascher and another UMaine graduate student, Evelyn Layland, to their collaborative project to evaluate the hypothesis that the decline in lobster recruitment may be related to changes in food available to larval lobsters.
Their results could have important implications for the future of lobster populations in a changing climate. Others contributing to the collaboration include Pete Countway from Bigelow Laboratory and Rachel Lasley-Rasher from the University of Southern Maine.
The work has been supported by Sea Grant, Maine's Department of Marine Resources and the National Science Foundation-sponsored Maine-eDNA program that is developing new ways to understand how DNA in the environment can inform people's understanding and management of our natural and cultural resources.
During his seminar, Ascher presented new findings from field and laboratory studies that help people understand the multiple factors affecting the survival of the lobster's planktonic larval stages before they settle to the sea bed. Not only does his analysis provide a first glimpse of the diet of larval lobster in the coastal Gulf of Maine, but the DNA sequencing provides important insights on the identity of planktonic prey that conventional microscopy cannot.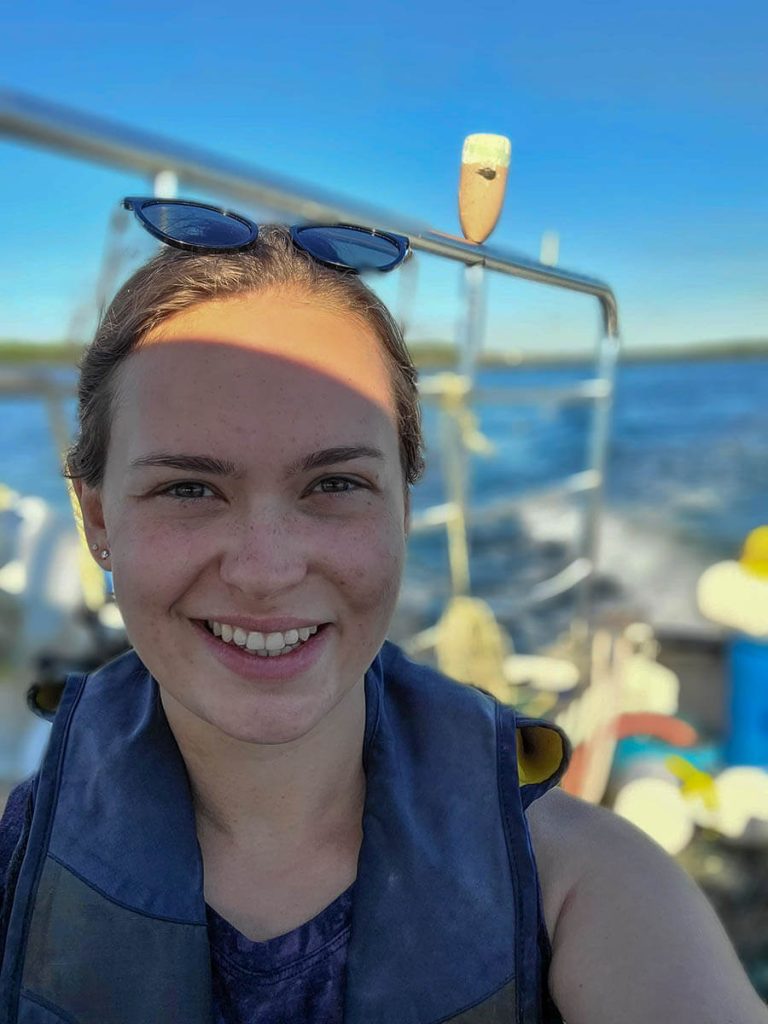 Layland's studies focused on the feeding behaviors of larval lobsters and how those behaviors influence young lobsters. Last month, Layland defended her master's in marine biology thesis, less than three weeks after Ascher's defense. Her complementary research used video analysis to track the pursuit and handling of planktonic prey by larval lobsters in each of their four stages. They underscore how vulnerable the earliest larval stages may be to starvation compared to the later stages that are much better equipped to chase down and subdue their planktonic prey.
In addition to the novel laboratory and field investigations on larval lobster behavior, Layland also produced a children's book about her scientific research.
"When most people think of Maine lobster, they probably picture the lobster you would find in a restaurant or a tank at the grocery store, but lobsters' lives start several years earlier as tiny pea-sized larvae floating around in the water column," Layland says. "Learning about the complex interactions taking place in the ocean between these tiny animals and their environment has been fascinating. I hope what we've learned will help others to better understand the drivers behind larval survival and changes in recruitment."
The work of both students will soon be available through Fogler Library's Digital Commons.
Members of the public are invited to learn more about educational and research programs at the DMC and Bigelow Laboratory through the marine laboratories' websites and public programs.
"It's wonderful to see Evie and Alex's work come together — they conducted complementary studies that add to our knowledge of lobster biology and ecology and also will help us more proactively manage the fishery," says Wahle, a professor of marine sciences and director of the UMaine Lobster Institute, which is also based at the DMC.
Rick Wahle, richard.wahle@maine.edu and Steven Profaizer, sprofaizer@bigelow.org