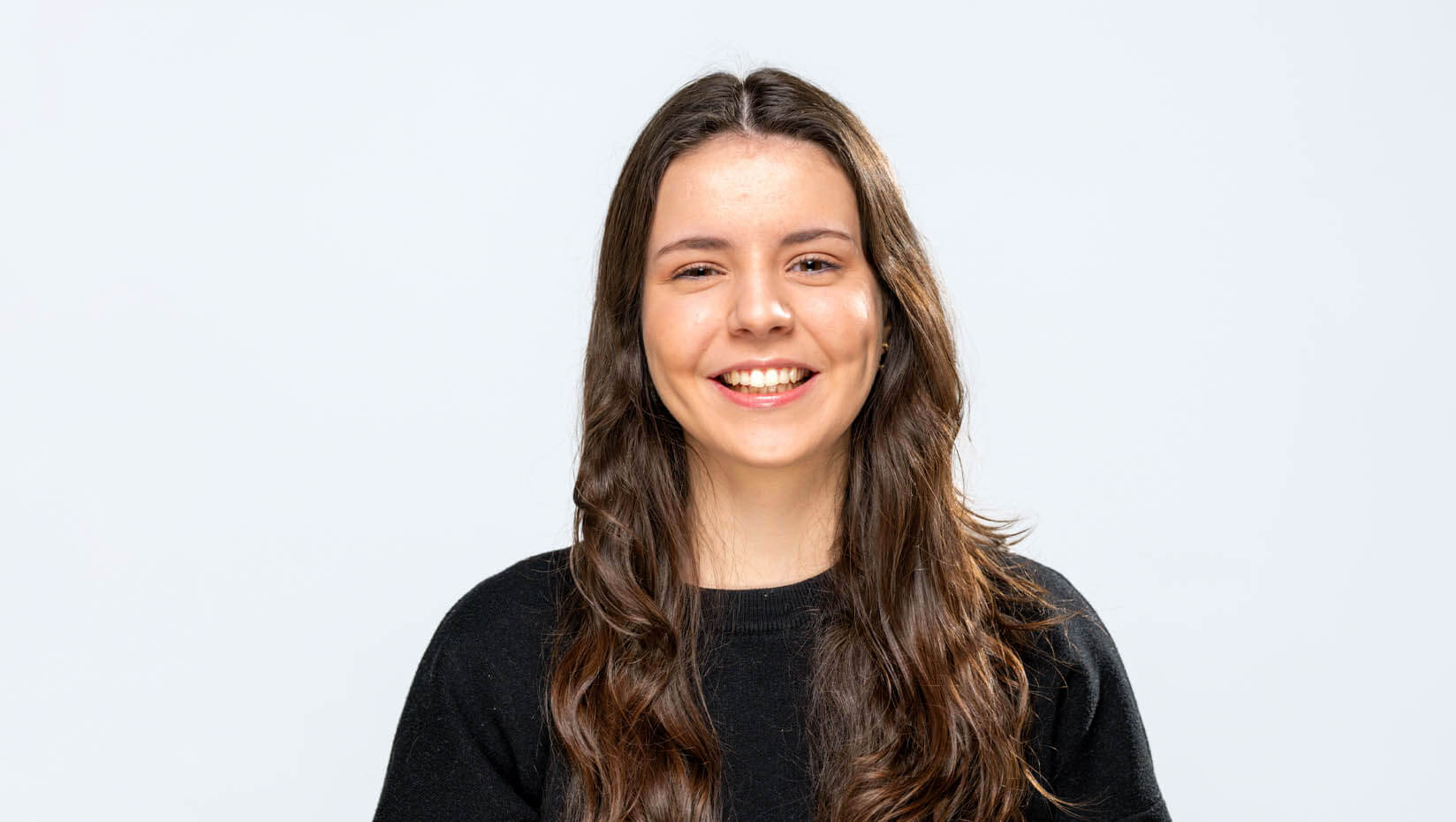 Maria Vina Lopez: Outstanding Graduating International Student
Maria Vina Lopez of Santiago de Compostela, Spain is the Outstanding Graduating International Student in the College of Natural Sciences, Forestry, and Agriculture, and in the Honors College. The biology major with a minor in mathematics is the recipient of numerous awards, including the International Presidential Scholarship and a Center for Undergraduate Research Fellowship. Her honors thesis is: "An Organoid Model for Human Brain Aging." As a student researcher, Vina Lopez studied the drug synergy effect of fluconazole and cyclosporine A on Candida albicans in the laboratory of professor Robert Wheeler, and used C. elegans to study the effect of novel small molecule combinations on age reversal in vivo and identify life span-extending cocktails in professor Suzanne Angeli's lab. For two summers, she also was a research intern in the microbiology laboratory of professor Darren Higgins at Harvard Medical School, and for eight months last year, collaborated on her honors research in the genetics laboratory of professor David Sinclair, also at Harvard Medical School. At UMaine, Vina Lopez has been president of Engineers Without Borders, a resident assistant, a Maine Learning Assistant and peer tutor in genetics, and a member of the University Volunteer Ambulance Corps. She plans to pursue a Ph.D. in biological and biomedical sciences at Harvard Medical School.
Tell us about the research, internships or scholarly pursuits you were involved in as a student.
As a student, I was involved in several research projects and internships in the field of biology and biomedicine. I worked in the Angeli Lab at the University of Maine to study the effect of small molecule combinations on age-reversal in vivo and life span-extending cocktails. In the Wheeler Lab, I studied the drug synergy effect of fluconazole and cyclosporine A on Candida albicans to improve antifungal therapies and fight the development of drug resistance. At Harvard Medical School, I conducted an honors undergraduate thesis in the Sinclair Lab, where I developed an organoid model of human brain aging and epigenetic drift, and screened for small molecules to reprogram human cells in vitro to a younger state. I also worked in the Higgins Lab to identify CD8+ T cell antigens that provide protection against listeria monocytogenes infection and studied the mechanism of brain infection by listeria monocytogenes.
What difference has UMaine made in your life and in helping you reach your goals?
UMaine has played a significant role in helping me reach my academic and research goals. The university's biology program and research opportunities provided me with a strong foundation in the field, and the Office of International Programs welcomed me warmly and provided both personal and academic support throughout my studies. Additionally, my involvement in extracurricular activities such as Engineers Without Borders allowed me to develop leadership and teamwork skills that will be valuable in my future career.
Have you had an experience at UMaine that has changed or shaped the way you see the world?
During my time at UMaine, I had the opportunity to work closely with my academic adviser and professors, who encouraged and challenged me to strive for academic excellence. Attending office hours and participating in class discussions allowed me to deepen my understanding of the course material and develop critical thinking skills. Additionally, being a part of the Honors College provided me with the opportunity to work on research projects and engage in meaningful discussions with fellow students and faculty members. These experiences not only shaped my academic drive but also taught me the importance of collaboration and intellectual curiosity. As a result, I now see the world through a more informed and nuanced lens, constantly seeking out opportunities to expand my knowledge and contribute to meaningful research and projects. UMaine has truly been instrumental in shaping my academic and personal growth, and I am grateful for the transformative experiences it has provided me.
Why UMaine?
I chose to attend the University of Maine because of its exceptional biology program and the numerous research opportunities available to undergraduate students. As a student pursuing a career in biological sciences, I knew that I needed to attend a university that would provide me with the knowledge and skills necessary to excel in my field. UMaine's biology program has a strong reputation for producing successful graduates who go on to pursue successful careers in a variety of fields. Furthermore, the Office of International Programs at UMaine was a major factor in my decision to attend the university. As an international student, I was looking for a university that would provide me with the support and resources necessary to succeed in a new and unfamiliar environment. The Office of International Programs at UMaine welcomed me warmly and provided both personal and academic support throughout my studies. Their support has been invaluable to my success at UMaine, and I am grateful for the opportunities and experiences that UMaine has provided me as an international student.
How would you define the opportunities for student success at UMaine? Is there any particular initiative, program or set of resources that helped you succeed?
I would define the opportunities for student success at UMaine as extensive and diverse. From research opportunities to internships and extracurricular activities, UMaine offers a wide range of programs and resources that allow students to explore their interests and develop their skills. One of the most valuable resources for me has been the academic adviser assigned to me. My adviser has provided me with guidance on course selection, academic planning, and helped me navigate the university system. I have also found the office hours with professors and Maine Learning Assistant sessions to be extremely helpful in providing additional support outside of the classroom. Being able to discuss course material and receive feedback on assignments has been instrumental in my academic success. Moreover, the Honors College and the Office of International Programs has been an exceptional resource for me to find mentors and establish a support system.
Have you worked closely with a professor or mentor who made your UMaine experience better?
I have had the privilege of working closely with a couple professors and mentors who made my UMaine experience even more fulfilling. Professor Margaret Killinger, who is part of the Honors College faculty, has been an incredible source of support and mentorship for me. She has helped me to not only excel academically, but also to develop important skills such as critical thinking and effective communication. On top of that, through her courses she challenged us to think beyond the classroom and apply what we learned to real-world issues, which was incredibly valuable. My academic adviser, Lynn Atkins, has also been an instrumental part of my UMaine experience. She has provided me with guidance on course selection, career planning, and other academic resources available at UMaine and beyond. She has always been available to support my goals and advise me and accompany me to achieve them. Having these two incredible women as my mentors and guides at UMaine has been a truly transformative experience for me, and has helped me to become the student that I am today.
What advice do you have for incoming students to help them get off to the best start academically?
My advice for incoming students is to take advantage of all the opportunities available to them, both academically and beyond. This includes seeking out research and internship opportunities, getting involved in clubs and organizations that align with their interests, and building strong relationships with professors and mentors. It is important to not be afraid to step outside of your comfort zone and try new things — you never know what opportunities might arise as a result. Additionally, it is important to prioritize self-care and seek out support when needed and speak up.
Contact: Margaret Nagle, nagle@maine.edu