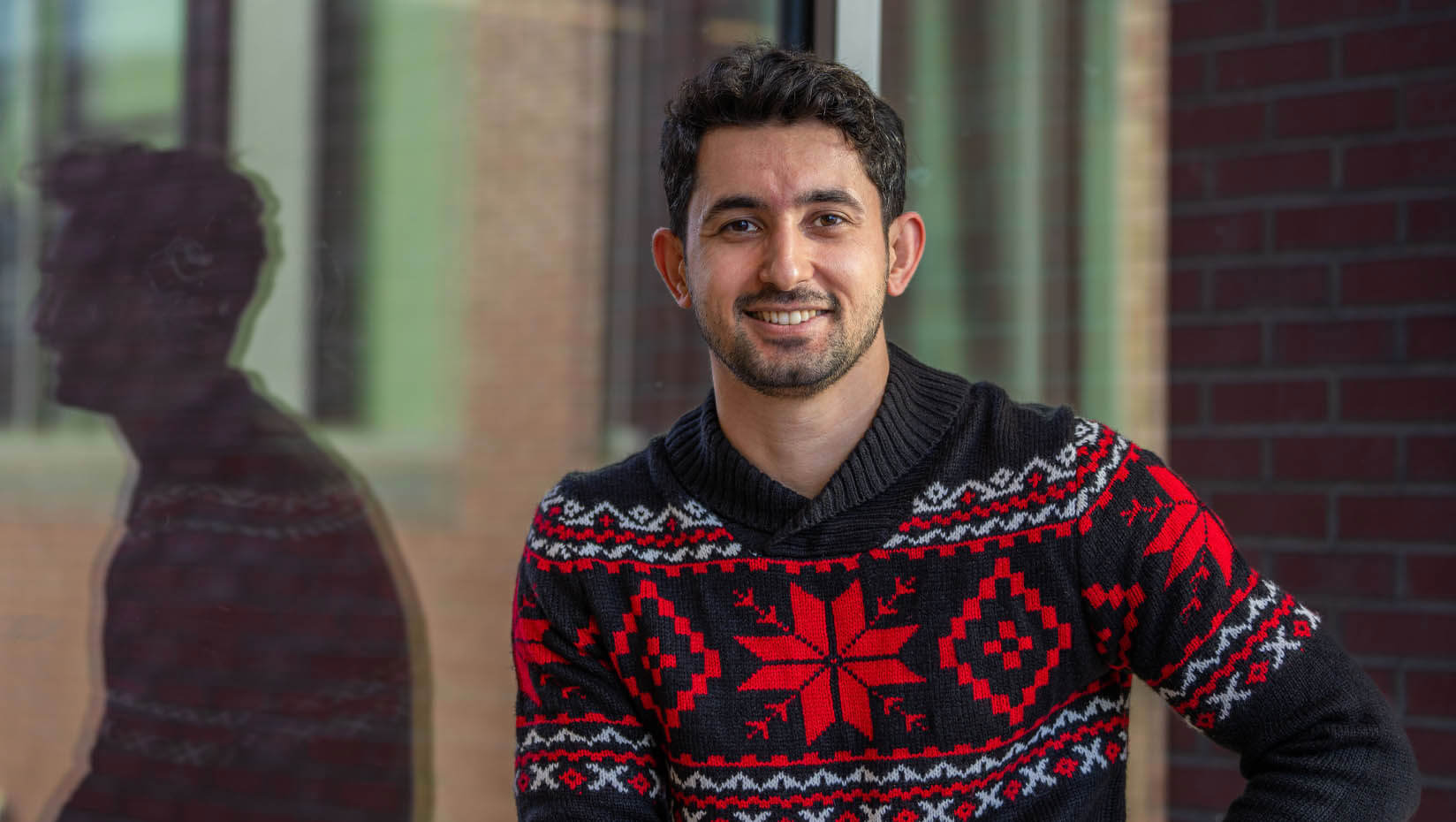 Alireza Kianimoqadam: Developing software to help decarbonize industries
From 2012–14, Alireza Kianimoqadam helped provide sustainable heating, ventilation and air conditioning systems for people in Tehran as a volunteer engineer with the United Nations Human Settlements Programme. The systems he designed were efficient and relied on renewable sources instead of fossil fuels.
Kianimoqadam, of Tabas, Iran, completed his bachelor's degree only months before starting his volunteer work, yet he was already making a difference in peoples' lives and contributing to a more renewable future for Iran's capital. Working for UN-Habitat allowed him to broaden his skill set and witness the benefits of sustainable urban development to communities and the planet.
Now at the University of Maine, Kianimoqadam is tackling a new challenge in creating a more sustainable society: decarbonizing industries.
Kianimoqadam, a Ph.D. student in mechanical engineering, has been developing software to assist with the creation of a solar-powered reactor that could eliminate almost all greenhouse gas emissions from the process used to make light olefins, chemicals like ethylene and propylene that serve as precursors to plastic. His adviser, Justin Lapp, a UMaine assistant professor of mechanical engineering, is leading the design of this novel thermochemical reactor, and recently received $400,000 from the U.S. Department of Energy for it.
The Computational Fluid Dynamics–Discrete Element Method software, or CFD-DEM software, will be able to predict how the reactor — particularly the particles within it — will behave under various conditions. Equipped with comprehensive heat and mass transfer functions, Kianimoqadam says the software will help researchers design the new reactor, and possibly support the development of more by other scientists and engineers, in ways that will "optimize energy consumption and further reduce greenhouse gas emissions."
"As a researcher in the fields of sustainable energy and thermal engineering, I am proud to contribute to the efforts to decarbonize industries and reduce greenhouse gas emissions," Kianimoqadam says. "In promoting sustainable energy solutions and reducing industry's impact on the environment, I hope to benefit not only the people of Maine but also the general public."
Kianimoqadam and Lapp recently developed new methods for increasing the efficiency of software used to simulate high-temperature particle behavior during energy generation, chemical reaction engineering and other processes.
These new tactics focus on pre-processing data and using it to train a recurrent neural network to predict the amount of heat transfer between high temperature particles, which is faster and cheaper than traditional methods, Kianimoqadam says.
They shared their findings in an article published in the International Journal of Heat and Mass Transfer, for which Kianimoqadam was first author.
"The preprocessing methods and neural network regression function developed in this paper have the potential to greatly accelerate the prediction of radiation in particulate media, which is a crucial aspect of many industrial processes," Kianmioqadam says. "These findings not only have the potential to improve the efficiency and speed of these processes, but also have the potential to be applied in a wide range of industries, from chemical and petrochemical to solar and aerospace. Overall, this work represents a significant advancement in the field and has the potential to have a significant impact on the development of more sustainable and efficient industrial processes."
Before enrolling at UMaine in 2014, Kianmioqadam earned a master's degree from K.N. Toosi University of Technology and worked as a technical adviser for the company Petro Irsa Nico Ltd., both in Tehran.
Kianmiqadam says he came to UMaine because of its reputation as a leader in several research areas, renowned faculty, serene environment, proximity to mountains and the ocean, and abundance of outdoor activities.
"Overall, I felt that the unique combination of natural beauty and academic excellence offered by UMaine would provide the perfect setting for me to focus on my studies and further develop my skills and knowledge in my field," he says.
When he graduates, Kianmiqadam hopes to either work for or start his own engineering firm.
"Overall, I believe that the education and experience I have received at UMaine have given me the foundation I need to excel in my chosen field," he says. "I am confident that the skills and knowledge I have gained during my time at UMaine have prepared me well for this next step in my career."
Contact: Marcus Wolf, 207.581.3721; marcus.wolf@maine.edu