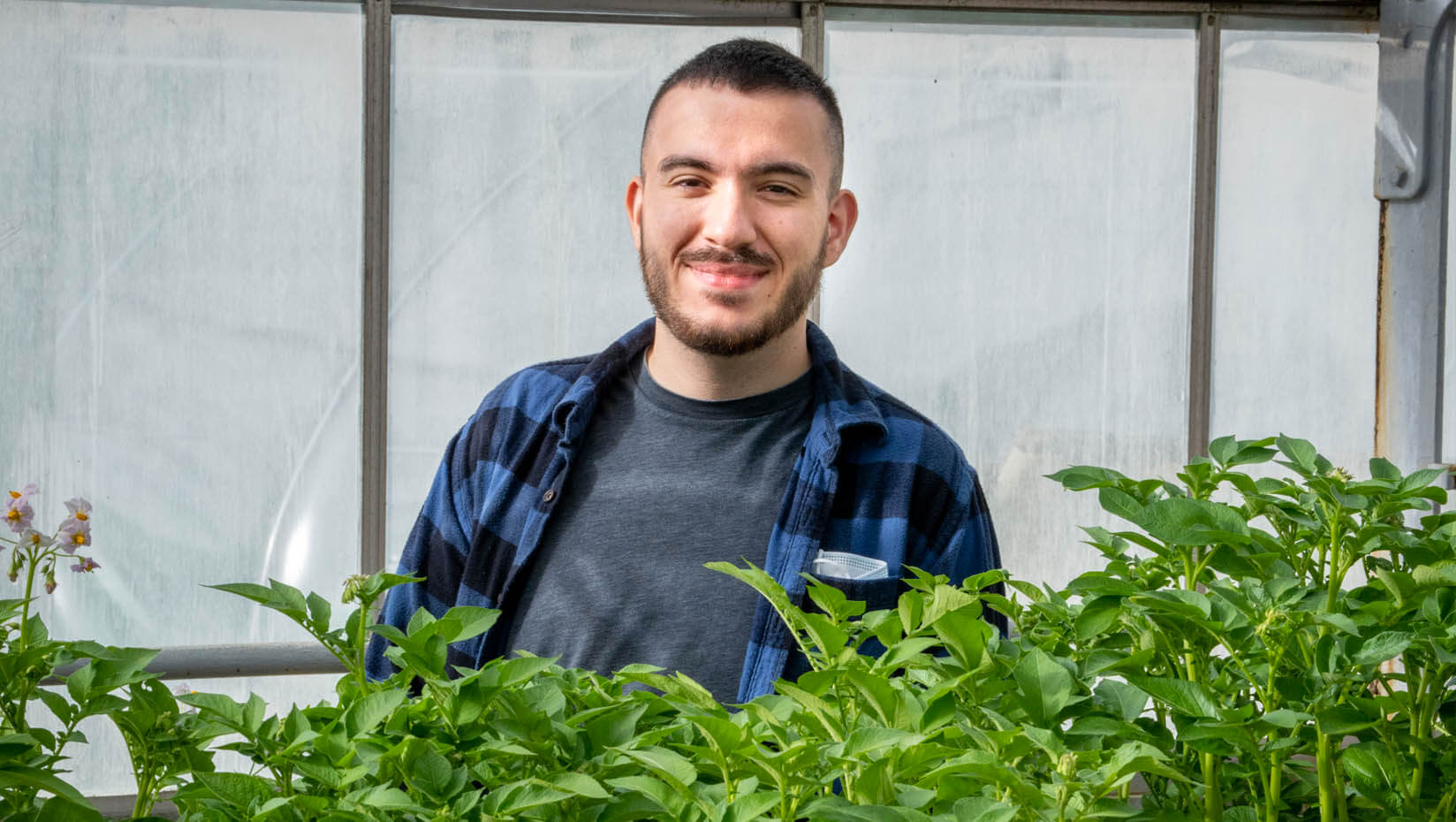 Ross Sousa: Using new tools to solve old problems on the farm 
While working part-time on farms and in greenhouses, University of Maine senior Ross Sousa of Somerset, Massachusetts learned firsthand how disease can ruin crops. Memories of farmers' plight, combined with a passion for plant pathology and finding more sustainable agricultural resources, encouraged him to get involved in research to determine whether lobster shells can combat soilborne pathogens that infect potatoes.
The project, led by Ph.D. student Katie Ashley, is exploring how various concentrations of chitin from lobster exoskeletons will help cultivate microbial communities in the soil that help defend potatoes against soilborn pests. Sousa, an Honors College student, is assisting with the study as a technician in Associate Professor Jianjun Hao's lab, assessing how lobster shell chitin alone and mixed with compost can inhibit Verticillium, a pathogen that can cause early dying among potatoes and other crops.
Some of Sousa's tasks for the project include dissecting potato tubers and examining their vascular rings for Verticillium infection, measuring and watering greenhouse plants, extracting DNA samples and collecting various data. He also ensures that the chitin from the shells poses no adverse effects on crop yield and plant emergence, vigor, biomass and height.
Just like lobster shells, fungal cell walls in certain crop-infecting pathogens contain chitin. There are microorganisms in the soil that can break down chitin, but Sousa says they may not be metabolically active. Incorporating lobster shell meal into the soil could activate the microorganisms, after which they would begin consuming chitin from the shells, then eliminate the soilborne pathogens by targeting and breaking down the chitin in their cell walls.
"After having developed personal relationships with farmers and knowing the issues they might face, I definitely was hoping that the research I do would alleviate some of those struggles in the field, while also being conscious of how those practices affect the environment," Sousa says. "I see using compost with lobster shell meal as a better alternative compared to using a soil fumigant because it has led to issues of killing microorganisms in the soil."
Sousa joined Hao's lab as a technician in October 2021. Prior to working there, he interned with the organization Integrated Pennycress Research Enabling Farm & Energy Resilience Project at Western Illinois University that summer.
In addition to working with Hao, Sousa also serves as a lab technician for the University of Maine Cooperative Extension Plant Disease Diagnostic Lab.
Balancing his lab technician responsibilities and coursework during his final year of undergraduate education requires strict time management. Sousa says he finds motivation from the thrill experienced through research and learning new ways to be a better scientist.
"When working in Dr. Hao's lab and the diagnostic lab for a job, I feel like I have a lot more freedom in what I can learn," Sousa says. "I enjoy taking advantage of that freedom of learning whatever I can in those labs, as well as combining that knowledge with that gained from my classes."
Sousa enrolled at UMaine for its botany program — which he said was the closest and most affordable for him, but didn't know he wanted to study plant pathology right away. That interest blossomed in fall 2021 when he took a course in it with Hao and another in mycology by associate professor Seanna Annis.
After working at farms, farm stands and greenhouses while in high school, Sousa says he appreciates receiving a hands-on education at UMaine that involves both field and lab research. He says he also enjoys working in an interdisciplinary environment, which is helping him develop a more varied skill set.
"Nowadays, the best thing you can do is collaborate in science and research," Sousa says. "You can't really do anything alone now. We're at that point where to make more groundbreaking impacts, you have to definitely work with other people."
Sousa says after he graduates, he hopes to continue working in a lab setting or for a Cooperative Extension service for a couple of years, then pursue a master's degree or Ph.D. in plant pathology.
Contact: Marcus Wolf, 207.581.3721; marcus.wolf@maine.edu