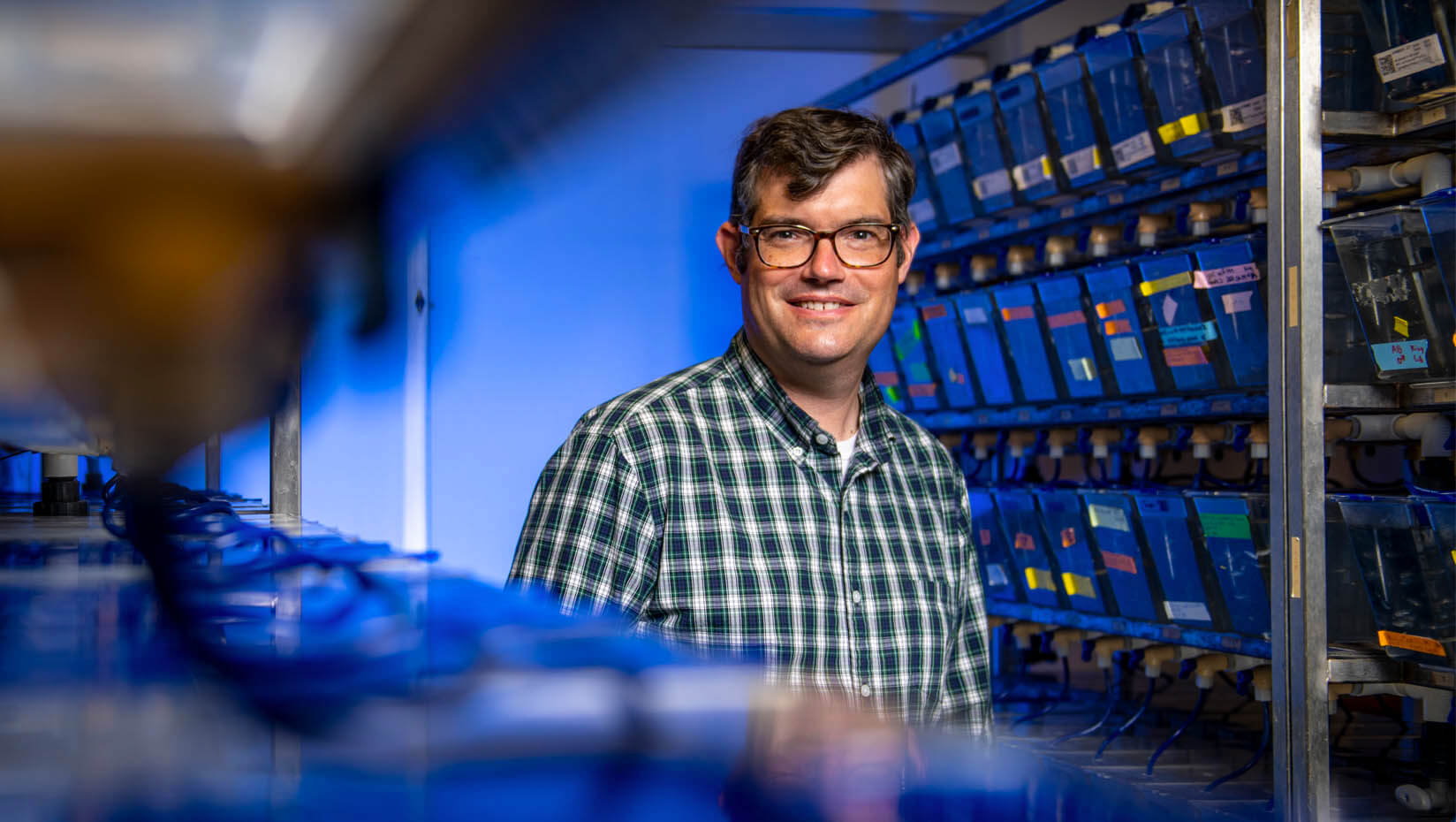 Ben King's lab makes sense of genetic data 
Understanding genes requires understanding data. Ben King's lab in the Department of Molecular and Biomedical Sciences, which focuses on bioinformatics, aims to figure out how to best interpret that data to solve a variety of problems, from treating the flu to figuring out how sparrows adapt to harsh environments.
The research done in King's lab crosses disciplines to help scientists understand more about how genes work to control how cells function in both health and disease. King's lab also trains UMaine student researchers in cutting-edge genetic research techniques that will propel them into their futures.
King grew up in Orono, where his dad was a University of Maine faculty member in the College of Education and Human Development. He completed his undergraduate and master's studies at Boston University, where he studied biomedical engineering. He enrolled as a mechanical engineering major, but as soon as he started student research focusing on protein structure and computer-aided drug design through the biomedical engineering department, he was hooked.
"By the end of the first day in the biomedical research lab I knew that I wanted to change my major to biomedical engineering," King says. "Being able to use different biophysical models on a computer to figure out how drugs may interact with a protein to inhibit it is something I found fascinating."
King completed his studies during what he describes as "the dawn of the era of genomics" in the late 1990s. The work he did analyzing the massive influx of genetic data that came from sequencing genomes would eventually become what is known today as "bioinformatics."
"It's routine to do large studies where you're sequencing many, many genomes — hundreds, thousands, even tens of thousands," King says. "We're in this era of very large data sets, and it's good that we can generate the data, but it presents a lot of challenges in terms of how you interpret the data and how you analyze it."
After he received his master's degree, King worked for two different biotechnology companies analyzing genes and genomes in Cambridge, Massachusetts — first, Genetics Institute, and later, AstraZeneca — before heading to the The Jackson Laboratory in Bar Harbor, where he worked for a decade and led a bioinformatics team. He then moved on to the Mount Desert Island Biological Laboratory where he led their bioinformatics team. That team supports biomedical researchers throughout Maine as part of the Maine INBRE Network, a group that King still co-directs. While at Mount Desert Island Biological Laboratory, he completed his Ph.D. through the the University of Maine's Graduate School of Biomedical Science and Engineering where he researched genes associated with limb regeneration in organisms like zebrafish, bichir and axolotls. King completed his doctorate and joined the UMaine faculty in January 2017, earning tenure in 2022.
King's lab now has a range of projects that use bioinformatics — essentially, using high-performance computing to parse and translate the masses of genomic data — to study and, hopefully, solve different biological problems.
One project looks at how the innate immune system responds to clearing the Influenza A virus by studying the patterns by which genes in zebrafish express themselves over the course of the infection. His lab uses these patterns to pick the genes that they then experimentally test in the zebrafish at the University of Maine's zebrafish facility.
"Different sets of genes that function together as groups to regulate different immune cells and their responses," King says. "I think the work that we're doing studying the influenza virus is really cutting edge. One thing I hope we can understand better is how a class of genes called noncoding RNAs function. They are these really important regulatory genes. There are more of these noncoding genes than protein coding genes so they're probably there for a reason and have some important function but we don't know what they are."
Another project in King's lab, conducted in collaboration with Northern Light Eastern Maine Medical Center, seeks to understand the genetic risk factors of developing chronic kidney disease, which about a third of the U.S. population is at risk of developing and has been found to be a major risk factor for other diseases like diabetes and hypertension.
"We're recruiting patients that come into the clinical research center and if they decide to join the study, we collect clinical data as well as family medical history information, and then a blood sample to extract DNA and characterize the complete genome of these individuals," King explains. "We use those data to try and find alleles of genes that may increase the risk for chronic kidney disease."
The lab's work goes beyond medicine, too. King's lab is collaborating with researchers at the School of Biology and Ecology, the School of Marine Science and the University of New Hampshire to figure out how certain phenotypes — the way in which genes are expressed — allow certain sparrows to thrive in harsh tidal marsh environments.
There are many threads which connect King's projects and can advance human health.
"Some of the analyses are quite similar regardless of whether you're studying a human or animal genome. One of our focus areas in the study with the sparrows is kidney function because the sparrows have to survive in a very harsh environment where they are exposed to a lot of salt water," King says. "If we can understand how they have adapted to a harsh environment, we can figure out how those same mechanisms might work in humans."
In addition to the lab work, King is passionate about spreading the word of bioinformatics to other scientists. Since 2005, he has taught a two-day introduction to bioinformatics course a couple of times a year at Cold Spring Harbor Laboratory. King has also developed training materials for scientists to use cloud computing resources for bioinformatics, and partnered with Northeastern's Roux Institute in Portland to establish a 4+1 accelerated graduate program in bioinformatics.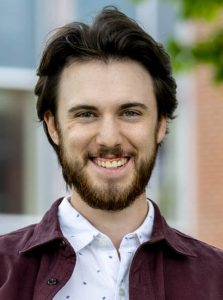 "I do think it's essential for all biologists to have some experience doing computational work," King says. "You really can't do things in the lab anymore without it. All of biology now requires analyzing these large datasets. Even learning how to use cloud computing technologies are becoming quite necessary and are skills that are certainly in high demand."
King makes the effort to ensure that his, like graduate student Brandy Soos and undergraduate Samuel Weafer, are exposed to both the experimental and computational side of biomedical research. No matter what they are studying, King says he also likes to match students to projects they are interested in to give them functional skills they can take with them no matter where they go. He has had students continue doctoral work in microbiology and computational biology at UMaine and a variety of other institutions, including Dartmouth and University of Rochester. Others have gone on to pursue medicine with prestigious post-baccalaureate programs.
One talented student, Grace Smith, was the salutatorian in 2020 and just completed a highly prestigious post-baccalaureate at the National Cancer Institute. This fall she will begin the M.D. program at Harvard Medical School.
"I greatly enjoy working with the students at the University of Maine. It's really rewarding to see what our students can accomplish when given meaningful research experiences" King says.
Contact: Sam Schipani, samantha.schipani@maine.edu