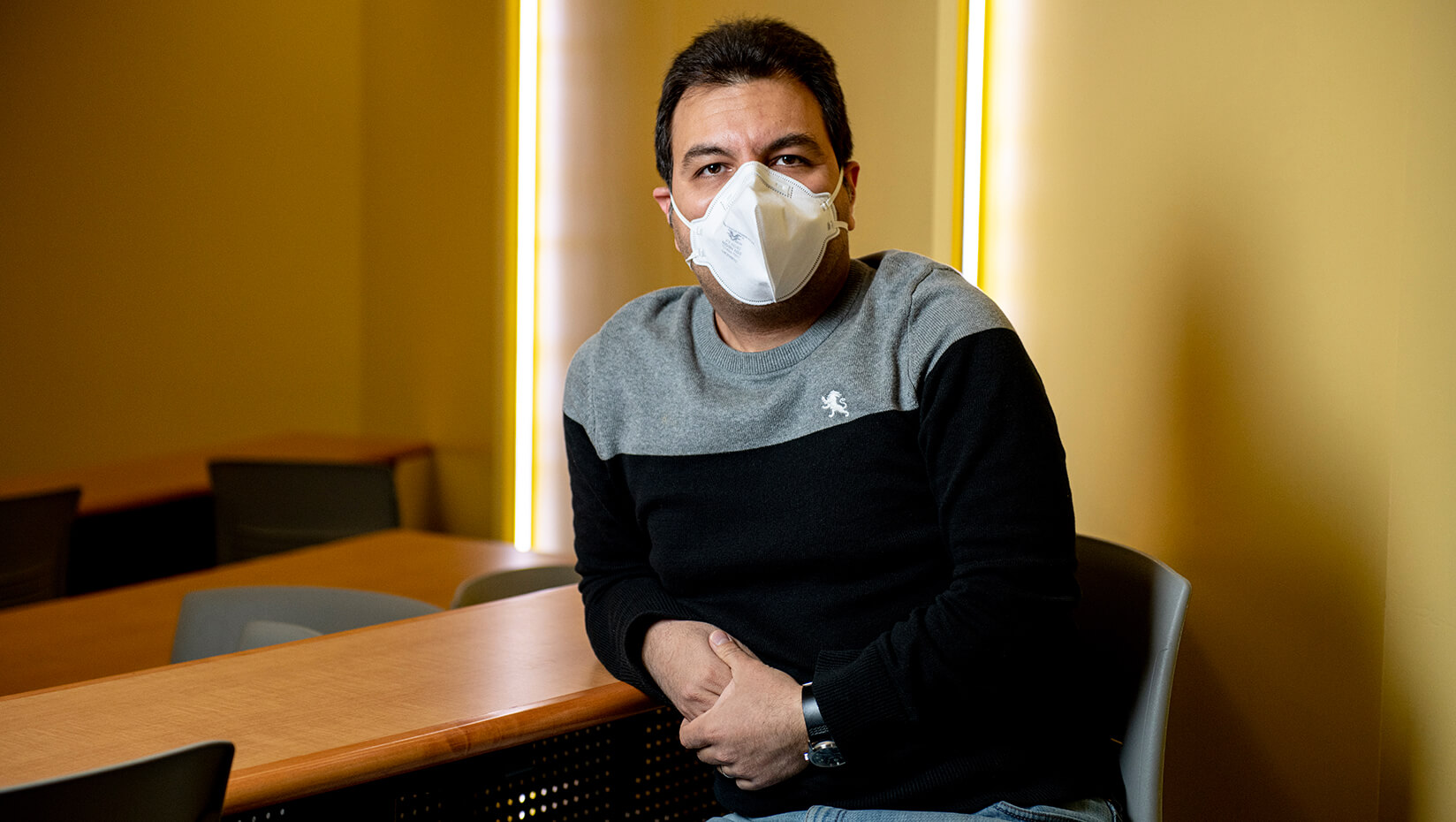 Hejrati receives 2022 NSF Early CAREER Award
For his research using robots to aid mobility, Babak Hejrati, assistant professor of mechanical engineering at the University of Maine, has been awarded a National Science Foundation (NSF) Faculty Early Career Development (CAREER) Award. The annual CAREER awards are one of the organization's most prestigious awards in support of early-career faculty and include a federal grant for research and education activities for five consecutive years.
Through the award by the NSF Disability and Rehabilitation Engineering (DARE) program, Hejrati will establish a framework for helping people with mobility issues — such as older adults with mobility decline and those who have had a stroke — to improve their walking ability using wearable robots.
People with walking problems due to aging or neurological disorders such as stroke and Parkinson's disease often participate in gait training therapy to improve their walking ability. Walking is a complex skill that requires highly coordinated leg and arm movements. Current methods for gait training often focus on improving leg movements, but often overlook the importance of arm movement, particularly arm swing, which impacts stability, balance and the efficiency of energy use while walking.
Hejrati plans to develop two new wearable robotic devices to examine how the neural circuits that control limb movements interact while walking at different speeds to produce coordinated arm and leg movements in subjects without mobility issues. In patients with mobility issues, the robotic devices will be able to help induce proper whole-body response and enhance their walking ability.
"This research presents a paradigm shift in the way that physical therapy is conducted. Instead of only focusing on the legs, one should consider improving the whole-body response consisting of both upper and lower limbs movements. Such an approach is poised to generate more effective and lasting effects since it targets the neuromotor system that controls the movements, and it is based on the concept of motor learning exercises that are trending in the field of gait rehabilitation," says Hejrati.
The project also will engage students with disabilities, who are underrepresented in science and engineering. Their involvement in research using assistive robotic devices will encourage them to pursue further education and careers in this field, and help with student retention. Other underrepresented groups such as female engineering students will participate in the research activities through summer research camps.
"Involving students who traditionally do not get a chance to participate in activities beyond their classes can promote their motivation to successfully complete their program and see how their work can make a difference to the lives of many people. It will also encourage more underrepresented students to consider STEM majors and careers in future when they can see relatable examples," says Hejrati.
Contact: Sam Schipani, samantha.schipani@maine.edu