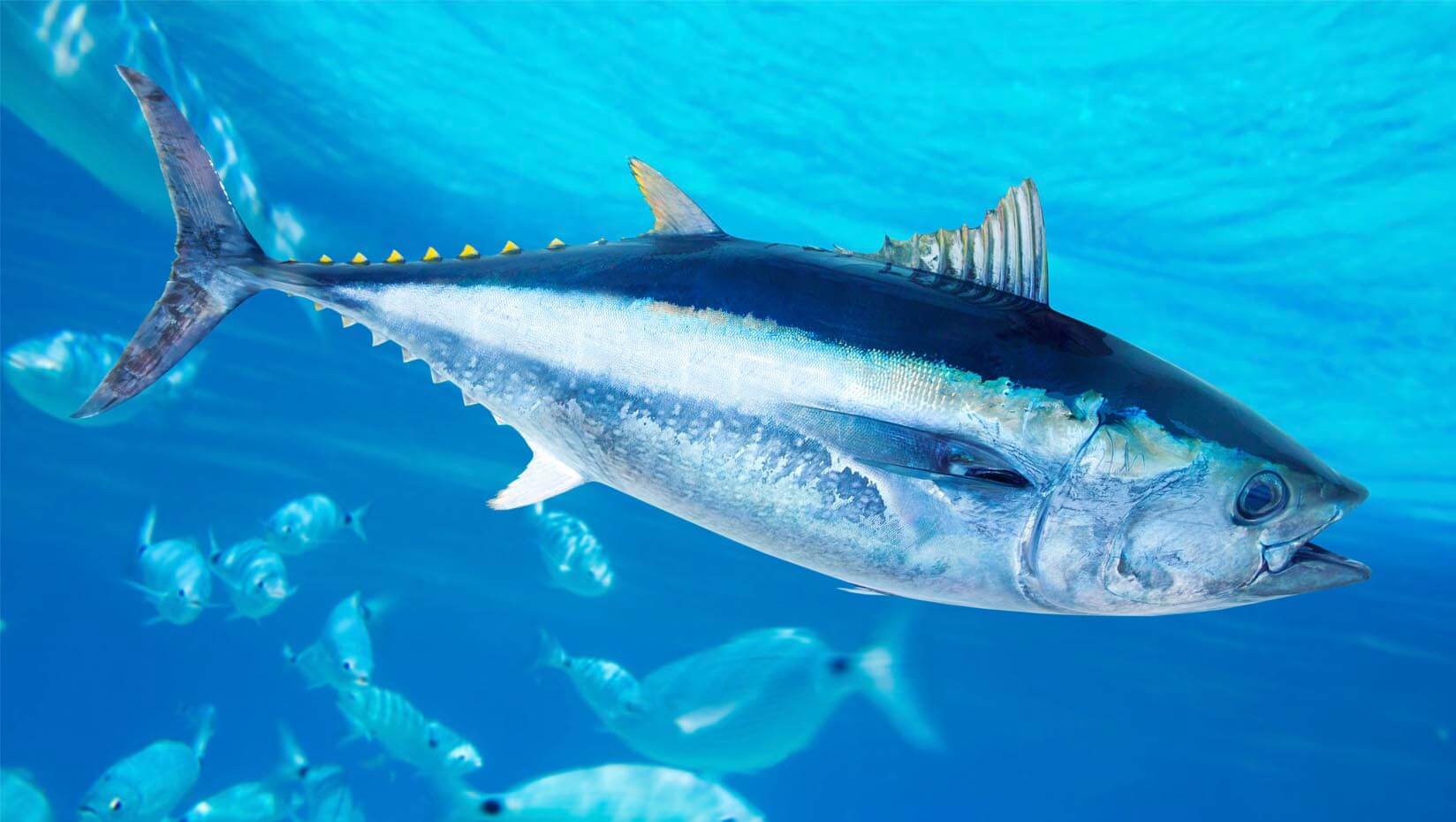 NOAA funds Golet's latest Western Atlantic Bluefin Tuna research
University of Maine assistant professor Walt Golet is helping conserve western Atlantic bluefin tuna and the industry its fishery supports with his latest research.
The National Oceanic and Atmospheric Administration awarded Golet, a research assistant professor with the School of Marine Sciences, more than $276,000 to lead a team of researchers who will collect and analyze updated western Atlantic bluefin tuna population data. The new data, he says, will help reduce uncertainties in assessment models that estimate the amount of fish in the fishery, which can help guide management practices and prevent overfishing.
Golet also was awarded almost $300,000 from NOAA for a project to help bolster the Atlantic bluefin tuna industry. The multi-pronged effort includes developing best practices for handling, particularly cleaning and chilling the fish, and outreach to improve consumer perceptions and markets, he says.
"Atlantic bluefin tuna are a seasonal migrator to the Gulf of Maine and an important top predator in the ecosystem," says Golet, who is located at the Gulf of Maine Research Institute. "They also provide a locally sourced, sustainable and high quality source of seafood and help to support the coastal communities of Maine."
A large component of Golet's research centers around the collection and analysis of biological samples, which are used to improve stock assessments for highly migratory species in the Atlantic. This research is focused on Atlantic bluefin tuna, of which Golet's lab routinely samples over 1,200 fish per season.
In addition to conducting research at UMaine, Golet holds an academic appointment on NOAA's Highly Migratory Species Advisory Panel and is the chair of the International Commission for the Conservation of Atlantic Tunas (ICCAT) U.S. Advisory Committee. He is a regular contributor to the Standing Committee for Research and Statistics, the ICCAT's scientific branch, and works closely with U.S. and international scientists to improve the assessment and management of tunas, billfish and sharks in the Atlantic.
The UMaine researcher also leads several cooperative research efforts with fellow scientists, fishermen and dealers. He is spearheading a collaborative, NOAA-backed effort to enhance stock assessment, management and sustainability of tuna, swordfish and sharks — all highly migratory species — in the Atlantic Ocean and Gulf of Mexico. The efforts from him and his group, the Pelagic Ecosystem Research Consortium, include reducing bycatch and post-release mortality and increasing knowledge of each species' life history.
Atlantic bluefin tuna, one of the strongest and fastest predators in the open ocean, can be over 11 feet in length and weigh in excess of 1,500 pounds. Golet says the bluefin fishery is distributed across the entire north Atlantic basin, with the population split between the western and eastern stocks at the 45 degree west meridian, with spawning in the Gulf of Mexico region for the western stock and in the Mediterranean for the eastern stock.
Thousands of U.S. commercial and recreational fishermen from Maine to Texas capture western Atlantic bluefin tuna off the U.S. east coast each year. Golet says this tuna is "among the most sought-after commercial fish in the world's oceans" due in part to its incredible speed and power and the chance a single fish could be worth tens of thousands of dollars though the average price per pound today is only a fraction of what it was historically. According to NOAA, commercial landings for the fish equaled 2.4 million pounds and were valued at $9.6 million in 2019.
Golet has helped conserve the western Atlantic bluefin tuna fishery for years by providing regulators updated age, sex, growth and stock composition data, work he will continue using one of his recent NOAA awards. Lisa Kerr, a research scientist with GMRI; and NOAA research fishery biologists Matt Lauretta and Robert Allman will work with Golet on this project.
The team will provide the information from their study to NOAA's National Marine Fisheries Service and the ICCAT's Standing Committee on Research and Statistics so they can include it in upcoming Atlantic bluefin tuna stock assessments.
With assistance from dealers and fishermen across Maine and the east coast, Golet's lab has sampled over 12,000 bluefin tuna since 2011; and with these current funding awards, he and his colleagues will collect and analyze biological samples from more than 1,000 tuna during the yearlong project. Biological samples may include otoliths, also known as an ear stone; muscle tissue, gonads and stomachs. The analyses they conduct will identify the stocks — east or west — that each fish comes from, size, and age of each fish, as well as the type of gear used to catch it.
A highlight of this work includes uncovering the origin of each fish they sample, or whether it is an eastern or western Atlantic bluefin tuna (based on where it hatched). As a highly migratory species, the eastern and western stocks routinely mix. Since the stocks are assessed separately, if mixing is not accounted for, it can negatively impact the stocks.
"Western and eastern bluefin tuna stocks are assessed separately, but we've known for decades they mix, sometimes extensively across the north Atlantic," Golet says. "The key is determining what that mixing rate is because without it we run the risk of over exploiting one or the other stock. That's why this research is so important."
Updated stock assessments and existing regulations and oversight for Atlantic bluefin tuna help conserve what Golet says "is the most sustainably managed of the three species of bluefin available globally," more so than the Pacific and Southern species. Atlantic bluefin tuna fishermen, however, still face barriers that inhibit their ability to reel in consumers.
According to Golet, overseas markets, historically the primary driver for the U.S. bluefin tuna industry, and prices have declined in recent years due in part to changing global economies, improper handling of the fish at sea, higher shipping costs and and overall lower quality fish which may be linked to declines in local foraging conditions. The industry sees opportunity in domestic markets, but Golet says consumers don't always know that local, well-managed supplies of bluefin tuna exist in the Gulf of Maine and other locations along the U.S. east coast.
Golet hopes to tackle both issues and help Atlantic bluefin tuna fishermen enter domestic markets with co-principal investigator Kyle Foley, GMRI sustainable seafood program manager.
The two researchers will explore best practices that could help fishermen enter domestic markets and gain better access to ones overseas, Golet says. The duo also plan to create an outreach campaign to promote the western Atlantic bluefin tuna fishery as a local, sustainable option for U.S. consumers. Their efforts will include direct buyer engagement via workshops in Portland and Boston and an event in association with Seafood Expo North America, and local and national media advertisements.
"Atlantic bluefin tuna are a locally sourced, high protein and sustainably managed fishery readily available to the U.S. consumer," Golet says. "Many people are not aware that the majority of U.S. seafood is imported, which does not directly support U.S. fishermen. Expanding markets for bluefin tuna in the U.S. supports small-scale US fishermen, their coastal communities and domestic bluefin fisheries that adhere to some of the strictest regulations in the world."
Contact: Marcus Wolf, 207.581.3721; marcus.wolf@maine.edu