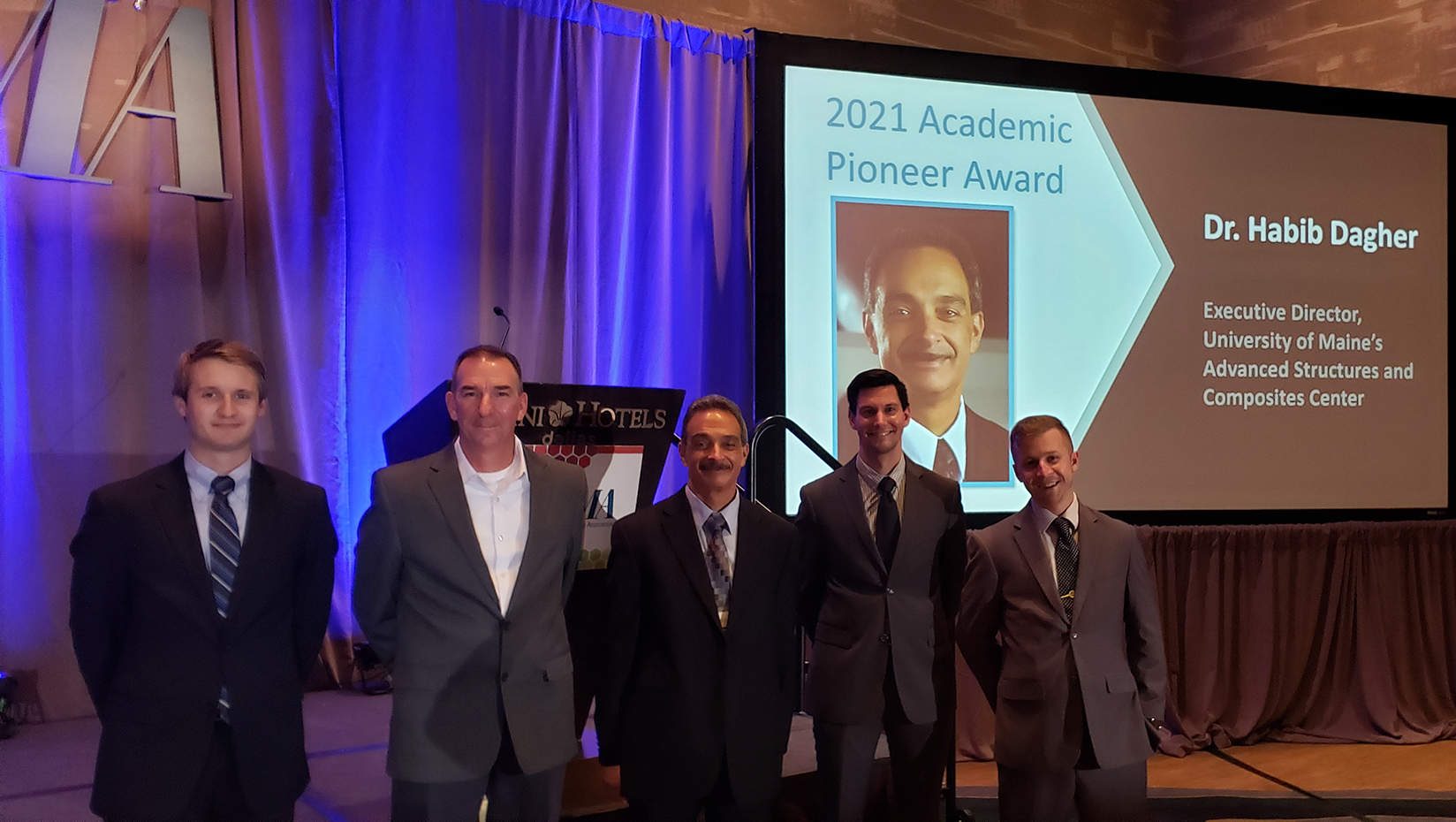 Dagher recognized as 2021 Academic Pioneer Award recipient from the American Composites Manufacturers Association
Habib Dagher, executive director of the University of Maine Advanced Structures and Composites Center, is the inaugural recipient of the 2021 Academic Pioneer Award from the American Composites Manufacturers Association (ACMA). Dagher and the Advanced Structures and Composites Center team were honored in person at ACMA's Membership Awards Ceremony and Reception on Oct. 18 in Dallas.
New in 2021, the Academic Pioneer Award recognizes individuals in academia with original, visionary and innovative ideas that have been scientifically investigated, tested and demonstrated to advance composites technology. More information about the ACMA awards is online.
Founded in 1979, ACMA is the world's largest composites industry trade group of manufacturers, material and equipment suppliers, distributors, academia and end users, and is dedicated to growing the composites market.
"I am humbled and honored to have been selected as the first recipient of the Academic Pioneer in Composites Award from the ACMA," Dagher said. "This award belongs to the exceptionally talented team of faculty, staff and thousands of students who have worked at the Advanced Structures and Composites Center over the past 25 years. One of our core values at the center is teamwork, that none of us is as smart as all of us, and this award is for the ASCC team."
The Academic Pioneer Award recognizes Dagher's leadership in advancing next-generation composite materials that are lighter and more durable, with a smaller carbon footprint. Examples include the award-winning composite arch bridge system known as Bridge in a Backpack, the commercialized composite bridge girder system known as GBeams, the Modular Ballistic Protection System that has been fielded by the U.S. Department of Defense, the Mark V.1 U.S. Navy Seals all-composites vessel, and the patented VolturnUS floating wind turbine technology that has attracted over $150 million in private and public investment.
"Dr. Dagher's internationally recognized, pioneering work and vision in civil and environmental engineering have shaped the future, and inspired generations of undergraduate and graduate students," said University of Maine President Joan Ferrini-Mundy. "His inspirational leadership and collaboration with colleagues and partners throughout Maine and the world epitomizes the important role of public research universities in innovation and workforce development."
"Under Dr. Habib Dagher's leadership, the University of Maine's Advanced Structures and Composites Center is at the forefront of efforts to use cutting-edge materials and techniques to transform every sector of our economy, from manufacturing to our transportation network," said U.S. Sen. Susan Collins. "This award is a well-deserved recognition for Dr. Dagher and his phenomenal team, who have helped to improve our infrastructure through innovative, resilient and cost-effective materials and techniques. The future of the UMaine Composites Center is bright, and I am proud to continue to support the excellent work of its faculty, staff and students."
"There is no one more deserving of the American Composites Manufacturers Association's Academic Pioneer award than Dr. Habib Dagher," said U.S. Sen. Angus King. "The groundbreaking work by Dr. Dagher and his team at the University of Maine's Advanced Structures and Composites Center has established the school as a global leader in their field. His work is vital to not only his students and the University of Maine, but the entire state, creating important new markets for our forest products industry and placing Maine at the center of a promising new technological sector. I want to congratulate Dr. Dagher on this well-earned award, and thank him for his continued commitment to this vital field and the state of Maine."
"Over 25 years, Habib Dagher has built UMaine's Advanced Structures and Composites Center into a world leader in materials sciences and engineering. ASCC's innovative technology has been used by the U.S. military and hundreds of Maine companies, supports jobs all over the state, and continues to blaze the trail for the next generation of manufacturing in Maine. We congratulate Habib and the ASCC team on this well-deserved recognition, and wish them continued success in their cutting-edge work," said Congresswoman Chellie Pingree and Congressman Jared Golden in a joint statement.
Background on ASCC initiatives:
Bridge in a Backpack is a lightweight, corrosion-resident, cost-effective system for short to medium bridge construction. The technology has been used in 28 bridges in the U.S. and beyond. The system uses composite arch tubes that act as reinforcement and formwork for cast-in-place concrete. The arches are easily transportable, rapidly deployable and do not require the heavy equipment or large crews needed to handle the weight of traditional construction materials. They extend structural life span up to 100 years.
GBeams provides an affordable, long-term solution to traditional steel and concrete medium span bridges. It consists of lightweight composite tub girders with a precast or cast-in-place concrete deck. The lightweight GBeams are designed to stack and are as little as one-quarter the weight of steel girders. One flatbed truck can transport enough girders for four 70-foot-long bridges. The lightweight bridge system is designed to last 100 years with little to no maintenance and is targeted to be used for highway bridges, pedestrian bridges or building construction.
The Grist Mill Bridge, located in Hampden, Maine, is the first in the nation to use the GBeam technology. The girder was designed with life cycle in mind, allowing for ease of girder manufacturing in various regions; low-carbon transportation to the site where the girder geometry allows for nesting of the girders and stacking during shipping; low-logistics erection methods on-site, where only lightweight equipment is needed to move the girders onto the abutments, eliminating the need for heavy cranes; and low operations and maintenance requirements, including a novel connector of the GBeams to the concrete deck that facilitates both installation of the concrete deck, as well as removal and replacement of the concrete deck at the end of its life, in which the girders stay in place and are re-used with a new concrete deck.
The Modular Ballistic Protection System uses thermoplastics ballistics panels to turn a tent into a "large walk-in helmet," protecting lives from both blast overpressure and ballistics. The solution, adopted by the Department of Defense, has been used in the field and has protected lives.
The VolturnUS floating offshore wind technology, with over 70 patents globally, allows local manufacturing of floating hulls that support wind turbines. It was deployed in 2013 off the coast of Maine and became the first grid-connected offshore wind turbine in the U.S. It utilized an FRP composites tower that reduces both topside weight and hull weight while increasing durability and lowering maintenance costs. With $100 million private investment by RWE and Mitsubishi's Diamond Offshore Wind and $50 million invested by the U.S. Department of Energy, the team is designing an 11-MW class floating hull to be deployed off the Maine coast in 2024.
Contact: Meghan Collins, mc@maine.edu; 207.852.8414