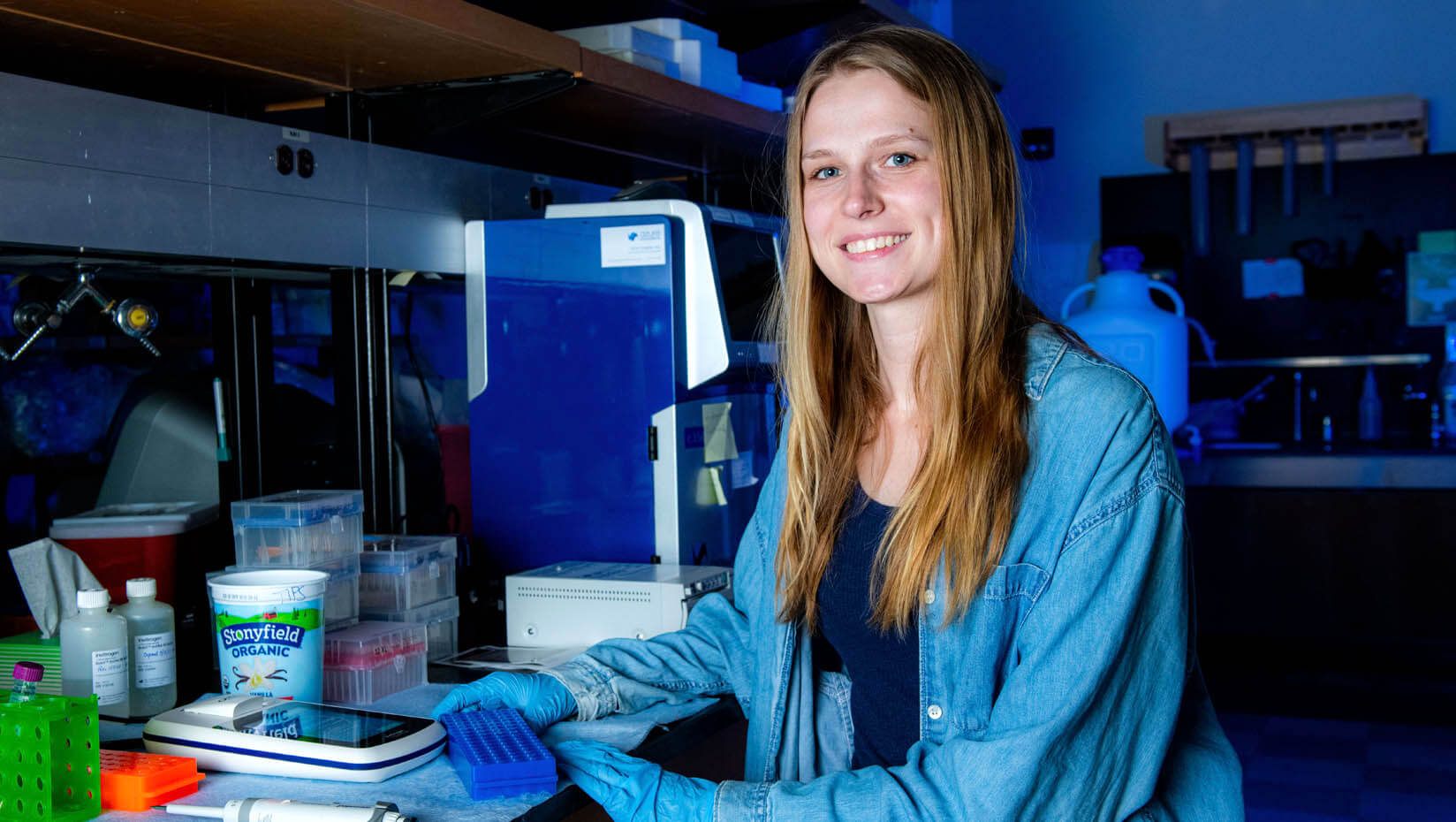 Carly Dickson: Fulbright recipient to study zoonotic diseases in Germany
University of Maine graduate student Carly Dickson of Washington, D.C., will study zoonotic diseases in Germany after receiving a study/research award from the Fulbright U.S. Student Program.
This signature program from the U.S. Department of State funds opportunities for U.S students to conduct research, earn a degree or teach English as a second language in one of more than 140 countries. Recipients are selected based on their academic achievements, the strength of their proposed research and potential to be cultural ambassadors of the U.S. while abroad. The program allocates study/research awards to more than 900 students from across the U.S. every year.
Dickson, a master's student of ecology and environmental sciences, says she will attend the Robert Koch Institute in Berlin and work in the lab of institute biologist Dr. Fabian Leendertz, where she will assess the viromes in bat lungs collected in western Africa.
The international zoonotic disease research generated by the institute drew Dickson to apply for a research opportunity there, she says. The institute also has relationships with the World Health Organization and German government, so Dickson says she hopes to learn more about how scientists establish connections with the general public.
When she learned about earning the Fulbright award, Dickson says she was "shocked and proud."
"I've applied for scholarships and grants in the past and have gotten used to the phrase 'we regret to inform you,' so I was thoroughly shocked when I saw 'we are pleased to inform you,' in the status letter," she says. "My Fulbright application would not have been nearly as strong if I hadn't applied and been rejected from all those other things."
Dickson's application was supported by the Office of Major Scholarships at UMaine and by Fulbright Program advisor and anthropology professor Christine Beitl. Several UMaine faculty members contributed to the success of her application by writing recommendation letters and by participating in the internal campus review process. A campus discussion group, The Ecology and Evolution of Everything, also helped Dickson with her application, she says.
Dickson, a native of Fairfax, Virginia, earned a bachelor's degree in zoology from UMaine in 2019. We spoke to her more about her goals and experiences at UMaine:
What motivated you to study abroad?
I wanted to study abroad because of my interest in zoonotic diseases. The COVID-19 pandemic has confirmed how important it is for scientists in this field to collaborate across state borders. The lab I will be working in does so, as it is composed of scientists from several European and African countries. I've also just wanted to live abroad for a while now, because I think witnessing and experiencing — over just reading about or seeing pictures of — different cultures helps build empathy and understanding.
How will conducting research abroad help you achieve your academic or professional goals?
First, the research I'll be doing there will improve my bioinformatics and wet lab skills, so I am excited for that. I am most looking forward to interacting with my hosts and other students there in journal clubs and lab meetings. I'll probably learn about new study systems, concepts, theories and methods that I wasn't exposed to as much here. In science, to be innovative, you need to constantly learn so you can connect previous ideas and design new research questions and hypotheses. By working in Dr. Fabian Leendertz's lab, I hope to gain knowledge that I can apply if I become a principal investigator one day.
Why did you choose to come to UMaine?
I grew up in the suburbs of Washington, D.C., and wanted to go somewhere more rural, because I loved hiking and wanted to get into backpacking, rock climbing and other outdoor activities. I made my decision when I saw Acadia and how close UMaine was to it. Not only that, UMaine is close to Baxter State Park too!
Describe any research, internships or scholarly pursuits in which you have participated.
As an undergrad, I worked on the tick/moose project in professor Pauline Kamath's lab. I screened moose blood for Anaplasma spp. and identified risk factors of Anaplasma infection and winter tick loads. I also did quite a bit of fieldwork with small mammals volunteering for professor Alessio Mortelliti and interning with profesor John Hoogland at University of Maryland capturing prairie dogs one summer. During my senior year, I was fortunate to attend the Smithsonian-Mason School of Conservation and conduct a research project on immune biomarkers response to tuberculosis infections in Asian Elephants. That turned into my undergraduate thesis. Now I am still in Pauline's lab, but I am studying host-pathogen interactions of zebra and anthrax for my master's.
Beyond academics, what extracurricular activities occupy your time?
In undergrad, I spent a lot of time volunteering at Northern Solstice Alpaca Farm. They became my second family. I also had different part-time jobs, from tutoring to food service to working in a retirement home. In my free time, I've enjoyed hiking and backpacking all over the state of Maine and dabbled in rock climbing and cross-country skiing since coming here.
Have you worked closely with a mentor, professor or role model who made your time at UMaine better?
There are a lot of professors that aided my personal and professional growth who probably don't even know it. However, I have to acknowledge professor Pauline Kamath. I started off working on the tick-borne disease and moose project, and if it weren't for her giving me an opportunity, I would not be the skilled pipettor, strong writer or critical thinker I am today. Pauline was the one who challenged me to apply for grants as an undergraduate. For instance, I applied for the CUGR grant three times and never got one. If it weren't for her, I think I would've been discouraged from continuing in science because I used to take rejection pretty harshly. As a mentor, Pauline has a way of pointing out your strengths and weaknesses without having to explicitly tell you what they are. Her type of feedback validates where you are at but pushes you to improve. Pauline is also just a fun and pleasant person to be around.
Did you have an experience at UMaine that shaped or changed how you see the world?
I left the country for the first time when I took EES 475, Field Studies in Ecology, my sophomore year when we traveled to Tanzania, and again in my senior year we went to Peru. On these trips, I probably ended up thinking more about people than plants and animals — which wasn't really the point. The trips remind me that there are eight billion people on the planet, but only 300 million live in America, which is hard to remember when you're mostly exposed to and concerned with American culture and media. Essentially, the world is really big and I am really small. Knowing that doesn't really upset me — I find it humbling because each of us is small, but together we're big.
Describe UMaine in one word.
Humble.
Explain.
I think the UMaine community has accomplished so much for the state and world, but doesn't let competitiveness seep into the classrooms or laboratories the way it does at some other universities. And because of that, I think there's a lot less stress put on students and faculty which boosts productivity and creates a supportive atmosphere.
What are your plans for after you graduate? How has UMaine prepared you for them?
I went into college thinking I was already expected to be perfect at everything academic, and because I was far from perfect I was nervous about a career in science. I can't think of an instance where I had to admit to a professor or faculty at UMaine that I needed help and they didn't want to help. They never expected me to be perfect either. Most of the professors here care about your learning as much as you care about your learning. And because I cared a lot, I received the help and feedback I needed to become a significantly better writer, critical thinker and analyst. What I appreciate about UMaine is your learning experience here is what you choose to make of it. All of the skills I've developed here, in and out of the classroom, will help me earn a Ph.D. after I complete my Fulbright. My long-term goal, after I earn a Ph.D., is to be a researcher at a government or nonprofit institute, or maybe a professor.
UMaine students interested in applying for the U.S. Fulbright student programs can contact the Office of Major Scholarships at nives.dalbowheeler@maine.edu. The internal application deadline is Aug. 31 for an award starting in fall 2022.
"Dickson's interests in people and cultures, in addition to her strong research skills and interests, are what made her such a strong candidate for this scholarship," says Nives Dalbo-Wheeler, director of the Office of Major Scholarships.
Contact: Marcus Wolf, 207.581.3721; marcus.wolf@maine.edu