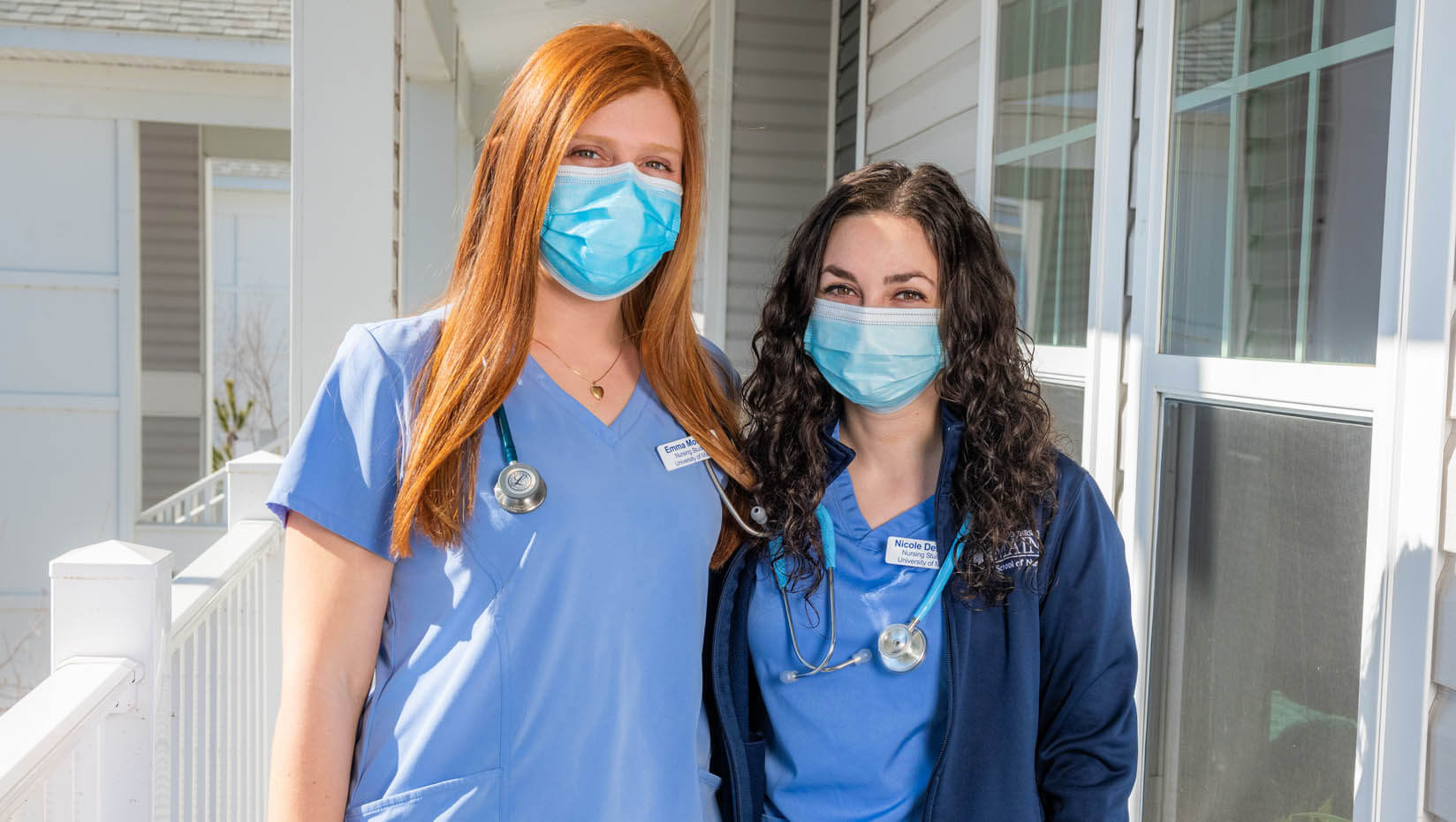 Nicole Despres and Emma Moulton: Roommates, compatriots in COVID-19 vaccination effort
Working on the front lines of the COVID-19 pandemic can be daunting, but roommates Nicole Despres and Emma Moulton strengthen each other's resolve.
The two University of Maine nursing seniors have been volunteering to vaccinate Mainers against the virus since January alongside 200 others from UMaine and more than 450 nursing students across the University of Maine System. These students dedicate their time supporting the statewide vaccination effort while completing classwork and experiential learning needed for their degrees.
The School of Nursing sends students' online notifications for opportunities to help Northern Light Eastern Maine Medical Center (EMMC) and Penobscot Community Health Center (PCHC) vaccinate people against COVID-19.
Moulton, from Ipswitch, Massachusetts, and Despres, from Berwick, have roomed together since June, and their friendship spans almost their entire undergraduate careers. As nursing students and compatriots in the fight against COVID-19, Moulton says she and Despres can sympathize with each other's experiences. The comradery fostered between them as nursing students facing the pandemic head on offers them both solace and motivation to help vaccinate Mainers.
"Nicole and I can talk about it, understand how we feel about it," Moulton says.
The School of Nursing hopes to continuously deploy its 200 student volunteers to provide thousands of hours toward the vaccination effort. They join others from the University of Maine at Fort Kent, University of Maine at Presque Isle and the University of Southern Maine all providing vaccination support as part of a UMS-wide effort. Students across the system administered more than 1,000 vaccines before the spring semester began Jan. 25.
As of March 10, Despres has volunteered at four clinics hosted by EMMC and PCHC, vaccinating between 200–250 health care workers and patients, and Moulton has aided EMMC and PCHC in vaccinating about 100 at two clinics.
The onset of COVID-19 and UMaine's decision to shift to remote instruction in March 2020 in response prompted the School of Nursing to cancel clinicals for the remainder of the semester. Clinicals resumed once more in the fall in accordance with COVID-19 guidelines. When the opportunity arose to join the front lines of the pandemic by helping vaccinate people, Despres and Moulton both say they jumped at the opportunity to not only help combat the virus, but also obtain more hands-on training, a vital component of their education.
"I thought it would be a good opportunity to get my foot back in the door," Despres says. "The one thing I will look back on in the future is being a part of the history of vaccinating people" against COVID-19.
Vaccinating people for COVID-19 is fast-paced work. Despres says they serve "people back-to-back." Pharmacists draw vaccines from viles, insert them in syringes and place them on tables for nurses to grab when they inoculate patients. Moulton says there is a limited time frame from when the vaccine leaves the vile before it loses its effectiveness.
"It's kind of exciting," Despres says. "It keeps you very busy."
Pharmacists stand by in case vaccine recipients have any side effects, Moulton says, which helps as anatomical differences can result in recipients facing a variety of bodily responses to inoculation. The two nursing major roommates also field questions from vaccine recipients, including which brand they will receive — Pfizer or Moderna, at time of writing — and what side effects they may experience.
"It's been just an overall positive experience," Despres says. "Every person has been thankful just to be vaccinated. Especially retirement home residents."
Despres and Moulton try to help EMMC and PCHC in their vaccination efforts once a week while juggling the tasks they need to complete for their degrees.
Both have been involved in senior partnerships, when nursing students work on hospital floors with their partner preceptors during their final year of study. Moulton assists workers in the critical care floor of St. Joseph Hospital in Bangor. Despres serves a floater with EMMC, meaning she provides assistance wherever needed.
Completing coursework and participating in vaccination volunteering required Despres to "rebalance everything." As someone who typically works night shifts, the nursing student had to force herself to rest when exhausted and train her body to wake up and fall asleep at a new schedule.
Prior to the vaccination effort, Moulton worked with Convenient MD to conduct COVID-19 testing for UMaine students and employees during the fall semester and in January, prior to the deployment of Shield T3 Testing. Balance has also been a crucial component for Moulton's ability to tackle her studies and fight the coronavirus.
"As they arrive, and if they fit into my schedule, I try to squeeze them in," Moulton says about opportunities to help vaccinate Mainers. "I have a history of overextending myself, and I have to be cognizant of that."
The two UMaine roommates both discovered their passion for nursing during times of uncertainty, when neither could discern their chosen career path.
Moulton's father, Michael, asked her whether she considered studying nursing when she cleaned up his scrapes after he fell from a roof trying to fix something during her senior year of high school, she says. The idea of becoming a nurse popped into Despres' head one day, she says, and the thought of pursuing anything else left her mind as she worked toward her chosen occupation.
Despres' father, Marcus, and brother, Andre, are UMaine alums, so the prospect of studying at their alma mater felt like "a family tradition." Marcus and Andre both graduated with engineering degrees in 2003 and 2018 respectively. Moulton grew up travelling to the Pine Tree State with her family to ski, childhood memories that made studying nursing at UMaine even more appealing.
Both nursing seniors say experiential learning opportunities provided by the School of Nursing helped prepare them for the mass vaccination effort and battle against COVID-19. The school, Moulton says, also deployed alternative strategies for instruction to adapt to the pandemic, reinforcing the necessity for nurses and health care professionals to create backup plans.
"We're ready to help wherever we're needed," Moulton says.
When she graduates from UMaine, Moulton plans to pursue a Master of Science in Nursing or Doctorate in Nursing Practice and become a nurse practitioner, possibly with a focus on critical care. Despres says she envisions establishing herself as a nurse in Maine, and is open to a variety of areas in the field. She then hopes to advance her education, and is considering a career as a nurse practitioner.
"I think the School of Nursing faculty have always been super supportive, encouraging students to step out into the world and get experience, letting students know about experiences: supper internships, residencies, scholarships," Despres says. "Through the school, I've been very well prepared and very well trained to take this on in the future."
Contact: Marcus Wolf, 207.581.3721; marcus.wolf@maine.edu