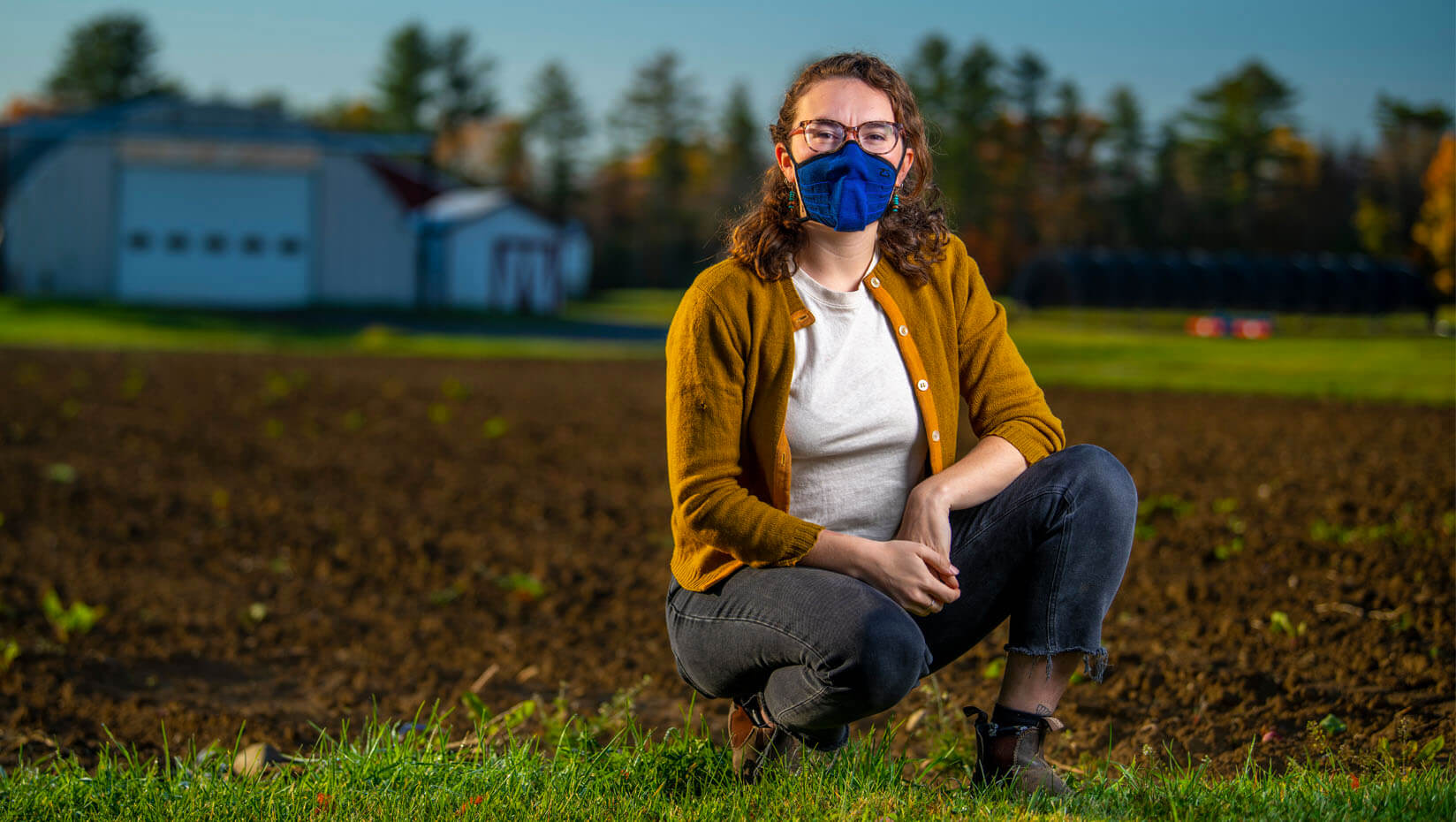 Sara Kelemen: Addressing equity in Maine's climate strategies 
Sara Kelemen informed dozens of Maine Climate Council members last month about how their efforts to combat climate change can lead to equitable outcomes.
The Climate Council invited representatives from the University of Maine Senator George J. Mitchell Center for Sustainability Solutions to a webinar to discuss their equity assessment of the council's Climate Action Plan strategies. The center evaluated different tactics proposed by council working groups for their ability to support historically underrepresented populations in the state.
Kelemen, who worked as a graduate assistant at the Mitchell Center this summer, took the proverbial podium and presented the findings from the report. Climate Council members learned about the strategy she, David Hart, director of the Mitchell Center, and Linda Silka, a Mitchell Center senior fellow, used to appraise the equity of each proposed initiative, as well as a variety of recommendations.
"Issues of equity can slip through the cracks if they're not addressed head on," Kelemen says. "It was really exciting and nerve-wracking (delivering the presentation). A lot of the people who were presenting have years, if not decades, of experience working on equity issues. We wanted to create what David, Linda and I think should begin a really long and committed process of addressing the equity of Maine through the Climate Action Plan."
The master's student of plant, soil and environmental studies, began her assistantship in June by helping Hart and Silka create the equity assessment framework. They spent hours researching similar efforts conducted by organizations, state and cities across the country, including New York City, Boston, Providence, Rhode Island, and Portland, Oregon.
The team then used the framework to review proposed Climate Action plan strategies from the working groups. The 112-page assessment features a multitude of findings about the ability for each group's initiatives to foster equity and guidance for how they can support underserved populations.
Kelemen says she, Hart and Silka, for example, evaluated the state's Renewable Energy Portfolio Standard. Maine aims to obtain 100% of its energy from renewable sources like solar and wind, but Kelemen says questions about how the initiative will be financed, particularly whether low-income residents would have to pay more for energy due to the transition, presents an equity issue.
One group also proposed creating incentive programs to increase renewable energy buy-in, but Kelemen says state officials must first ensure that any offerings support those most vulnerable to the ramifications of climate change, such as lower-income, rural and island residents and people of color.
"Working with David and Linda has been instrumental," Kelemen says. "They pointed me in the right direction. They have years of experience doing this. We divided the work, bounced ideas off of each other and thought deeply about topics that were new to me."
Kelemen will join Silka in giving another talk about the equity assessment for climate action strategies 3–4 p.m. Nov. 9 via Zoom.
"We're grateful for the hard work of the Mitchell Center, especially the contributions of Sara Kelemen, on this assessment with few precedents in Maine," says Hannah Pingree, director of the Governor's Office of Policy Innovation and the Future and Climate Council co-chair. "From electric vehicle deployment to sea level rise considerations, Sara's thorough and thoughtful approach delivered strong and specific equity considerations for the Climate Council to consider as we develop policy and programs. Her contributions to the assessment will certainly impact the success of our climate actions going forward."
In addition to her summer graduate assistantship at the Mitchell Center, Kelemen is working with Rachel Schattman, assistant professor of sustainable agriculture, at the UMaine Agroecology lab. The UMaine graduate student says she will interview farmers in Kansas about climate change and soil health practices that could help sequester carbon and increase water quality.
"Institutions of higher education have a lot of power, and I think that power can be mobilized to create a lot of meaningful change in the world, and I hope to be able to create meaningful change through the resources given by my education," Kelemen says.
Contact: Marcus Wolf; 207.581.3721; marcus.wolf@maine.edu