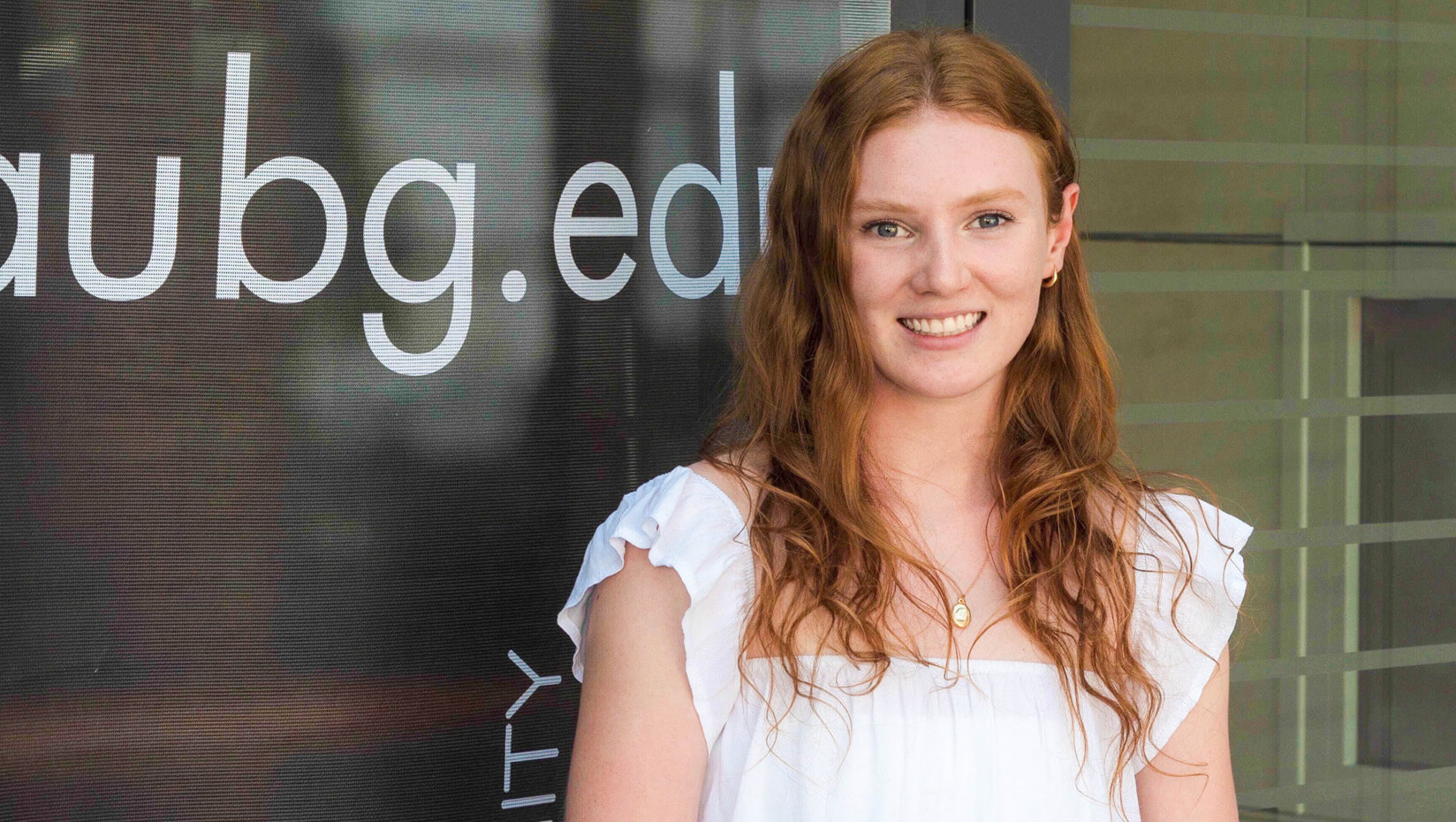 Melissa Garand : Global policy grad student interns in Bulgaria 
Melissa Garand of Manchester, Maine interned abroad in Blagoevgrad, Bulgaria this summer, working full time as a graduate international student services intern at the American University in Bulgaria (AUBG).
"As with many others my age, I grew up during the years of the wars in Iraq, Afghanistan, and general American involvement in the greater Middle Eastern region. The news of these heavily armed conflicts pushed me to search for more information and a better understanding of why and how our country makes foreign policy decisions," says Garand. "My interest in global policy and choice to pursue such degrees is rooted here and has evolved into a passion for immigration and asylum practices as well as human rights."
The global policy master's student in the School of Policy and International Affairs (SPIA), who has a concentration in security and foreign policy, says her time in Bulgaria was her "best experience abroad yet."
Garand's internship involved giving case-by-case assistance in the visa application process to all non-European Union citizens in the incoming AUBG class of 2023.
"While I really enjoyed my time in the office and gained many skills and a useful knowledge base about academic immigration, the most rewarding part of my job was the opportunity to assist students in a major step in achieving their future dreams," she says. "Outside the office, my best moments have been my chances to travel in Bulgaria and the Balkan region to experience cultures, languages, and environments far different from my daily life in Maine."
Garand received her bachelor's degree in international affairs with a concentration in international security from UMaine in 2019 after three years, during which she also completed an Honors thesis and a minor in French.
On campus, Garand has been part of the Order of Omega All-Greek Honor Society, Pi Sigma Alpha Political Science Honor Society, and Alpha Omicron Pi sorority. She enjoys practicing her French skills, learning other new languages and traveling — so far she has been to more than 10 different nations.
"UMaine's greatest gift to me has been the community I found through the Honors College and SPIA," she says. "Both have provided to me a feeling of a smaller and more liberal arts-style experience at a university of 10,000 students. The ability to take courses with outstanding professors, among groups of like-minded individuals, has shaped me into a better student and citizen."
Contact: Cleo Barker, 207.581.3729