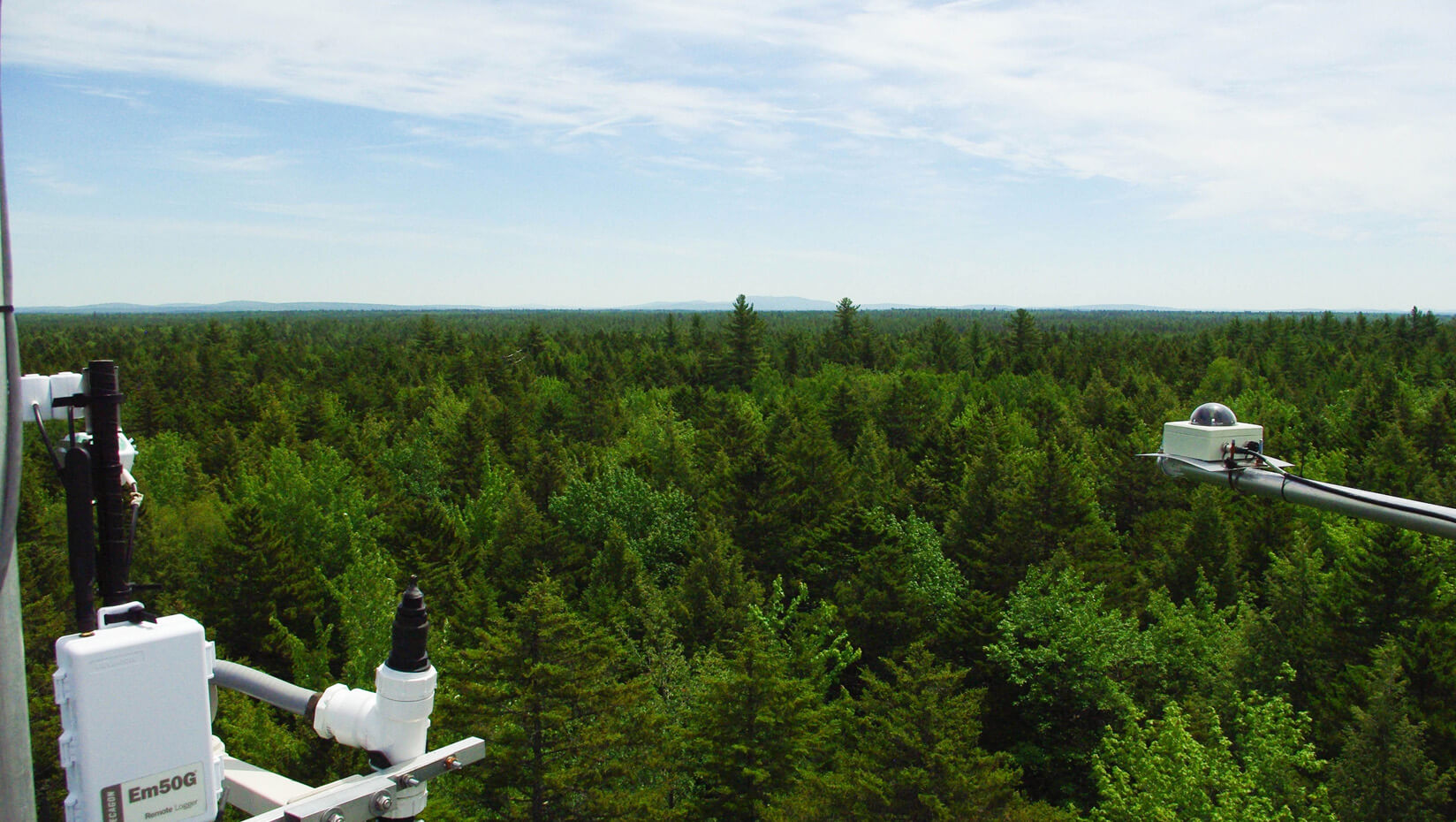 NSF grant awarded to develop framework to harness forest ecosystem integrity, resilience data
Compiling data to better assess, understand and forecast complex forest landscape changes is the goal of a four-year, multidisciplinary regional project led by the University of Maine.
The project was awarded $6 million from the National Science Foundation, with $3 million contingent on project progress and availability of funds.
It will bring together expertise and facilities from UMaine, the University of New Hampshire, and the University of Vermont to build a digital framework that integrates, analyzes and visualizes complex data streams across the region's vast forest.
"Forests are changing rapidly, while the technology to better monitor them is, too," says Aaron Weiskittel, professor of forest biometrics and modeling and Irving Chair of Forest Ecosystem Management at UMaine, who is leading the project. "I hope this project can help support and sustain northern New England's unique working forests, which many rural communities rely on for their livelihoods."
Forests are an economically important and ecologically critical component of New England's working landscape. Local and regional communities depend on the health of the forest ecosystems to support biodiversity, conservation, recreation and a forest-based workforce.
The region's forests are dynamic and diverse due to complex factors, including changing environmental conditions; varying management objectives related to mixed land ownership; and natural disturbances, such as a pending spruce budworm outbreak.
Despite advances in technology and the better acquisition of forest-related information, critical near real-time and high-resolution data on forest health or tree species composition remains highly varied, inconsistently available, and relatively coarse in resolution, such as annual estimates at a county level, according to the researchers.
"Forests, particularly in New England, are complex and highly dynamic due to a number of factors. Traditional ground-based forest inventory data is expensive to collect and often out of date. Satellites and other advanced technologies offer numerous advantages, but translating that data into useful information is not an easy task," says Weiskittel, who also directs the Center for Research on Sustainable Forests (CRSF) at UMaine.
The project will build on expertise and facilities across the three universities to integrate emerging computational, monitoring, remote sensing and visualization technologies into a digital framework. The framework will create a natural laboratory for scientific experimentation by providing comprehensive spatial and temporal measurements of the forest that can be readily accessed by scientists, land managers and policymakers.
"Leveraging Intelligent Informatics and Smart Data for Improved Understanding of Northern Forest Ecosystem Resiliency (INSPIRES)" also aims to strengthen workforce development and broaden participation in STEM education, particularly among students with diverse backgrounds, skills and interests.
INSPIRES will draw from a variety of established programs and disciplines, including data science, ecology, electrical engineering, computer programming and communications.
Faculty and students from the three institutions will collaborate on the development of a virtual, regional Complex Systems Research Institute that will facilitate ongoing analysis of natural ecosystem integrity and resilience from multiple scientific perspectives. The institute will include large-scale simulations from alternative futures such as climate variability, atmospheric pollution, land use and changes in regulatory policies.
More information about the project, which aligns with the University of Maine System "Research and Development Plan," is on the CRSF website.
Other UMaine researchers involved in the project include Kate Beard-Tisdale, professor of spatial information science and engineering; and Ali Abedi, electrical engineering professor, assistant vice president for research, and director of the Center for Undergraduate Research. Scott Ollinger, professor of natural resources and the environment at the University of New Hampshire; and Anthony D'Amato, professor silviculture and applied forest ecology at the University of Vermont, also are co-principal investigators.
Funding for the project comes from the National Science Foundation's EPSCoR Research Infrastructure Improvement program. The Established Program to Stimulate Competitive Research (EPSCoR) is designed to fulfill the mandate of NSF to promote scientific progress nationwide.
The program's Track-2 Focused EPSCoR Collaborations (RII Track-2 FEC) build interjurisdictional collaborative teams of EPSCoR investigators in scientific focus areas consistent with NSF priorities. The STEM research and education activities seek to broaden participation through the strategic inclusion and integration of different types of individuals, institutions and sectors throughout the project.
More about the EPSCoR Research Infrastructure Improvement program is online.
Contact: Elyse Catalina, 207.581.3747, elyse.catalina@maine.edu