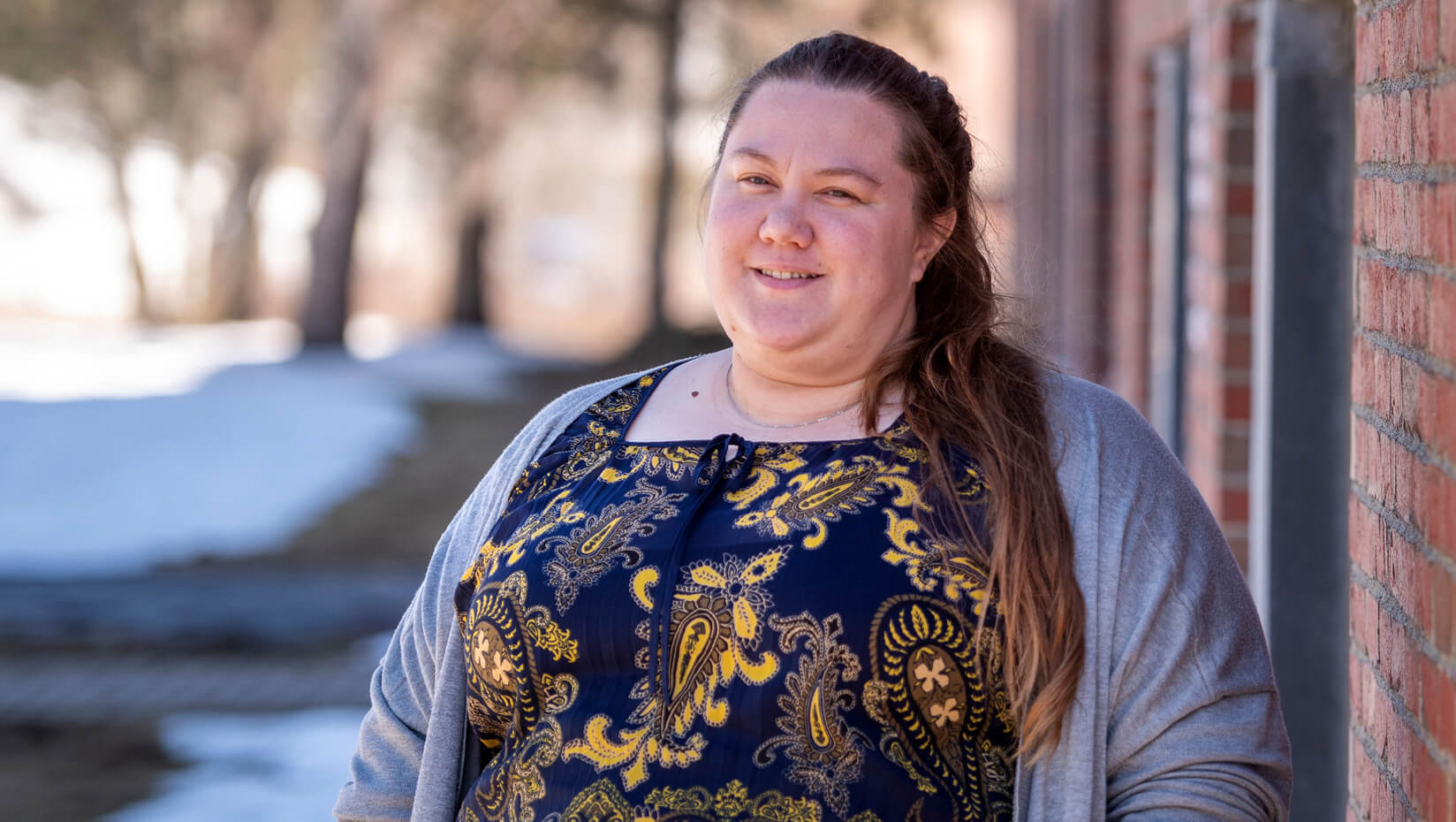 Courtney Hatton overcomes obstacles, writes her own success story
Courtney Hatton will earn her undergraduate degree in biology May 11 at the University of Maine. She started college 11 years ago.
Along the way, she's encountered obstacles.
The last two years at UMaine, the native of Molunkus, Maine has simultaneously worked as many as eight part-time jobs while carrying a full course load. And she's written her own success story.
"You can turn things around, even if awful things happen along the way," Hatton says. "You can get over those speed bumps."
She recently bought her cap and gown.
"I can't believe that (Commencement) is finally coming," she says. "It also makes me nervous, because struggling for this degree has been a huge part of my life for the past 11 years and now I've finally tackled the beast. Now I have to shift my focus to a bigger beast — medical school."
For overcoming adversity to achieve personal growth and academic success, having a positive outlook on life, and showing potential for further accomplishment, Hatton is the recipient of the Wallace C. and Janet S. Dunham Prize presented annually by the College of Natural Sciences, Forestry, and Agriculture.
In 2008, after graduating from Mattanawcook Academy in Lincoln, Maine — with a 99.1 grade-point average — Hatton enrolled at the University of Southern Maine.
Growing up in Molunkus, she enjoyed being her family's caregiver. And when Hatton — who was inspired by Doctors Without Borders — entered USM, the first-generation college student was eager to start on the academic path to becoming a doctor.
In addition to attending classes full time at USM, the Mitchell Scholar and Stephen Phillips Memorial Scholar worked full time at Maine Biotechnology Services.
But after a personal tragedy, Hatton left school, and her job, to recover.
Before returning to college in 2017 — this time at UMaine — Hatton cared for children with special needs at an orphanage in Mexico. "That was life-changing," she says. "It healed my heart."
Hatton was already familiar with UMaine. During two summers in high school, she took part in Upward Bound on campus.
She credits the program — which seeks to foster skills to succeed in education among low-income and potential first-generation college students — with providing her with tools and direction about applying to and navigating higher education.
As part of Upward Bound, Hatton worked with researchers in the College of Education and Human Development and the Psychology Department, and participated in group sustainability projects.
So when she was ready to return to college in 2017, Hatton's first call was to the Upward Bound office.
She's now a tutoring coordinator for Upward Bound and tutors students in chemistry and biology for TRIO Student Support Services, an outreach program for scholars from disadvantaged backgrounds.
Hatton, who enjoys laughing and finds humor in simple things, also is a Maine Learning Assistant with the Maine Center for Research in STEM Education (RiSE Center), is a certified nursing assistant at St. Joseph Healthcare, provides in-home care in rural Maine, is a campus ambassador for the Gift of Life Marrow Registry, is a member of the University Volunteer Ambulance Corps, and is a Student Government senator.
Her stepdad, she says, role models determination and work ethic.
"He still works everyday from sunup to sundown," she says. "He has always demonstrated the value of working hard even when you don't want to."
Hatton finds it beneficial to step outside her academic comfort zones, and has enjoyed gaining experience with plant genetics research in assistant professor of plant genetics Ek Han Tan's Genome Elimination Lab.
After Commencement, she'll prepare for the Medical College Admission Test. And she'll work. She's applied to the PostBaccalaureate scientific training program at The Jackson Laboratory and the University of New England's online master's of public health degree.
Upon completion of one or both, she plans to attend a medical school with a combined M.D./Ph.D. program.
"I want to serve the community that raised me in the Medway/Lincoln area," Hatton says. "The number of physicians retiring and leaving that area are increasing every year. There is a need, and I hope to fill that need after I get my degree."
She encourages others "to never give up hope on that dream in the bottom of your heart, the one that keeps coming back and reminding you it's there."
The dream, she says, is there for a reason. "No matter what path life has taken you down, you can make that dream a reality. If your dream is super big and seems impossible, that's even more reason to pursue it. You were created for that purpose and don't let anyone tell you that you can't do it."
Contact: Beth Staples, 207.581.3777