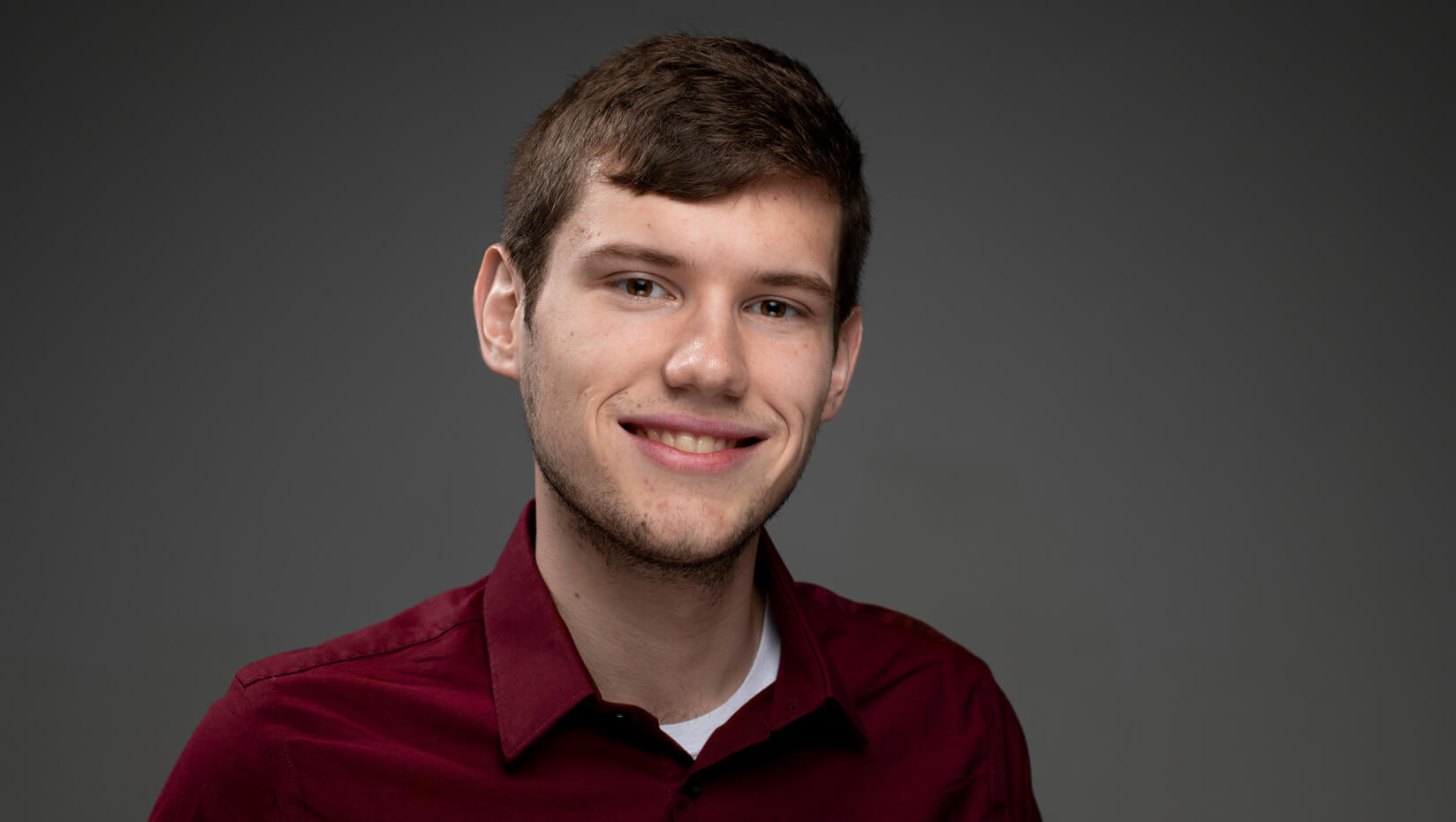 Eben Lenfest: Outstanding Graduating Student
Eben Lenfest, of Smithfield, Maine, has been named the Outstanding Graduating Student in the College of Engineering.
Lenfest is a mechanical engineering major with minors in robotics and ocean and marine engineering.
He is an Eagle Scout and a recipient of the E. James and Eileen Ferland Engineering Excellence Scholarship.
As a student research assistant at UMaine's Advanced Structures and Composites Center, Lenfest worked on a project to test the feasibility and effectiveness of applying a new NASA-developed structural damping technology to the university's VolturnUS floating offshore wind turbine platform. He also interned at NASA's Marshall Space Flight Center to learn more about the mechanics of the technology.
Most recently, Lenfest has worked with a doctoral student to test a scale model wind turbine with active pitch control to better simulate real-world performance.
Lenfest plays French horn in the UMaine Symphonic Band and University Orchestra, and has been involved in Black Bear Robotics, and the SCUBA and Maine Outing clubs.
As a UMaine graduate student in mechanical engineering, he will continue his work in developing active pitch controls and will spend his summers at the U.S. Department of Energy National Wind Technology Center in Colorado.
What difference has UMaine made in your life and in helping you reach your goals?
Attending UMaine has allowed me to grow and challenge myself in ways I'd never considered. The research experience I've had at UMaine has exposed me to real-world engineering problems and cutting-edge solutions, allowing me to find my interests in the field. My professors, advisers and mentors have prepared me academically and helped create opportunities for me to put my skills into practice. There have also been opportunities to grow as a leader, both through club involvement and through my capstone project.
Have you had an experience at UMaine that has changed or shaped the way you see the world?
The outreach that I've participated in at UMaine has made me realize how easy it is to have a positive impact in someone's life. During the annual Symphonic Band tour to middle and high schools across the state, our conductor has the local band director choose a student to conduct our ensemble in a simple march. The change from a look of fear to one of confidence over the course of the piece is supremely rewarding.
Why UMaine?
I chose to attend UMaine because I was looking for an affordable college in the Northeast with a renowned engineering program. I was impressed by the inviting feel of campus I experienced during high school tours and the Consider Engineering program. Also, UMaine is a big enough school where you can learn about or get involved with nearly anything that interests you, but small enough where you'll run across friends nearly every time you walk across campus.
How would you define the opportunities for student success at UMaine? Is there any particular initiative, program or set of resources that helped you succeed?
UMaine has many resources for student success. Lower-level courses are set up so that it is easy to get help from your peers, tutors, TAs or your instructor. For upperclassmen, there are opportunities to work for instructors or labs on campus to gain practical experience and connect with other faculty and students.
Have you worked closely with a professor or mentor who made your UMaine experience better?
I have worked with Andrew Goupee, assistant professor of mechanical engineering, for the past year and a half as a research assistant on his projects and a student in his Wind Energy Engineering and capstone classes. As the contact for the Ocean and Marine Engineering minor, he also has advised me on my educational path. Dr. Goupee has had a large role in helping me determine the career path I want to follow. Chris Allen (research engineer) and Matt Fowler (ocean engineer) of the Advanced Structures and Composites Center have also been excellent mentors, guiding my research experience and exposing me to numerous facets of real-world engineering.
What advice do you have for incoming students to help them get off to the best start academically?
Get involved with clubs you find interesting — they're a great outlet, and you can meet a lot of interesting friends. The New Balance Student Recreation Center and the vast network of walking trails behind it are excellent ways to take a break from the library or your dorm room. Don't be afraid to ask your peers or your professors for help. Bouncing ideas off each other in a study group is a much easier way to learn material than doing homework on your own. Take advantage of your professors' office hours if you are struggling with something; they'll be glad to see that you're putting forth the effort. (Also, many professors are fascinating people to talk with — I know one who's a pilot in his spare time and another who has gone caving all over the U.S.)