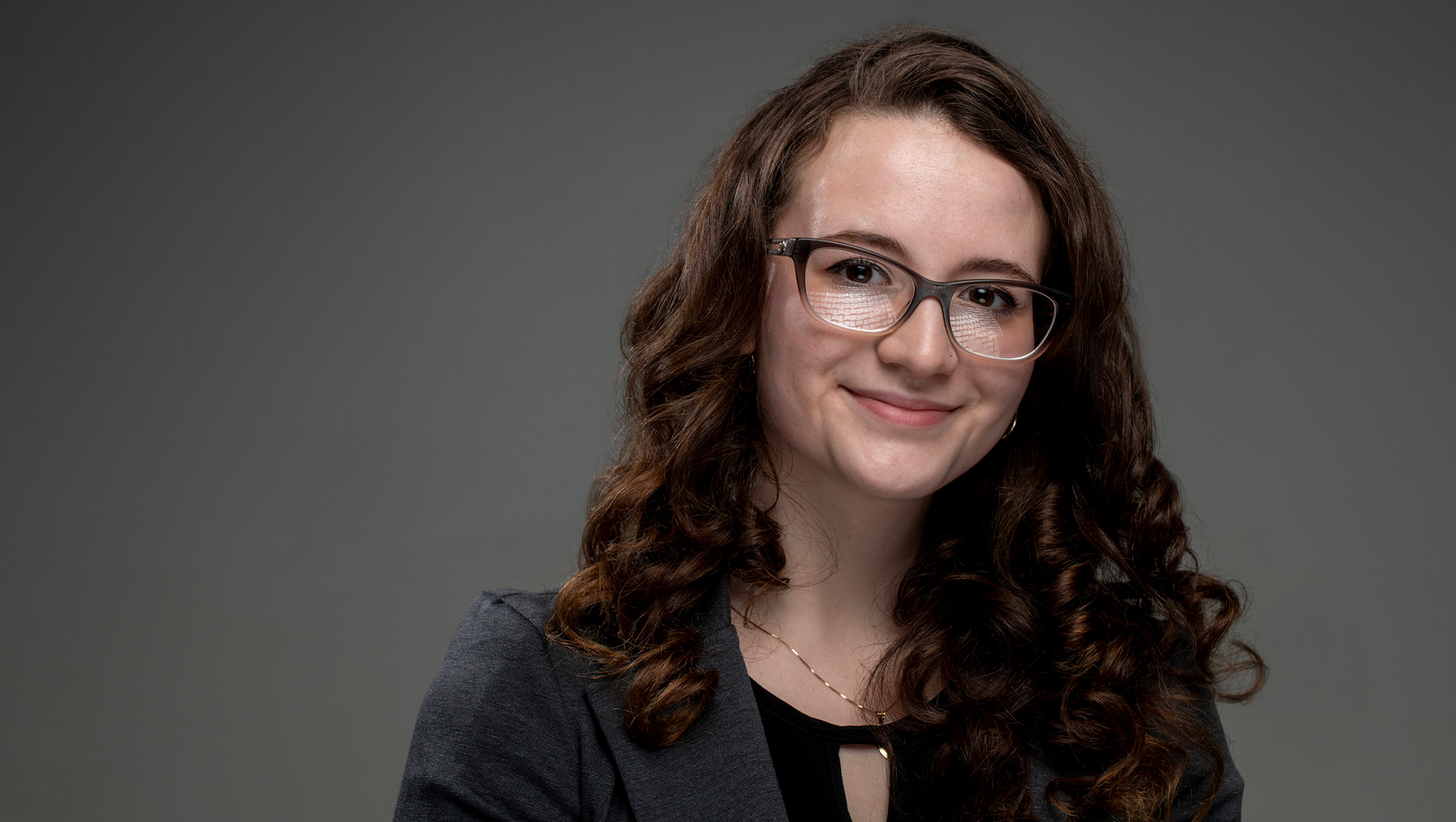 Ana Eliza Souza Cunha: Biology major named 2019 salutatorian
Ana Eliza Souza Cunha of Orono is the 2019 University of Maine salutatorian and the Outstanding Graduating Student in the College of Natural Sciences, Forestry, and Agriculture. She is a biology major with minors in neuroscience and psychology, and a concentration in pre-medical studies.
Souza Cunha's numerous honors include the 2018 Dr. Susan J. Hunter Presidential Research Impact Award, the Frank B. and Charles S. Bickford Memorial Prize, and a Servant Heart Scholarship. She will graduate with highest honors for her thesis, "Evaluating A Doppler Radar Monitor For Assessing Honey Bee Colony Health."
Souza Cunha has been volunteering to assist in UMaine research projects since she was 14 years old. As an undergraduate research intern, she has tagged and followed wood frogs to observe their migration patterns, studied sun-drying techniques on marine worms in oysters, and worked on pesticide-free weed control techniques in sustainable agriculture. Souza Cunha also has studied the effects of diets and peripheral nerves on adipose health and thermogenesis, and how radar could be used to monitor bee health.
As a student ambassador for the School of Biology and Ecology, she mentors peers on UMaine academic and engagement opportunities. Souza Cunha's own community engagement experiences include volunteering with the UMaine chapter of Partners for World Health and Operation H.E.A.R.T.S. She has worked as a certified nursing assistant at Dirigo Pines Retirement Community in Orono and job shadowed at four health care facilities in Bangor and Lewiston.
"I have traveled across the state of Maine taking part in community service that has allowed me to expand my medical knowledge," Souza Cunha says. "By traveling and volunteering at different medical institutions such as hospitals — rural and urban, retirement homes and mental health institutes, I have been able to identify future locations where I may see myself one day becoming a physician."
Following graduation, Souza Cunha will be working in clinical research in Boston, and plans to apply to medical or graduate school.
What difference has UMaine made in your life and in helping you reach your goals?
The faculty here are so supportive and really treat you like an equal. They really do cheer for your success, and push you to research on your own, to oversee your own project, to publish and to connect with the community.
Have you had an experience at UMaine that has changed or shaped the way you see the world?
That's hard for me because UMaine is home. I have lived in Orono most of my life and yet, on this campus is seeded so much intellectual diversity. UMaine does a great job in making sure that students across majors bump into each other and can get to know one another. It's made me grow as an individual because I get to understand the world from different perspectives that I normally would have never considered if I hadn't met them.
Why UMaine?
Research, nature, approachable professors, passionate and diverse student body, large school with a small-town feel. What's not to love?
How would you define the opportunities for student success at UMaine? Is there any particular initiative, program or set of resources that helped you succeed?
UMaine is great because it has such a diverse range of research continuously happening on campus all the time. The professors celebrate your needs to explore different fields and take research they have been looking at down different roads. I would also say the Honors College has played a huge role in my academic experience. The ability to be in a large school but have the small class size experience has given UMaine a more liberal arts feel that I really appreciate. It helped me foster better persuasive skills that have transcended into the research in my life as well as giving the "science" side of my mind a break with other, more artistic and cultural views.
Have you worked closely with a professor or mentor who made your UMaine experience better?
(Professor of insect ecology and insect pest management) Frank Drummond, (associate professor of electrical and computer engineering) Nuri Emanetoglu, (assistant professor of neurobiology) Kristy Townsend, (assistant professor of marine sciences) Paul Rawson, (Ph.D. student in ecology and environmental sciences) Sonja Birthisel and (professor of weed ecology) Eric Gallandt. I have to attribute much thanks to them for guiding me through my research experiences as advisers on the many projects I have worked on. But there are so many more; like I said before, the University of Maine has an incredibly diverse staff that really looks to foster their students' intellectual needs.
What advice do you have for incoming students to help them get off to the best start academically?
Get involved. It's okay to not know in what at first. Just pick a club — there are so many — see if you like it, and you'll often see all the opportunities around you because of it and then you can find your passion.