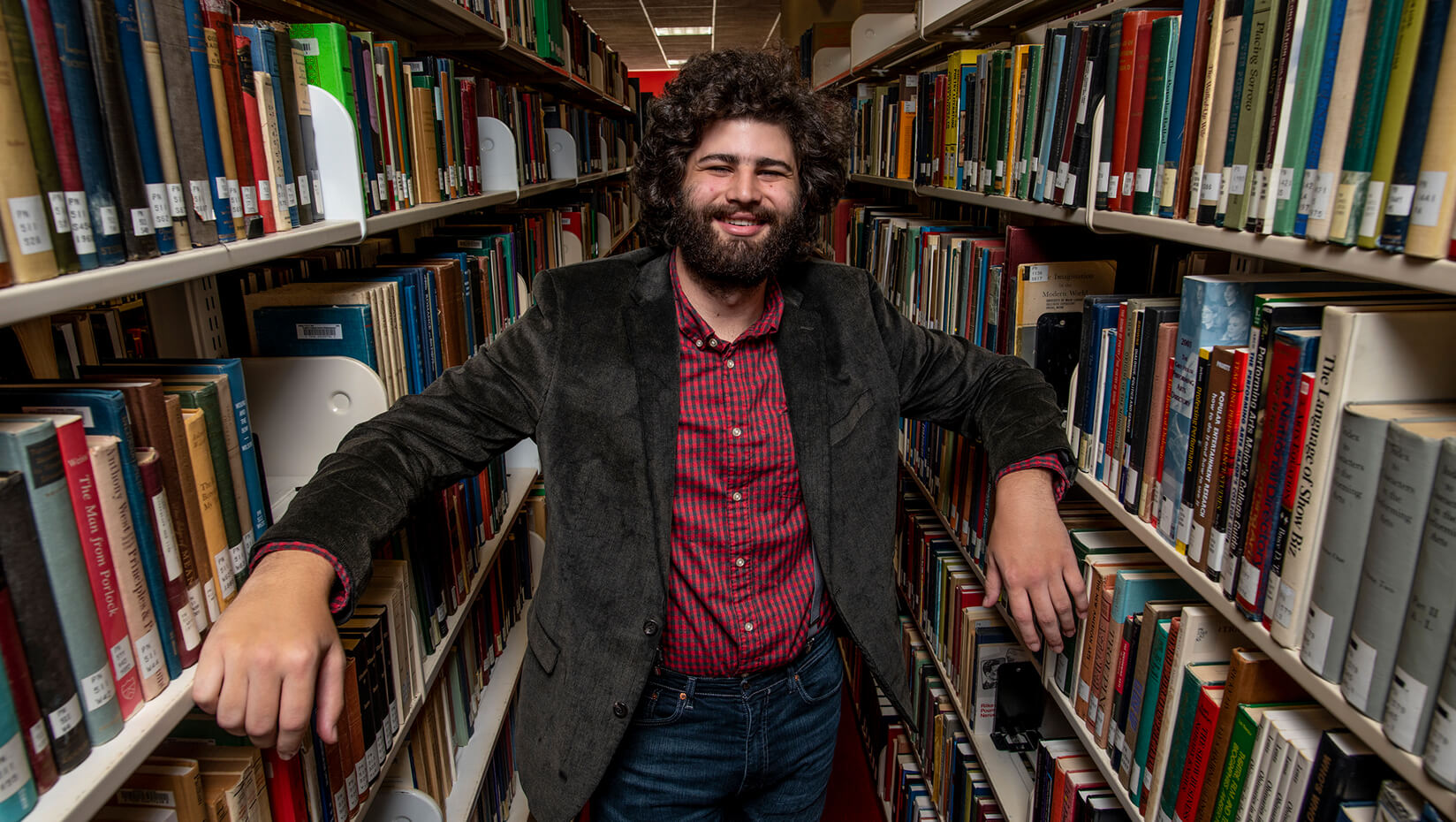 Nick Rotter-Weller: Californian flourishes in UMaine's climate
Nick Rotter-Weller is an inaugural recipient of the Clement and Linda McGillicuddy Humanities Center (MHC) Undergraduate Fellowship at the University of Maine.
The fellowship provides financial support so the senior English major can concentrate on coursework, develop his research project, work collaboratively with peers, participate in interdisciplinary humanities programs, and gain professional skills.
Rotter-Weller has a concentration in analytical writing and a minor in political science. He enjoys playing guitar, listening to music and watching soccer, as well as reading, writing and talking politics.
Talking politics is what led him to his capstone and MHC Fellowship project — an interpretation of Arthur Miller's play "A View from the Bridge" that seeks to escape the 20th-century ideological binary of capitalism versus communism.
"The idea was a culmination of years of research into political ideology and the Cold War as it relates to drama," he says. Rotter-Weller has applied to graduate school at UMaine to earn a master's in English and he plans to teach English at the college level, focusing on the ideological sphere as it intersects with literature.
"UMaine has definitely guided me toward my choices," he says. "I've experienced nothing but encouragement for the work I'm doing, and longer, more-sustained projects like this one really prepare me for the work I want to do."
He credits English 170, Introduction to Narrative for solidifying his choice to be an English major. "Plus," he adds, "[associate professor of English] Dave Kress was just fantastic."
Rotter-Weller also has worked closely with his adviser Richard Brucher, an associate professor of English. "It's been so helpful, working in a sustained way with someone," he says. "The academic atmosphere here is open ended in a supportive way. My professors and my adviser trust me and give me the freedom to explore my interests. I'm really grateful for that."
Several years ago, the Palos Verdes Estates, California native was intrigued by the East Coast weather, culture and community, and took a chance and moved to Maine — despite having never experienced a "real" winter.
"Everything is different — the culture, the people, the landscape. The weather. That I actually liked the weather surprised me," he says.
For Rotter-Weller, UMaine's climate has been a welcoming one. "I was worried when I arrived," he says. "I didn't know anyone within 100 miles — I had no idea what I'd do for Thanksgiving, but by the time it rolled around, I had three offers."
The mission of the McGillicuddy Humanities Center is to promote intellectual curiosity and critical reflection, as well as advance teaching, research and public knowledge of the humanities.
Rotter-Weller appreciates this emphasis on the humanities. "The humanities are what you're drawn to after your material and physical needs are met," he says. "The name is apt — it's a uniquely human thing. It's valuable and people gravitate toward it."