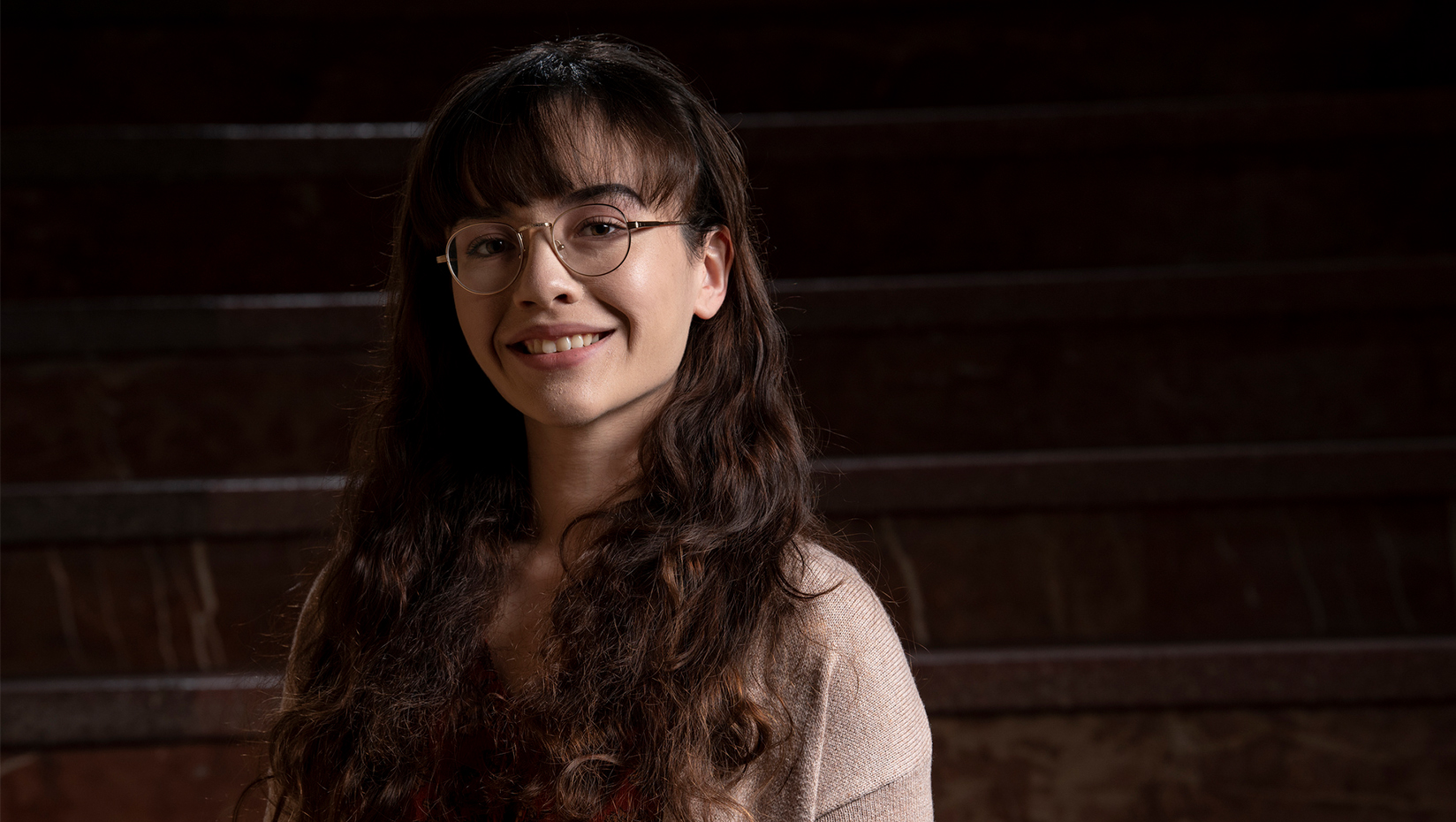 Kim Crowley: Humanities fellowship recipient finds therapy in poetry
Kim Crowley is an inaugural recipient of the Clement and Linda McGillicuddy Humanities Center (MHC) Undergraduate Fellowship at the University of Maine.
The fellowship provides financial support so the senior English major can concentrate on coursework, develop her research project, work collaboratively with peers, participate in interdisciplinary humanities programs, and gain professional skills.
The Newport, Oregon native has lived in Maine for four years after moving east with her family to be closer to her eldest sister. "My family ended up going back to the West Coast, but I loved Maine and wanted to stay," she says.
Crowley, who has a focus in professional writing and a minor in marketing, plans to work in communication and development in the nonprofit sector.
For her MHC Fellowship project, Crowley melds her experiences with her love of language, research and service.
"My Fellowship project is my Honors thesis, 'The Personal is Poetic: A Case for Poetry Therapy,'" she says. "Essentially, it's a synthesis of a research-oriented and a creative thesis, creating a holistic view of poetry therapy."
The project was kindled by personal experience. Crowley has written poetry since middle school, using it as a way to "process emotions and get through difficult situations."
"Since I never knew why I was drawn to poetry over other artistic expressions, I wanted to research its clinical uses and compare them to my own, to use it to better understand my experience and vice versa," she says. "It's valuable because it feels very personal but at the same time, it could be beneficial to other people."
Crowley credits UMaine's inclusive, service-oriented culture as an important factor in discovering her career path. "There are so many communities here and such diverse populations among the students; everyone has a place to explore, to develop their own passions — that's how I found mine," she says. "It's a very open and accepting environment."
UMaine's Honors College was one community that she found especially welcoming.
"I love it," she says. "So many of the opportunities and relationships I've built here are thanks to the Honors College. Associate Dean Melissa Ladenheim has been like my college mom, encouraging me to try so many different things. Without her encouragement, I wouldn't have done nearly as much as I have."
Crowley studied abroad in Ireland and had "the opportunity to read Irish literature in the country where it was written, out in the world connecting texts and place."
And in Orono, she served as the social media intern for the Mandela Washington Fellowship at UMaine. "That summer with the Mandela program was the best summer of my life — I got to travel around Maine with young professionals from different African countries."
The mission of the McGillicuddy Humanities Center is to promote intellectual curiosity and critical reflection, as well as advance teaching, research and public knowledge of the humanities.
Crowley says the humanities can provide comfort. "Everything moves so quickly — we're overloaded with information, going through crises on a daily basis, but having these spaces where you can sit, think and engage in discourse surrounding your interests really grounds you and brings you back to the things that matter," she says. "It is what makes us human, after all."