UMaine's School of Performing Arts presents 'The Curious Savage'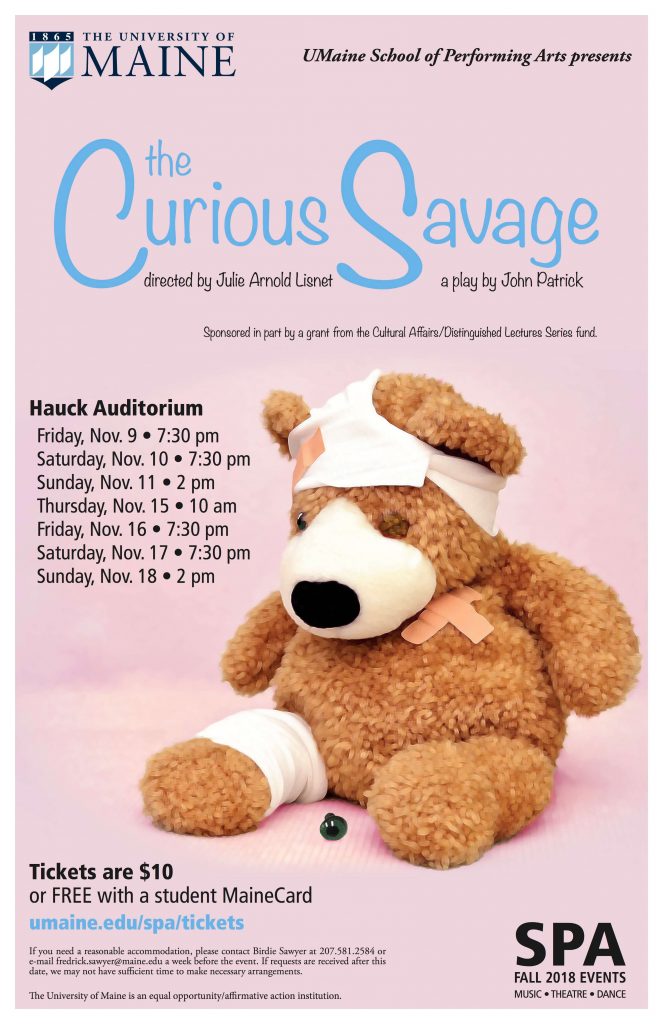 John Patrick's classic play "The Curious Savage" is the latest offering from the University of Maine School of Performing Arts, opening Friday, Nov. 9 at Hauck Auditorium.
The production runs for seven performances: 7:30 p.m. Nov. 9–10 and Nov. 16–17; 2 p.m. Nov. 11 and 18; and 10 a.m. Nov. 15. Tickets are $10 and are available online or by calling 581.1755; admission is free for students with a valid MaineCard.
"I love how ageless the play is," says director Julie Arnold Lisnet, instructor of theatre at UMaine and founding member of Ten Bucks Theatre Company in Bangor.
The play contains a universal message that all people "share the innate desire to be loved, respected and honored for being worthwhile," she says. "Given all the division in our current political and societal climate, I think the message of 'The Curious Savage' is more important and pertinent than ever."
Scenic designer and UMaine alumna Katie Keaton believes audiences will find inspiration in the play. "I love the humor and beauty of the play," she says. "And it all leads to a great reveal at the end that showcases the humanity of the characters, and the play."
For more information, contact Alan Berry, richard.berry@maine.edu. To request a reasonable accommodation, contact Birdie Sawyer, 581.2584.