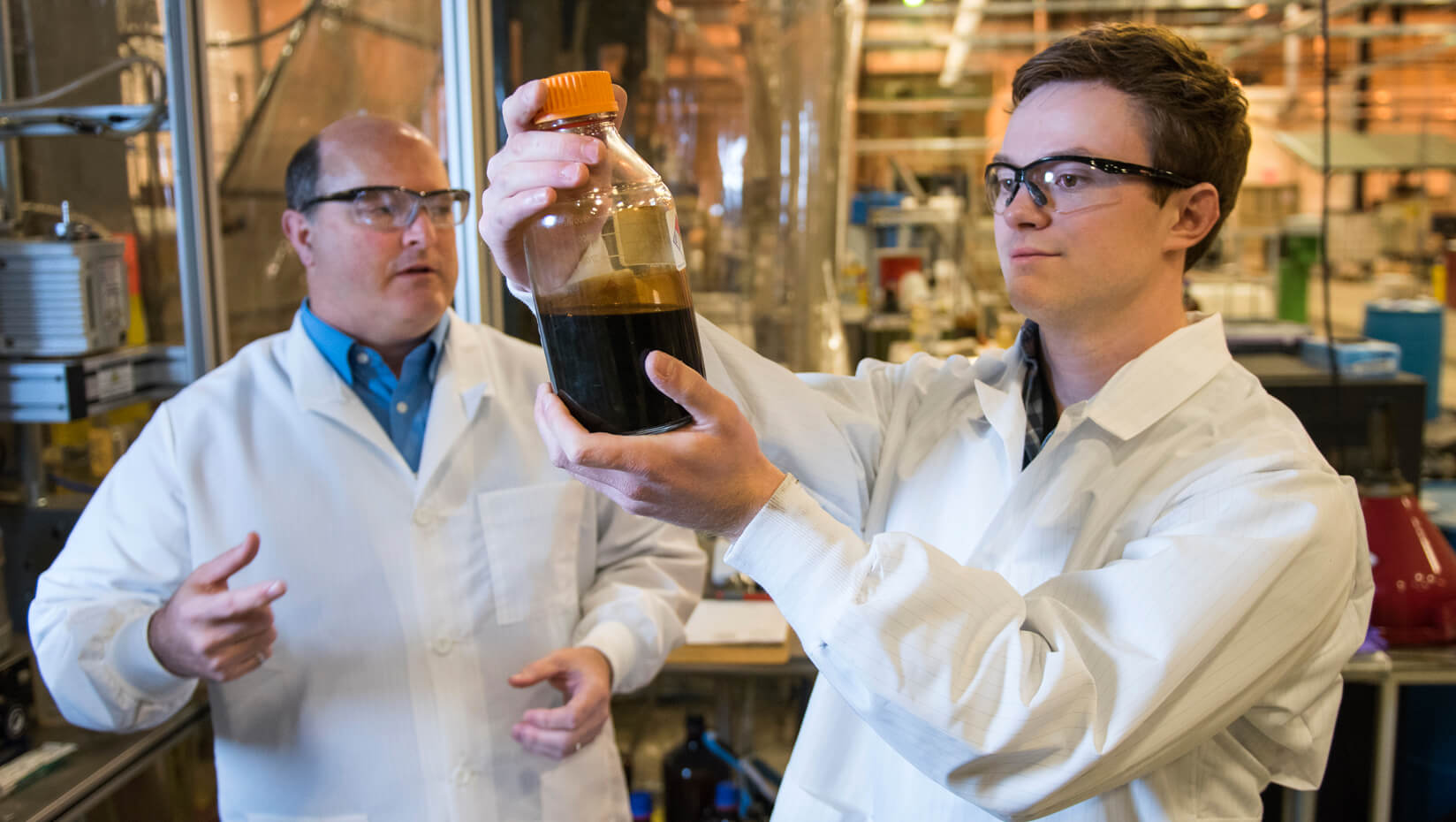 UMaine to launch 100-hour continuous operation campaign of new Biomass to Bioproducts Pilot Plant
A pilot plant capable of processing up to 1 ton of woody biomass per day into chemicals that can be used to manufacture bioproducts, including biofuels, biochemicals and advanced materials, will be demonstrated in 100 hours of continuous operation beginning May 1 at the University of Maine's Technology Research Center (TRC) in Old Town.
Chemicals made from biomass could one day be an important revenue source for the forest economy. Organic acid platform chemicals, as they are known in the industry, have multiple uses, including the production of plastics and other specialty chemicals.
At UMaine, these "green" chemical intermediates are critical in the university's patented conversion technology to produce diesel and jet fuel from woody biomass, developed by the Forest Bioproducts Research Institute (FBRI).
Installation of the new Biomass to Bioproducts Pilot Plant was made possible by a partnership between UMaine and Biofine Technology based in Framingham, Massachusetts.
To ensure that the valuable asset remained in Maine, Biofine paid $200,000 to have the pilot plant disassembled and moved to the TRC, which is located on the site of the former Old Town Fuel and Fiber facility. Biofine acquired the pilot plant in 2015 when Old Town Fuel and Fiber closed and its contents were auctioned.
UMaine reassembled the pilot plant with a grant from the Maine Technology Institute's Cluster Improvement Program (CIP) and some funds from a previous Maine Technology Asset Fund (MTAF) award. This was further supplemented with federal funds from a recent Defense Logistics Agency award.
The Biomass to Bioproducts Pilot Plant, which occupies 10,000 square feet in TRC, is the first step in scaling up UMaine's jet fuel technology, which is still in bench-scale production. FBRI researchers hope to add another pilot plant that would use the platform chemicals to create larger quantities of biofuel — prototyping for commercialization. The two pilot plants would fully demonstrate the potential of creating diesel and jet fuels — and the chemical ingredients — entirely from biomass.
The Biomass to Bioproducts Pilot Plant is the newest addition to UMaine's research facilities that are dedicated to prototyping, and demonstrating technologies and new products to benefit commercialization of the emerging bioeconomy sector. UMaine's other pilot plants focus on pulp and paper, food and nanocellulose.
"Biofine is contemplating a small commercial deployment at 100 tons of biomass per day for chemical production," says FBRI Director Hemant Pendse. "The Biomass to Bioproducts Pilot Plant will help provide the information needed to make that possible."
Biofine has been assisted in its recent efforts by a New York state-based construction firm that is providing pre-construction services in support of the planned commercial venture. Biofine's first large-scale project in the United States is planned for installation at the recently closed Old Town, Maine pulp mill. The mill is to be rejuvenated as a multi-tenant industrial park by a group of new owners based in Maine.
The 100 hours of continuous operation, during the week beginning May 1, will provide reliable engineering data for companies considering such development, including the first commercial plant in Maine.
In addition, this operational campaign will produce organic acid salts made from old corrugated cardboard waste as precursors for conversion to jet fuel and diesel using UMaine's patented technology. FBRI is well positioned to help Maine communities attract new investments in forest bioeconomy for producing bioproducts — fuels, chemicals and advanced materials — from biomass at scales ranging from 100 to 1,000 tons per day dry feed.
Contact: Hemant Pendse, pendse@maine.edu; Margaret Nagle, 207.581.3745