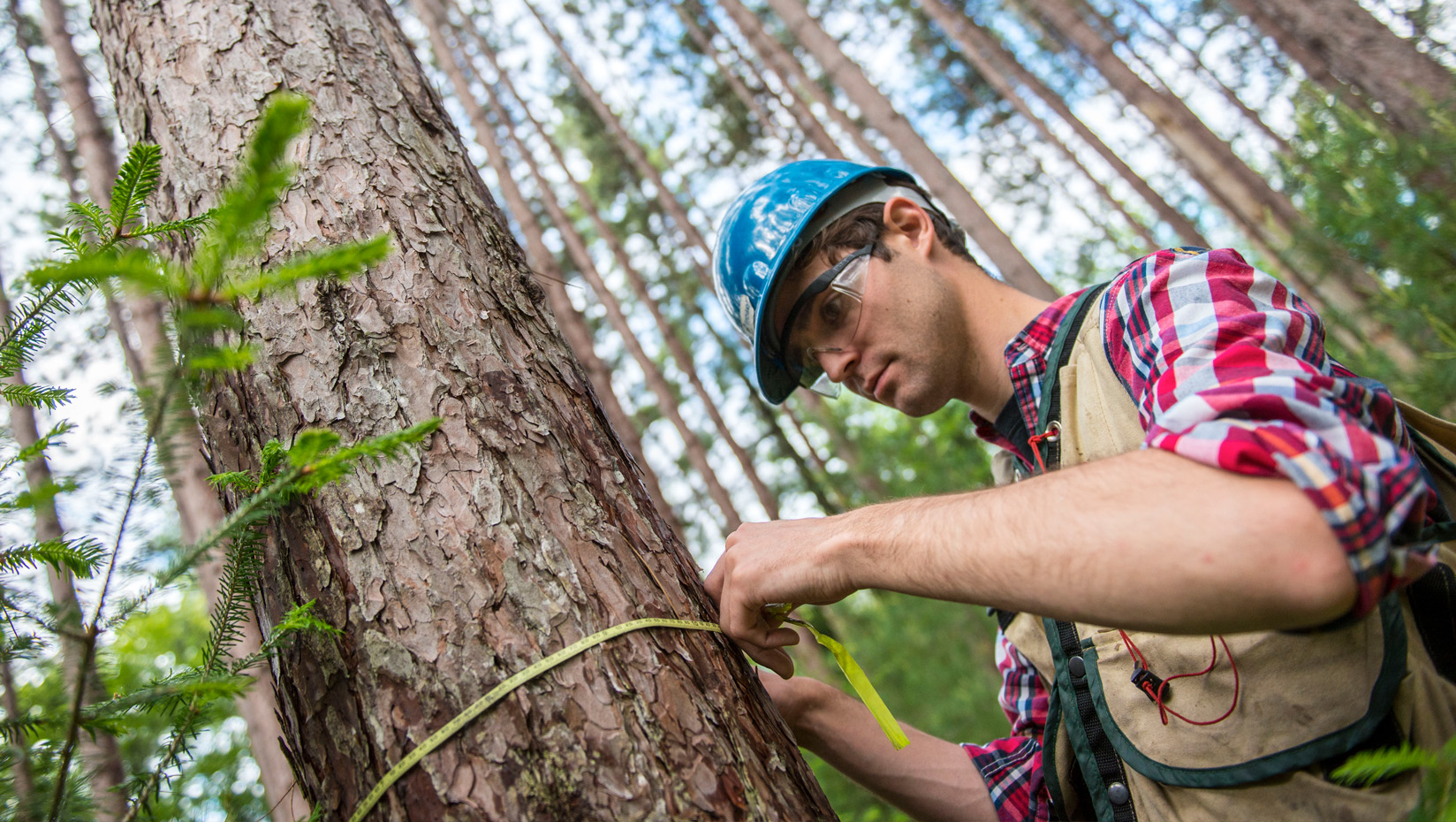 UMaine receives federal funding to advance forest products industry
The U.S. Department of Commerce's Economic Development Administration (EDA) will invest more than $4 million to help diversify and grow the Maine economy, which includes new funds designed to aid the forest sector, announced U.S. Deputy Assistant Secretary of Commerce for Economic Development Matt Erskine in a news conference at the University of Maine July 29.
Full details about the economic development grants are online. A summary follows:
Maine Development Foundation, Augusta
$711,600
To support, coordinate and track long-term economic recovery efforts that result from findings and recommendations made by the August 2016 Maine Forest Economy Economic Development Assessment Team.
Bio-Based Maine, Orono
$519,930
Part of a $856,549 project to Bio-Based Maine, in partnership with the University of Maine, to develop a road map to advance biobased manufacturing, marketing Maine's biobased assets to investors in new technologies and processes, and providing technical assistance to Maine forest products manufacturers and users in the implementation of new biobased technologies. It is anticipated that the cost analysis, technology assessment and market research component of the project could place one or more mills into the production of cellulosic sugars, with 195 or more jobs created.
Bangor Target Area Development Corp., Orono
Business Beneficiaries: Twin Rivers Paper and Cerahelix Corp.
$345,000
To make interior upgrades in the Target Technology Center to create wet laboratory and supporting space to the Twin Rivers Paper Company and the Cerahelix Corp. Twin Rivers operates one of Maine's six remaining paper mills (located in Madawaska), which is successfully competing in the paper packaging market, and is relocating its research and development operation from Montreal, Canada to Orono, Maine to be closer to the mill and have better access to the University of Maine's Forest Bioproducts Research Institute (FBRI).
City of Bangor
Business Beneficiary: C&L Aerospace
$1.2 million
To support the further expansion of C&L Aerospace for refurbishing commercial turboprop and jet aircraft, and supplying parts and repair services to certain models of aircraft worldwide.
Central Maine Community College, Auburn
$1.59 million
To expand CMCC's Precision Machining Technology laboratory to accommodate increasing demand for skills training by enrolled students and businesses.
In addition, it was announced that EDA will deploy an Economic Development Assessment Team (EDAT) in eastern Maine Aug. 17–19 to evaluate new and existing economic strategies to address the state's forest-based economic challenges. During the three-day EDAT visit, regional leaders and economic development experts, alongside officials from federal partners — U.S. Departments of Treasury, Agriculture, Commerce, Labor, Transportation, and Energy; and the Environmental Protection Agency, the Small Business Administration, and the Northern Border Regional Commission — will participate in a series of economic development sessions, tours and briefings.
At the conclusion of the EDAT process, regional and local stakeholders will have a bottom-up strategy, developed with input from the federal partners, designed to foster robust economic growth and recovery.
As part of the news conference, Erskine also announced several new efforts by other federal partners that will provide support to the Maine economy. They include a $3.3 million award from the Defense Logistics Agency (DLA) to advance wood to jet fuel technology at FMRI's Technology Research Center. The technology is based on FBRI's patented thermal deoxygenation process, which was shown to yield jet fuel test samples that have met key specification.
In order to improve process economics, FBRI will investigate co-production of advanced materials, such as nanocelluose composites, as well as some high-value chemicals from woody biomass and liquid hydrocarbon fuels. This project will explore conversion of cellulose and lignin to liquid hydrocarbon fuels, and use of hemicellose extract and cellulose fiber slipstreams for developing high-value co-products.
UMaine's research approach, based on potential sustainable supply of woody biomass, will provide new opportunities for high-value use as an alternative to direct combustion in biomass power plants, where energy efficiency is often very low. In addition, FBRI plans to finish reassembly of recently relocated biomass hydrolysis pilot plant, for converting biomass into levulinic and formic acids, to keep this unique critical research infrastructure operating in Maine and train students.
Information about U.S. Department of Energy and U.S. Small Business Administration initiatives also can be found in the EDA news release.