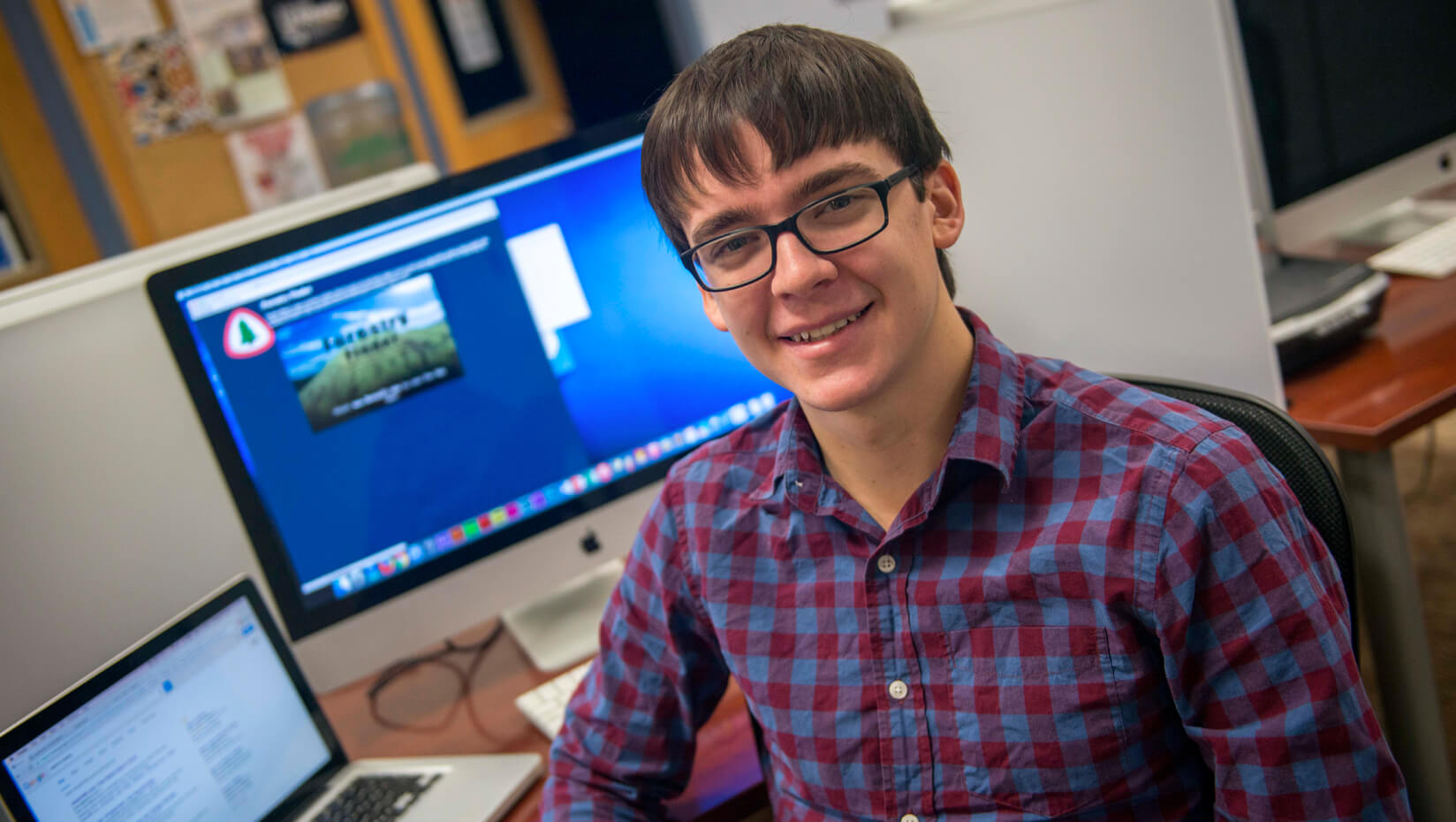 Benjamin Brown: Using new media, forestry skills to aid workers in woods
Growing up in a family of foresters, University of Maine new media student Benjamin Brown knew firsthand the challenges of working in the Maine woods.
During high school, the Norway, Maine native chose to experience the trade himself. He went to work with his father and brothers driving a skidder.
"That entails getting in a large piece of equipment and spending all day going back and forth between the slasher (saw) and finding wood out in the woods," Brown says. "I spent a lot of time going in the wrong direction and wasting fuel having to drive back, so I thought, 'How can I improve this?'"
Considering how he could upgrade the process led Brown to create Forestry Finder, an Internet-based application to be used by people within the forest industry in all stages of a logging operation — from surveying to harvest.
---
---
"Forestry Finder is an app that anybody can use with very minimal interaction and get a lot of feedback that I don't think is available in any other context," Brown says. "It allows you to basically put pins in a Google map that everybody can see for various purposes."
After registering for free on the application's website, users can track their GPS location using a 4G data connection and place a pin at their location in a shared map anyone on the website can see. The pins can be used by loggers to orient themselves or return to a location.
"Each user can place as many pins as they want, allowing you to do such tasks as marking a job location for truck drivers, placing boundary lines to be observed when felling trees, marking a malfunctioning or damaged machine far away from the landing, and marking hazards or otherwise inaccessible areas," Brown says of his capstone project.
In developing the app, Brown sought to keep it easy to access and use for anyone in the forest industry despite their level of technical expertise.
"The less steps that they need to get involved in the infrastructure that we've already got is better," he said.
By making the program available online, as opposed to through an app that needs to be located and downloaded, it can be used on any cellphone with a data or Internet connection with minimal setup, Brown says.
Although Brown created the app specifically for forestry, he sees potential in other areas and has been approached by agriculturists who are interested in learning more.
"I think that's the point of new media," he says. "It's supposed to express itself through everything. You can use it to improve anybody's life, and this app obviously has many different situations it could be useful not just in forestry."
Before starting the New Media program, Brown expected to earn a degree similar to computer science, but was pleasantly surprised with the amount of variation the program offers.
"I really enjoy how much freedom there is," says Brown, who also is pursuing a minor in art. "Not only did I get the projects that encouraged me to learn coding, but I've also learned about creating good compositions with videos, editing, taking photography, creative design. I feel like basically I can go anywhere with this degree."
He says students who enter the program should be self-directed and motivated.
"You'll get projects that are ambitious, and if you're not equally as interested in learning, you're not going to get as much out of them," he says, adding he has been able to apply the skills he has learned from assignments on personal projects.
"The New Media program has a great deal of unique resources that have helped me learn a great deal," Brown says citing the IMRC Center. "I love being able to rent camera equipment and use the multiple studios to edit, create special effects, and code in programs that I wouldn't otherwise have access to."
Brown, who graduated in December 2015, hopes to stay in Maine and find work in Web design, on a film crew or creating database structures.