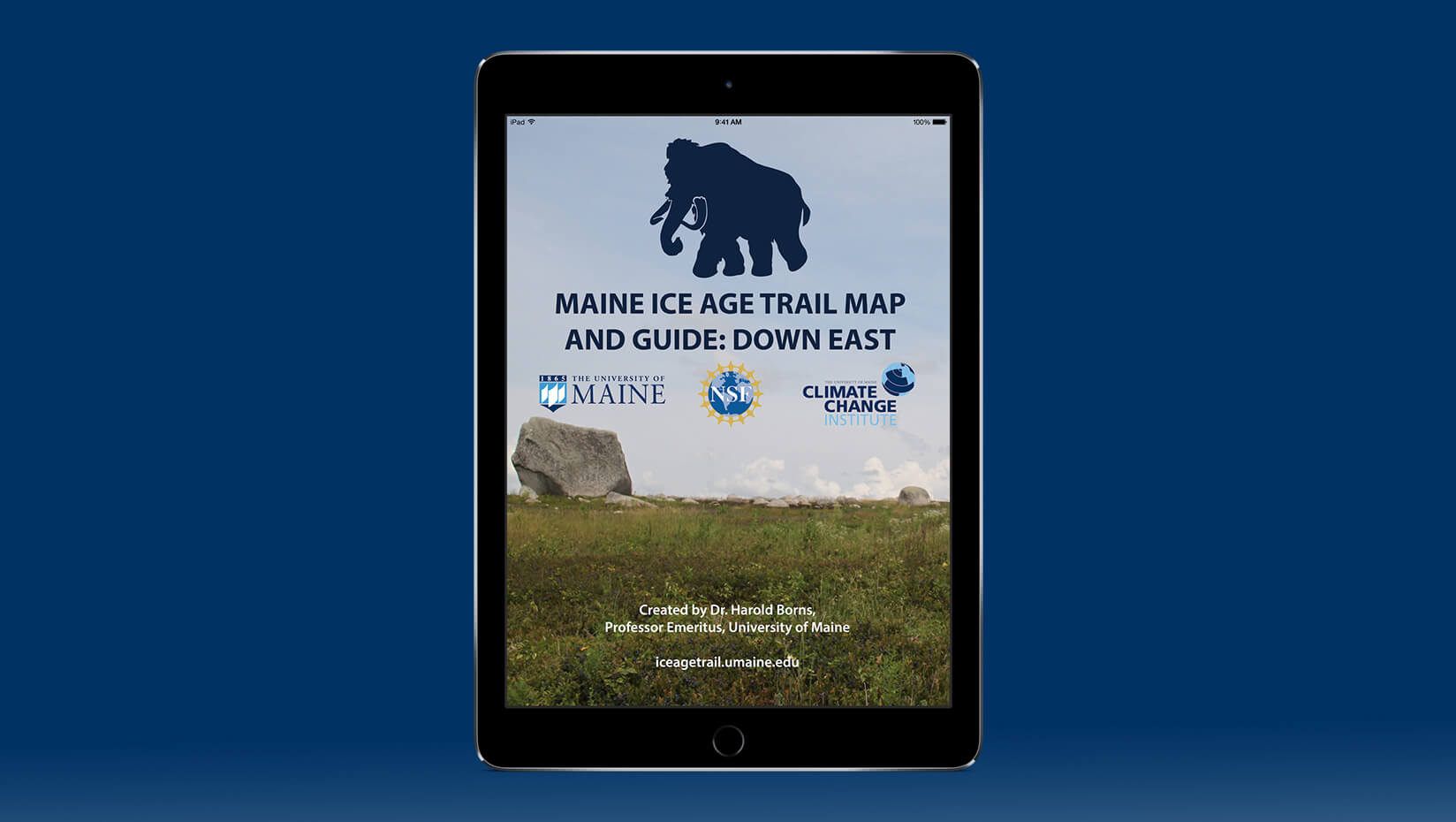 Plourde designs free iPad app based on Borns' map of Maine Ice Age Trail
Woolly mammoths that 12,000 years ago roamed the treeless tundra that is now Maine are gone, but unique landscape features formed during the retreat of a continental glacial ice sheet in that epoch remain.
Down East, Maine is an outdoor historical museum. And thanks to a collaboration between Hal Borns and Josh Plourde, Ice Age creations are now part of the digital age.
Starting in his senior year as an undergraduate in the School of Earth and Climate Sciences, Plourde designed a free iPad app to enable ecotourists, schoolchildren and history buffs to experience Ice Age landmarks in Down East, Maine — including the Bubbles in Acadia National Park and boreal forest between Cutler and Lubec.
Plourde now is the communications manager for UMaine's Advanced Structures and Composites Center.
"Science is my first and foremost love and to make it more accessible and relatable keeps me ticking," says Plourde, who began designing websites when he was a high school student at Mattanawcook Academy in Lincoln, Maine.
Glacial geologist Borns is the app's virtual tour guide.
The app is based on the award-winning Maine's Ice Age Trail: Down East, Map and Guide developed, in part, in 2006 by Borns, professor emeritus of glacial and quaternary geology and founder of the University of Maine Climate Change Institute.
An Internet connection isn't necessary to use the app that highlights 46 unique landscape features created between 13,000 and 16,000 years ago when the Laurentide Ice Sheet withdrew northward the last time.
The app can be downloaded from the Ice Age trail website  and from iTunes. Smartphone and computer users can access the same content on the website.
Ice Age trail features include drowned forests, deltas, bluffs, moraines, peat bogs, glacial grooves and other natural landmarks, many of which dot the coastal corridor from Ellsworth Falls to Red Beach between Robbinston and Calais.
Ecotourists and sightseers on-site can download the app on their iPad to inform and enhance their firsthand personal experiences.
Educators and schoolchildren around the country can utilize the app for classroom lessons and explorers around the planet can make stops along the trail while couch surfing in their living rooms.
"This helps people understand how the land got to be what it is. It gives kids in school a sense of place of the land-based economy," Borns says of Washington and Hancock counties, where making holiday wreaths, digging clams and picking blueberries are commonplace and dependent on geologic events that took place 15,000 to 20,000 years ago.
When the Laurentide Ice Sheet scraped and gouged its way northward, Cadillac Mountain formed in what is now Acadia National Park. Borns says the summit of Cadillac — at 1,530 feet — was likely the first part of Eastern Maine to emerge from the ice approximately 16,000 years ago.
When the 1.5-mile-thick ice sheet crept northward, Borns says it also carved Somes Sound in Acadia National Park. Somes Sound is a fjard — a glacially sculpted, U-shaped valley overtaken by the sea.
Ancient shoreline beaches also formed. In Columbia Falls, for instance, a 20-foot-high wave-cut bluff and terrace were created when the sea level briefly steadied 230 feet higher that it is today, then rapidly lowered. These scenic sand expanses look like they belong on a Cape Cod brochure … except they're more than 200-plus feet above sea level in the Pine Tree state.
As the glacier melted and retreated, ocean water flooded land that had been depressed by the massive weight of the ice sheet. Over time, the land rebounded, says Borns, and the sea retreated.
For years, Borns researched the state's landscape. Pam Person, director of Maine Global Climate Change, LLC, suggested he share his knowledge about glaciers and geology with the public.
Person, whom Borns calls a mover and shaker, knew of an Ice Age ecotourism trail in Wisconsin and thought Maine would do well to publicize its even more impressive trail.
Borns followed her advice. A few years later, with a $50,000 National Science Foundation grant, he and cartographer Michael Hermann produced the colorful map packed with photos, descriptions, directions, definitions and details, including wooly mammoth graphics that mark the 46 landmarks on Maine's Ice Age Trail: Down East, Map and Guide.
The map won Best of Category in the 34th annual American Congress on Surveying and Mapping/Cartography and Geographic Information Society Map Design Competition.
Borns gave maps — 10,000 were originally printed — to schools and town offices Down East. And the map — which Borns estimates represents about $1 million in research — sells for $8.95 at the UMaine Bookstore. Proceeds from sales of maps are used to produce more copies.
A website — iceagetrail.umaine.edu — was created to accompany and complement the map. And this spring, Borns and Plourde unveiled the free iPad app and an updated website.
For the app, Plourde shot video interviews — sometimes in multiple seasons — with Borns at landmarks; Borns shares details and history about the respective features.
The app also highlights photos taken by photographer Jeff Kirlin as well as facts, details and geology history from the information-dense map.
Borns — whose career has spanned decades and continents — is at ease talking in-depth about glacial ecology. His interest in geology was sparked at Tufts University. Though he started on the electrical engineering track, after he heard a lecture about the Grand Canyon in an elective geology class, he changed course.
He earned a bachelor's at Tufts and a master's and doctorate at Boston University, all in geology. He was a postdoctoral fellow at Yale University before arriving at UMaine. Borns estimates during his career, he advised and shared his interest in geology with about 3,000 students, including UMaine paleoclimatologist Karl Kreutz.
Plourde, like Borns, intended to pursue engineering as a career. And like Borns, Plourde took a geology course and was hooked.
In 2012, while an undergraduate at UMaine, Plourde traveled with Kreutz to conduct field research in Denali National Park and Preserve, Alaska, on the Kahiltna Glacier that flows from Mount McKinley. He graduated in 2013 with a bachelor's in Earth and Climate Sciences.
While working on the app, Plourde says he learned a lot about the formation of Cadillac Mountain — one of his favorite Maine spots.
Borns has more than a few geological tales to tell about Maine sites.
For instance, in addition to beaches 230 feet above sea level, Borns says seashells have been unearthed beneath the paper mill in East Millinocket along the West Branch of the Penobscot River, more than 100 miles from the Atlantic Ocean. Those shells indicate how far afield the sea invaded the land after the glacial ice sheet retreated and before the Earth's crust rebounded.
And, says Borns, the remains of a Woolly mammoth were excavated in Scarborough.
With the app, people locally and worldwide can learn about the state's geological history and tour Maine's beautiful and unique outdoor museum.
Contact: Beth Staples, 207.581.3777