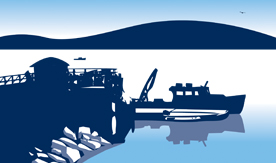 Darling Marine Center celebrating 50 years
The Darling Marine Center, located on the edge of the Damariscotta River estuary, is celebrating its 50th anniversary.
The center was opened in 1965 after Ira C. Darling, a retired Chicago insurance executive, donated 127 acres of farmland to the University of Maine with the purpose of establishing a marine laboratory.
Today, 50 people occupy the center year-round, including faculty, staff and students. The center invites alumni and members of the community to celebrate its half-century birthday with events, tours and seminars.
To kick off the celebrations, the center will host "Wednesday Walking Tours" which will run for the months of July and August at 10:30 a.m. at the DMC. Staff will give a walking tour of their waterfront laboratories and speak about current research projects focusing on lobster ecology and fisheries management, shellfish aquaculture, remote sensing, coastal food webs and ocean acidification. The tour is open to the public and will last approximately 90 minutes.
Four talks will follow as part of the "Science on Tap Seminar" series, which will take place from 6–7 p.m. at the Newcastle Publick House.
The following describes the focus of each talk:
July 8: "Some lasting effects of fisheries on Maine's hidden kelp forests"
Bob Steneck, School of Marine Sciences and Darling Marine Center
July 15: "Spying on our oceans with satellites and robots"
Mary Jane Perry, interim director, Darling Marine Center
July 22: "Shellfish aquaculture: Job creation, tasty bivalves and some cool science too"
Carter Newell, Pemaquid Oyster Company, Pemaquid Mussel Farms
July 29: "Darling worms: A rich legacy of polychaete research"
Pete Jumars, School of Marine Sciences and Darling Marine Center
Additional events include an Alumni Day on Thursday, Aug. 6 which will feature a Damariscotta River cruise, lobster bake and campfire entertainment. The following day, the center will host a UMaine Celebration Day. These two events are by invitation only and participants should register by July 24 at dmc.umaine.edu.
The final event — Darling Marine Center Open House — will consist of activities for all ages and will take place from 10 a.m. to 2 p.m. Aug. 8. Staff will lead participants throughout the facilities to meet the plants and animals that share Maine's shores and learn the tools and techniques used in the field of marine science.
Contact: Amanda Clark, 207.581.3721