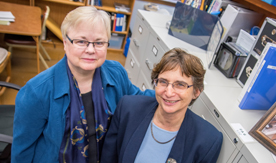 Sorg to study link between domestic abuse, homicide and suicide to improve intervention
Marcella Sorg, University of Maine research associate professor, is collaborating with the Office of Chief Medical Examiner to examine information about people involved in deaths resulting from shootings, stabbings, beatings and hangings in order to develop an understanding of circumstances that may have led to the violence.
Sorg and retired state of Maine chief medical examiner Margaret Greenwald will spearhead the project that probes the relationship between domestic abuse, homicide and suicide so that intervention efforts can be tailored to save lives.
They will lead Maine and Vermont's participation in the federal CDC's surveillance system that studies circumstances associated with violent deaths. Twenty-nine other states also are participating. Greenwald and Sorg are particularly interested in looking at domestic violence and its effect on suicides that are not part of a murder/suicide incident.
Maine and Vermont have higher-than-average rates of violent deaths, specifically firearm and poisoning suicides, Sorg says.
Although Maine and Vermont officials have goals to reduce violence and injury, they lack surveillance systems that can gather and aggregate high-quality circumstantial and incident-based information and disseminate it to agencies and organizations that might implement appropriate prevention strategies to reduce the rate of death and injury, she says.
An additional technical problem, says Sorg, is rooted in Maine and Vermont's low-density, rural population distribution and the resulting suppression of some vital records totals, even at the state level, due to small numbers.
A nearly $1 million five-year grant from the federal Centers for Disease Control and Prevention will fund the analyses. Sorg and Greenwald will dig into the "who, what, when, where and how" of violent deaths — homicides, suicides and undetermined — in the Pine Tree and Green Mountain states.
Beginning in 2015, Sorg and Greenwald will send data to the National Violent Death Reporting System (NVDRS) to link details from medical examiners files and law enforcement reports of those who perished in violent manners.
They'll review evidence about victims and perpetrators, including age, income, education, method of death, relationship between offenders and victims and whether depression, financial stressors, job loss and alcohol and other drugs were present.
"We'll collect data on the circumstances surrounding the entire event," Sorg says. "We'll be looking for characteristics of all the people involved, including the perpetrator, even if the perpetrator doesn't die. Our surveillance will focus not on the individual but on the whole incident."
Such information is powerful, Maine Attorney General Janet Mills said when announcing the grant.
"Knowing the circumstances of violent deaths will help identify the very best prevention efforts," she said.
The CDC, says Sorg, views violent death as a public health problem. And this project at the interface of public health and public safety provides a promising opportunity for intervention and prevention, she says.
That opportunity will be welcome in Maine, where 12 of the 25 homicides in 2013 were categorized as domestic homicides and 11 of the 25 homicides in 2012 were characterized as such.
Of 21 cases reviewed of homicides that occurred between 2009 and 2013, 17 of the 27 victims were female and 20 of the 21 perpetrators were male, according to "The 10th Report of the Maine Domestic Abuse Homicide Review Panel — Building Bridges Towards Safety and Accountability," released in April 2014.
Victims ranged in age from 6 weeks to 76 years old and perpetrators ranged in age from 17 to 85 years old.
Of the 21 perpetrators, 14 exhibited suicidal behavior prior to committing or attempting to commit homicide. And, of the 14 who had exhibited suicidal behavior before the crime, seven did kill themselves after attempting to commit or committing the homicide, according to the same report.
Sorg and Greenwald also teamed up in 2001 to compile data on the relationship between substance abuse and drug-related mortality in Maine. Then-Attorney General Steven Rowe described their resulting report as "the foundation upon which to build future drug abuse policy" in Maine.
For decades, Sorg, a research associate professor with the Department of Anthropology, Climate Change Institute and the Margaret Chase Smith Center for Public Policy, has shared her expertise in Maine and around the world.
In 2012, she led a nine-member international forensic team to search for remains of former Grenada Prime Minister Maurice Bishop, who was executed in a coup in October 1983. She directed the two-week dig in an attempt to locate the body of the slain leader, at the request of the Grenada Conference of Churches. The team uncovered bones in an unmarked grave at a public hillside cemetery on the Caribbean island, but they were not Bishop's.
This fall, Sorg, the forensic anthropologist for the states of Maine, New Hampshire, Delaware and Rhode Island, has worked with anthropology students to examine skeletal remains unearthed adjacent to the Cornish Town Hall in Cornish, Maine. Authorities have indicated the building was built on a cemetery; records indicate one grave there was dug in 1810.
Contact: Beth Staples, 207.581.3777