Wabanaki Youth in Science (WaYS) Program
"Integrating Technology Science and Traditional Culture"
Camp
The Summer of 2013, we held our first "earth" camp.  We had 15 students.  Summer 2014, we doubled our attendance at Schoodic Point, Schoodic Institute.  Summer 2015 and 2016 we had 25 students at each respective camp.  Our third year (2015), was held at Cobscook Community Learning Center, along the shores of Cobscook Bay in Trescott, late June.  Summer 2016, earth camp was held along the shores of Fourth Debsconeag, in the shadows of Katahdin Mountain.  In lieu of our fifth earth camp, we will be recognizing this monumental benchmark with a Youth Summit.  Plans are shaping up for this to happen February/March, 2018.  More information will be shared as we get closer to this event."
There is no charge for this summer camp for Wabanaki students.
As a part of the "camp" experience and seeing a desire to continue the year-long connection with students, cultural knowledge keepers and natural resource professionals, we have initiated "mini-camps". These seasonal activities (spring, summer, fall, winter) focus on one topic for a 2 1/2 day period. Younger students are encouraged to participate, as well as their parents, at the mini-camps to help ready them for the week-long earth camp when they are older. The melding of native culture and western knowledge is the thread throughout the mini-camps. These hands-on, outdoor programs engage all ages in the environmental and cultural experiences that connect the next generation to invest in their cultural heritage and legacy of environmental management and stewardship on tribal lands.
Important Dates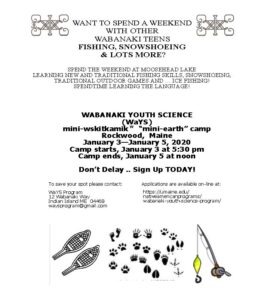 January 3-5 2019
mini wskitkamik
Fall "mini earth" camp Moosehead Lake, Rockwood, Maine
Moosehead Lake, Rockwood  Application
List of items to bring for camp
Research has shown that one key component to persistence in sciences for Native American students is the melding of the science AND culture into the curriculum.  In particular the rich cultural heritage of the Wabanaki Tribes and their environment, lends itself well to melding these two vital criteria.  It is also important to connect the next generation to continue their cultural heritage and legacy of environmental management and stewardship. This initiative looks at developing a long-term program to engage Wabanaki students (6-12 grades) through their cultural heritage and environmental legacy to encourage and promote persistence in sciences through college and into a career. It is the essence of knowledge to action and what will be paramount in developing a sustainable environmental program for the tribes.
This longitudinal connection is a three-pronged approach. The multi-prong approach includes:
Week-long summer camp.
Internships pairing cultural resource professionals and natural resource professionals within each tribal location during the school year and the summer.
TEK/ASIES programs at each teen center/Boys & Girls Club for the respective tribes.
WaYS Supporters
Bureau of Indian Affairs
EPSCoR
Fredericka Gilroy Memorial Trust for Native American Education
Kitchen Gardeners International
National Fish and Wildlife Foundation
Natural Resource Conservation Service
New England Grassroots Foundation
J.A. Woollam Foundation
United South and Eastern Tribes