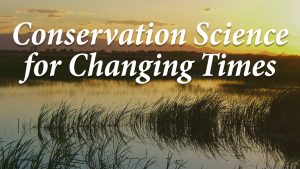 Speakers: Faculty from UMaine's NSF Research Traineeship Team

Global and local changes in environmental, social, and climatic conditions increasingly stress, alter, or degrade ecosystems and human quality of life despite continued efforts to develop integrated natural and human models that help support effective decision-making. In response, many organizations focus on managing for resilient human-natural systems—those that are able to respond and adapt to the effects of rapid change. Our recently awarded National Science Foundation Research Traineeship grant will create a new graduate education model that integrates faculty and students from the social and biophysical sciences in order to prepare the next generation of conservation leaders to address these challenges presented by a rapidly changing world. The University of Maine's NSF-NRT program will train the next generation of conservation leaders by (1) integrating biophysical and socioeconomic sciences into coursework; (2) fostering collaborative, engaged, transdisciplinary, and solutions-driven research; (3) offering professional development opportunities. Transdisciplinary research and active learning experiences central to the program will address governance frameworks, biodiversity conservation, sustainable rural livelihoods and resource dependent economies, stewardship values, citizen science and participation, and spatial sciences. Our goal is to build a well-trained and experienced workforce to advance conservation solutions that will ultimately lead to enhanced resilience of socio-ecological systems in Maine and beyond.
Team Presenters:
Sandra De Urioste Stone is an Assistant Professor in the School of Forest Resources at the University of Maine. She is an applied social scientist focusing on natural resource management and stakeholder engagement. She has conducted research in the U.S. and Latin America on resilience and adaptation to global changes, collaborative management of natural resources, sustainable tourism, and One Health.
Sarah Nelson is Associate Research Professor in the School of Forest Resources, and Director of the Ecology and Environmental Sciences program. Her research focuses on understanding the effects of atmospheric pollution and climate change on forests, foodwebs, and freshwaters in remote and protected ecosystems.
Laura Rickard is an Associate Professor of Risk Communication in the Department of Communication and Journalism. Whether focusing on how audiences seek information, perceive risk, communicate about scientific issues, or attribute responsibility, her work has broad application to organizational risk and environmental management. Drawing from sociology, social psychology, and natural resource management, her research is highly interdisciplinary.
Linda Silka is Senior Fellow at the University of Maine's George Mitchell Center for Sustainability Solutions is a social and community psychologist by training, with much of her work focusing on building community-university research partnerships. She has several decades of experience in leading community-university research partnerships on environmental, economic development, and environmental health issues.
Aaron Weiskittel is Director of the Center for Research on Sustainable Forests, and Professor of Forest Biometrics and Modeling at the School of Forest Resources. His research focuses on developing new growth and yield models for the Acadian Region, evaluating stem taper/volume equations, and exploring the potential influence of climate change on forest productivity.
Team Members:
Aram Calhoun, Professor, Dept. of Wildlife, Fisheries, and Conservation Biology, UMaine
Adam Daigneault, Assistant Professor, School of Forest Resources, UMaine
Daniel Hayes, Assistant Professor, School of Forest Resources, UMaine
Bridie McGreavy, Assistant Professor, Dept. of Communication & Journalism, UMaine