Blogging Sustainability: Brian McGill Spreads the Word About Policy Relevant Science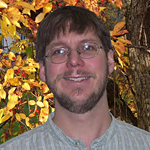 Brian McGill felt something was missing from life inside the academic "castle in the sky".
 The year was 2009 and his discontent was not due to lack of scholarly success. Quite the opposite: McGill's basic ecology research at Arizona University covered a swath of fascinating subjects, ranging from the effects of climate change on beavers to variations in leaf traits across ecological scales. Publications were numerous. But McGill wondered if his scientific findings were having maximum impact. 
 "The intended targets of my research were people positioned to make a difference in the future of biodiversity, people on the ground.  I began to wonder why I wasn't talking to these people directly. The path of research from academic journals to policy makers to real world results is notoriously unreliable. I know from my years in business that direct communication leads to right action and problem solving. The future of biodiversity is in crisis, a reality too dire to be left to fifth hand communications," says McGill, now Associate Professor, School of Biology and Ecology and Sustainability Solutions Initiative (SSI).
 McGill stopped wondering and took action. His current research and, increasingly, his blogging on the site Dynamic Ecology reflect his passion for policy-relevant science, the kind that partners directly with local government and people directly affected by the topics at hand.
Today, McGill is leading SSI's Effect of Climate Change on Organisms (ECCO) team. Along with colleagues, he is working with varied stakeholders such as foresters, conservationists, wildlife managers, park officials and tourism representatives to identify their primary concerns about our changing climate. He's also doing something quite novel: McGill is sharing his ideas about stakeholder-university partnerships with ecology faculty and graduate students at universities across the globe. Writing on the blog Dynamic Ecology, McGill suggests that researchers "need to stretch and do things differently if they want to do policy-relevant science."
It is time, he says, to shake things up.
 "Scientists should talk to people who are going to be affected by or care about the problems they are addressing," McGill writes in a 2013 post. "However, I don't think there is much training for scientists in how to do this… I think scientists need to take some real ownership and leadership in figuring out what this looks like in training peers."
Catering mainly to an academic audience interested in complex research methodology, statistics and academic journals, Dynamic Ecology has found an important voice in McGill, says the blog's founder Jeremy Fox: "He brings evidence and logical arguments to the table when he presents his ideas, some of which are very new to our readership," Fox said. "He is challenging people to think about the way we do and have done things for a long time. It's no accident that Brian's posts have sparked some of our lengthiest and richest online conversations – really high-level debates and discussions involving everyone from graduate students to world-leading researchers."
Among McGill's most enthusiastic readers are graduate students. He says this crop of up-and-coming researchers want to do research that contributes to life on the ground in this country.
"Grad students in ecology programs concentrated on basic science want something different today," McGill says. "They want to do research that is relevant to society, science that collaborates, science that seeks solutions. They're seeking mentorship to this end and blogging gives me a chance to provide that to a much larger audience than the handful of students in my own lab."
McGill has a lot to offer, including the real world examples of ECCO's projects – research which ventures far outside the lab into the woods and hills of Maine. Among the ECCO team's work:
·         Maple syrup production is an iconic and culturally important industry in Maine. Climate change has the potential to drastically change or eliminate this industry. We are seeking to better understand the effect of climate change on sap flow and also how the harvesters will respond to the changing climate.
·         Plants that grow in alpine environments are often the proverbial "canary in the coal mine" when it comes to climate change. A number of plants have disappeared from Acadia National Park despite being protected for nearly a century. Climate change is the prime suspect, but we are working to verify this, to understand why and to figure out what this means to the future of native plants.
·         Presented in a global context, climate change can seem a static phenomenon, something that affects all areas the same way. The truth is that weather and temperature fluxuations are not fixed across hundreds of miles let alone the entire world. The ECCO team is working to bring climate change models to local scale, providing town-by-town climate information as a computerized decision support system.
·         The best way to help nature successfully navigate climate change involves planning at very large scales, for example, the New England region plus Quebec. The ECCO team is helping to lead forums featuring current and potential regional partners such as state natural resource agencies, non-governmental organizations, such as The Nature Conservancy, and business entities.
Members of the ECCO team include: Frank Drummond, Professor of Insect Ecology; Malcom Hunter, Professor of Wildlife Ecology; Shaleen Jain, Associate Professor of Civil and Environmental Engineering; Brian Olsen, Assistant Professor of Biology and Ecology; Tim Waring, Assistant Professor of Social-Ecological Systems Modeling, School of Economics and Christine LaManna, post-doctoral fellow at SSI
Supported by National Science Foundation award EPS-0904155 to Maine EPSCoR at the University of Maine.
Learn more about ECCO