Collaboration From All Corners: Diverse Discussions on Sustainability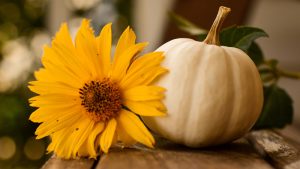 By Sarah Delmonte
On Monday, September 11, the Mitchell Center for Sustainability Solutions introduced their fall talk series with speaker Vanessa Levesque, a social scientist and assistant professor in the Department of Environmental Science and Policy at the University of Southern Maine. In her discussion, titled "Vacationland or Climate Migrationland?", Levesque introduced the concept of climate migration and the implications it may have for the state of Maine. Over the course of the pandemic, Maine's population experienced significant growth. With the climate shifting at a faster rate and extreme weather conditions affecting many other regions of the United States and the world, it begs the question of whether this growth will continue and what could potentially happen to the state as a result.
Levesque's presentation, now available on YouTube, is one of eleven talks the Mitchell Center will host over the course of the semester. Held virtually via Zoom or in-person at 107 Norman Smith Hall, UMaine, the talk series invites leaders from academia and many other sectors to address a wide variety of sustainability challenges, which require a dual focus on the well-being of people and nature. Speakers will share their personal journeys, talk about challenges and opportunities, and discuss the roles that collaboration plays in linking knowledge with action.
Following is just a taste of what's to come. Visit the Mitchell Center's website for a complete list of upcoming talks.
The next talk in the series, "Herding Ostriches: Building Climate Resilience in Polarized Places", is set for September 18. Our society has become more polarized over the past few years, which has made it difficult to reach consensus on a wide range of issues. Climate change is both a local and global issue that continues to affect the world around us, but thoughts on this topic are varied. Tanya Rucosky, a regional coordinator of the Community Resilience Partnership (CRP) with Sunrise County Economic Council, plans to discuss the work of CRP in reducing Maine's carbon emissions and adapting to a changing climate. Rucosky will detail the process of encouraging communities to work towards shared goals.
On October 2, "PFAS: A New Fish Tissue Issue," will detail research conducted on fish caught in the rivers and lakes of Maine. Per- and polyfluoroalkyl substances (PFAS), or "forever chemicals," have been detected in a variety of freshwater fish populations. PFAS are man-made chemicals found in the air, water, soil, and food that remain in the environment for long periods of time. These chemicals can potentially pose risks to the health of both people and wildlife. Traces of these chemicals are found in the tissues of freshwater fish, sometimes reaching concentrations that are far higher than in the water itself. Tom Danielson, an aquatic biologist with the Maine Department of Environmental Protection (MDEP), will discuss the research conducted by MDEP in sampling fish tissue, and what the results mean for Maine residents who consume freshwater fish. The Maine Center for Disease Control and Prevention creates guidelines for safe consumption by working with the MDEP's Aquatic Toxicology Unit. As more information is gathered on PFAS concentrations in fish, these guidelines may change.
The November 6 talk will focus on "Growing Maine's Clean Energy Economy Through Workforce Development and Innovation." The Governor's Energy Office created the Clean Energy Partnership (CEP) with the intention of funding and assembling experts from multiple disciplines to propose solutions for maintaining the clean energy economy. The CEP was supported by the Maine Jobs and Recovery Plan, and has since reached several goals related to the promotion of clean energy in Maine. Last December, the Governor's Energy Office awarded $2.5 million in grants to various institutions, organizations, and employers to develop workforce and training opportunities for clean energy services. Tagwongo Obomsawin, the Clean Energy Partnership Program Manager for the Governor's Energy Office, will speak about what the Clean Energy Partnership is, projects the partnership has been working on, and its influence on the workforce. Obomsawin leads programs to innovate and support clean energy jobs in Maine and make advancements towards Governor Janet Mills' goal of doubling energy efficient jobs by 2030.
Talks are hosted by the Mitchell Center on Mondays from 3 p.m. to 4 p.m. Additionally, videos of each presentation can be found on the Mitchell Center's YouTube channel a few days following each talk. If you are interested in learning more, information can be found on the Mitchell Center website.
Sarah Delmonte is a Communications Intern with the Mitchell Center. Sarah is a senior undergraduate student majoring in English with a minor in Journalism.