Tony Sutton – Diana Davis Spencer Scholar
In January 2017, the Mitchell Center launched the Strengthening Coastal Economies project as part of the Diana Davis Spencer Partnership for a Sustainable Maine. The ultimate goal of this partnership is to inspire and equip a new generation of engaged, entrepreneurial leaders by providing students with transformative, hands-on experiences in the power of innovative partnerships to create a brighter future.
The team is led by assistant professor Bridie McGreavy of the Department of Communication and Journalism with help from assistant professor Damian Brady of the School of Marine Sciences, and assistant professor Keith Evans of the School of Economics.
Six students were recruited for the project—Tyler Quiring, Carter Hathaway, Gabby Hillyer, Shuling Chen, Cassie Page, and Tony Sutton.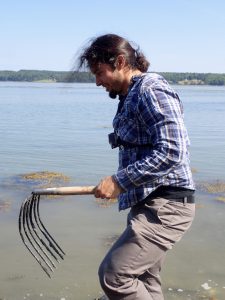 Sutton's Passamaquoddy Sustenance Project is "about shaping research that aligns with the values and perspectives of a community." The particular community Sutton is working with is Passamaquoddy at Sipayik, on the shores of Passamaquoddy Bay between the town of Perry and the city of Eastport. The project the community developed involves alewife conservation. 
Healthy alewife populations support a number of groundfish species like pollock, haddock, and cod, which are important species for sustenance, as food and for supporting cultural practices—the Passamaquoddy are known as "People who spear pollock."
"But today," Sutton says, "we can't do that because there are no pollock, and the impetus for the work is to increase the alewife numbers in the hopes that they will help replenish other species like pollock."
For his project, Sutton has conducted a series of interviews with Passamaquoddy members that were, he notes, "co-developed."
"The objectives of the interviews were defined by the stakeholder in an effort to gain better understanding of tribal fisheries knowledge and what people did in the past. They also wanted to characterize when they first saw the fisheries starting to decline and what it's like now," Sutton says.
He adds, "We think through issues and questions together. At the university, we are in the position of, 'discovering, creating, or validating knowledge' but I see First Nations communities as having great capacity to teach researchers about issues in the state, which only broadens our understanding of Maine."
Through his involvement in the project, Sutton has been trying to approach data in a way where it is analyzed together and shared back to communities. Through consultation with Passamaquoddy research partners, one theme from the interviews related to fisheries conservation is centered on a value of connectivity.
"Connectivity is sort of like the term food web, referring to everything being connected," notes Sutton. "But in this project, connectivity also includes the health of people, communities, and culture. The interviews with Passamaquoddy fishers describe many species absent from the Passamaquoddy Bay, such as pollock, cod, haddock, and salmon. Many have also observed the recent return of alewives, a keystone species historically supporting species like pollock. Connectivity drives this project by focusing on alewives to support groundfish populations and the native and non-native cultures around fishing in this area."
Sutton is currently working to integrate stories into coauthored writing, such as for potential publication in the Maine Policy Review. "My ultimate goal is to work together to shape data in ways that can support their current and future fisheries related projects," he says.
Sutton adds, "My time with the Diana Davis Spencer Partnership has allowed me to contribute to this much-needed area of research by articulating key strategies for doing research that can be shaped from within community."
—David Sims