2014 Mitchell Lecture on Sustainability

Keynote Speaker
William Clark, Harvard University

Click here to view this lecture online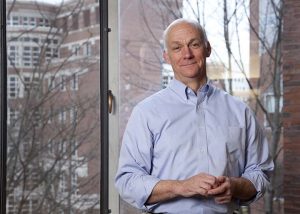 The Senator George J. Mitchell Center for Sustainability Solutions will host the annual Mitchell Lecture on October 2 with a talk by Harvard University's William Clark of the John F. Kennedy School of Government and remarks by Senator George J. Mitchell and UMaine President Susan J. Hunter.
Clark's talk, "Mobilizing knowledge to shape a sustainable future," will focus on strategies for linking knowledge with action to improve human well-being while protecting the planet's life support systems. A pioneer in the emerging field of sustainability science, Clark will discuss how collaborations involving universities, government, the private sector and civil society are helping to tackle the challenge of sustainable development. Drawing upon lessons learned in both local and global efforts, he'll show how university–stakeholder partnerships can accelerate the transition to a sustainable world.
The lecture takes place Thursday, October 2 from 1 to 2:30 p.m. at Hauck Auditorium with a reception to follow. The event is free and open to all, but tickets are required and can be obtained by calling 207-581-3244 or by making a reservation on the Mitchell Center's website.
William Clark is Harvey Brooks Professor of International Science, Public Policy and Human Development and co-directs Harvard's Sustainability Science Program. He is a member of the National Academy of Sciences and a Fellow of the American Association for the Advancement of Science. He is a recipient of a MacArthur Award, the Humboldt Prize, the Kennedy School's Carballo Award for Excellence in Teaching and the Harvard College Phi Beta Kappa Prize for Excellence in Teaching.
Previous Mitchell Lecture speakers include the late Elinor Ostrom, winner of the 2009 Nobel Prize in Economics and the only woman to ever win the prize; Jane Lubchenco, Wayne and Gladys Valley Professor of Marine Biology at Oregon University and the first woman to serve as administrator of the National Oceanic and Atmospheric Administration (NOAA); and James Gustave "Gus" Speth, co-founder of the Natural Resources Defense Council and founder of the World Resources Institute.
The central goal of the Mitchell Center for Sustainability Solutions is to help search for, implement, and evaluate policies and practices that protect ecosystems while improving economic well-being and fostering strong communities in Maine, New England, and beyond. The overall strategy for achieving this goal is to transform the way we create and support interdisciplinary teams within the university as well as work to meet the needs of stakeholders. In essence, we want to link knowledge to action more effectively.
The vision for the Mitchell Lecture on Sustainability is to bring together people from across Maine who seek a clearer understanding of the economic, social and environmental challenges and opportunities we face, as well as to present constructive options that will facilitate a renewed commitment to the development of collaborative approaches to problem solving.